PROBLEMATIK PEMBELAJARAN DARING MATA KULIAH BAHASA INDONESIA
Yeni Ernawati

Universitas Bina Darma
Keywords:
Learnings Problems, Online, Indonesia Language, E-learning
Abstract
This study aims to describe the problematics of online learning in Indonesian language courses. This research is descriptive research. The aim of this research is problematic learning in Indonesian language courses online. The data in this study are learning problems that occur in Indonesian language learning activities. Researchers make observations and documentation to collect data. Based on observations and data collection, it is known that online learning in Indonesian courses, there are several learning problems. The problematic of online learning that occurs in the learning process of Indonesian courses occurs in the learning components. Learning problems occur in (1) learning facilities or media and infrastructure, namely e-learning and internet access; (2) presentation of material and use of learning methods; (3) discussion activities, and (4) learning assessment. During the learning process by establishing good communication with students, as well as efforts to hold effective learning, the teacher determines learning techniques that can minimize these problems.
References
Arikunto, Suharsimi. (2010). Prosedur Penelitian: Suatu Pendekatan Praktik. Jakarta: PT Rineka Cipta.
Bilfaqih, Yusuf, dan M. Nur Qomarudin. (2015). Esensi Pengembangan Pembelajaran Daring. Yogyakarta: Deepublish Publisher.
Gunawan, Imam. (2014). Metode Penelitian Kualitatif: Teori dan Praktik. Jakarta: Bumi Aksara.
Hayati, Sri. (2017). Belajar dan Pembelajaran Berbasis Cooperative Learning. Jakarta: Graha Cendikia.
Mustofa, Mokhamad Iklil, Muhammad Chodzirin, Lina Sayekti, dan Roman Fauzan. (2019). "Formulasi Model Perkuliahan Daring Sebagai Upaya Menekan Disparitas Kualitas Perguruan Tinggi." Walisongo Journal of Information Technology 1(2):151–60.
Riyana, Cepi. (2011). Kurikulum Pembelajaran. (Online). http://file.upi.edu/Direktori/FIP/JUR._PEND._LUAR_BIASA/196209061986011-AHMAD_MULYADIPRANA/PDF/Komponen_Pembelajaran.pdf . Diunduh pada 25 April 2020.
Riyanda, Afif Rahman, Kartini Herlina, dan B. Anggit Wicaksono. (2020). Evaluasi Implementasi Sistem Pembelajaran Daring Fakultas Keguruan Dan Ilmu Pendidikan Universitas Lampung. IKRA-ITH HUMANIORA : Jurnal Sosial Dan Humaniora 4(1):66–71.
Sofyana, Latjuba, dan Abdul Rozaq. (2019). Pembelajaran Daring Kombinasi Berbasis Whatsapp Pada Kelas Karyawan Prodi Teknik Informatika Universitas Pgri Madiun. Jurnal Nasional Pendidikan Teknik Informatika : JANAPATI 8(1):81–86.
Sugiyono, Sugiyono. (2011). Metode Penelitian Pendidikan. Bandung: Alfabeta.
Winataputra, Udin. S., Paulina Pennen, Dina Mustafa, Refni Delfi, dan Dewi Andriyani. (2016). Teori Belajar dan Pembelajaran. Edisi 1. Tangerang: Universitas Terbuka.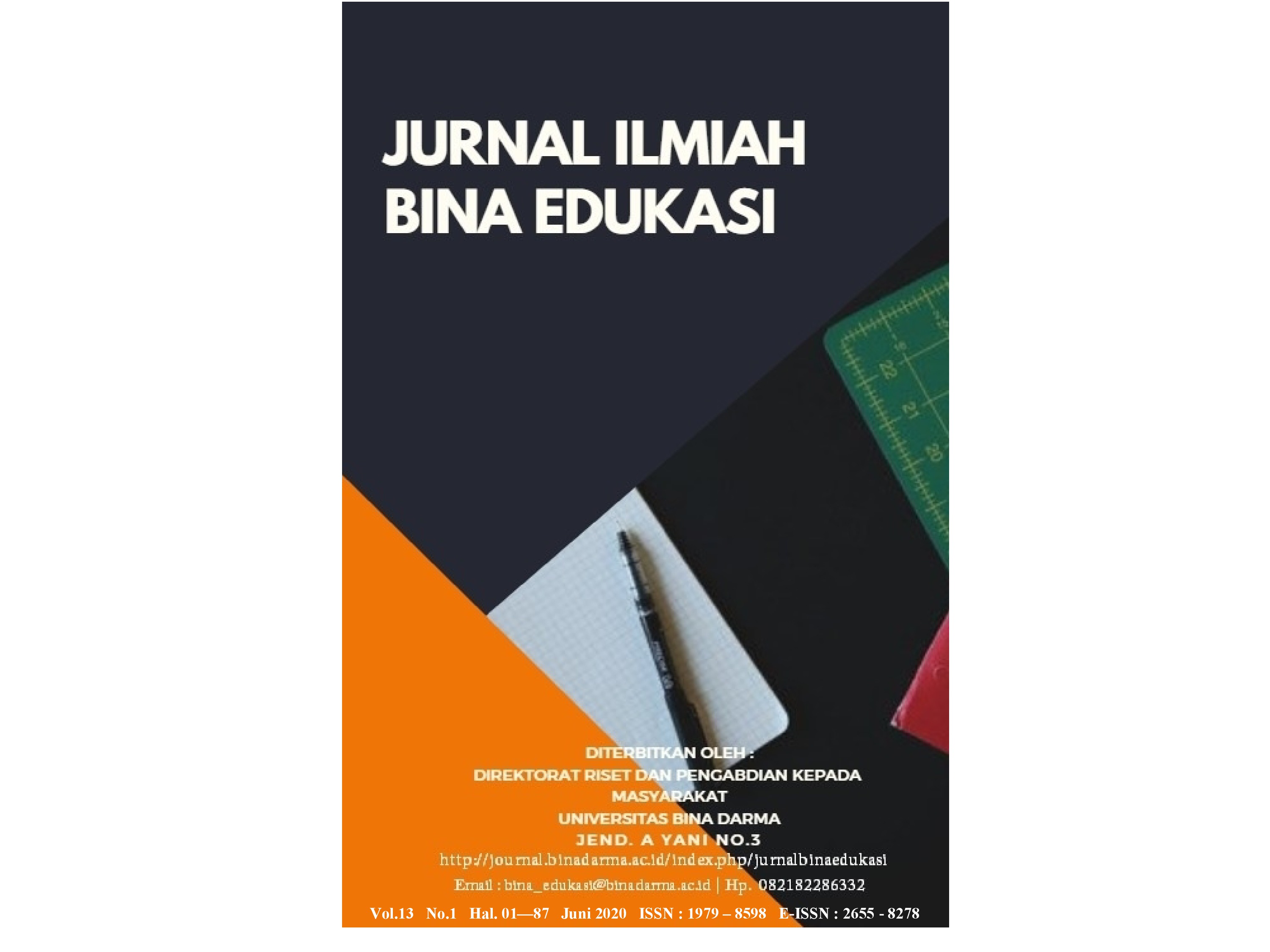 How to Cite
Ernawati, Y. (2020). PROBLEMATIK PEMBELAJARAN DARING MATA KULIAH BAHASA INDONESIA. Jurnal Ilmiah Bina Edukasi, 13(1), 01–15. https://doi.org/10.33557/jedukasi.v13i1.1029
Abstract viewed = 1201 times
PDF : 2469 times

Jurnal Ilmiah Bina Edukasi oleh http://journal.binadarma.ac.id/index.php/jurnalbinaedukasi disebarluaskan di bawah Lisensi Creative Commons Atribusi 4.0 Internasional.