GAYA STILISTIKA PUISI "PEREMPUAN SELALU INGAT" KARYA DIAN RENNUATI: KAJIAN KERELEVANSIAN DENGAN PEMBELAJARAN BAHASA INDONESIA DI SMA
Enny Hidajati

Universitas Bina Darma
Keywords:
Poem, Stylistic, Perempuan Selalu Ingat, Dian Rennuati, Learning
Abstract
Dian Rennuati is a doctor and poet from Palembang. Dian is known to have a style of language (stylistic) which is very beautiful from the point of women. The poem under study entitled "Perempuan Selalu Ingat". The problem examined in this study is how the stylistic style of the poem "Perempuan Selalu Ingat" and the relevancies of poem "Perempuan Selalu Ingat" by Dian Rennuati as bahasa Indonesia teaching materials in high school. Therefore, this study aims to uncover the style of stylistics in the poem. This research is a type of library research using descriptive method. Based on research found five aspects of stylistics in poetry, namely diction, real words (concrete, denotative), images (images) majas (figuratively), rhythm and rhyme. Based on research that has been done, found the use of these five aspects. There is relevance poem as bahasa Indonesia learning materials in high school
References
Al Ma'roef. Ali Imran. (2009). Stilistika: Teori, Metode, dan Aplikasi Pengkajian Estetika Bahasa. Solo: CakraBooks.
Fransori, Arinah. (2017). Analisis Stilistika pada Puisi Kepada Peminta-Minta Karya Chairil Anwar". Deiksiss. 9(1), 1—12.
Harjono, Nyoto. (2012). "Kajian Stilistika pada Puisi-Puisi Chairil Anwar Sebagai Sarana Pebelajaran Apresiasi Sastra". Scholaria. 2(1), 22—38. https://repository.uksw.edu/bitstream/123456789/3189/2/pdf. Diunduh pada tanggal 20 Januari 2020.
Kartono, Kartini. (2006). Psikologi Wanita: Mengenal Gadis Remaja dan Wanita Dewasa. Bandung: Mandar maju.
Luxemburg. Jan van. (1992). Pengantar Ilmu Sastra. Jakarta: Gramedia.
Ratna, Nyoman Kutha. (2013). Stilistika. Yogyakarta: Pustaka Pelajar.
Rennuati, Dian. (2018). Perempuan Selalu Ingat. Jakarta: Halaman Moek Publising.
Santoso, Anang. (2009). Bahasa Perempuan: Sebuah Potret Ideologi Perjuangan. Bandung: Bumi Aksara.
Semi, M. Atar. (2012). Metode Penelitian Sastra. Bandung: Angkasa.
Siswanto, Wahyudi. (2013). Pengantar Teori Sastra. Malang: Aditya Media.
Tarigan, Henry Guntur. (2015). Prinsip-Prinsip Dasar Sastra. Bandung: Angkasa.
Yuliantini, Tenti. (2019). "Kajian Stilistika terhadap Diksi dalam Kumpulan Puisi Malu (Aku) Jadi Orang Indonesia Karya Taufiq Ismail serta Pemanfaatannya sebagai Bahan Ajar Bahasa Indonesia di SMK". Wistara: Jurnal Pendidikan Bahasa dan Sastra. 2(1), 36—45, https://journal.unpas.ac.id/index.php/wistara/article/view/2292. Diunduh pada tanggal 05 Februari 2020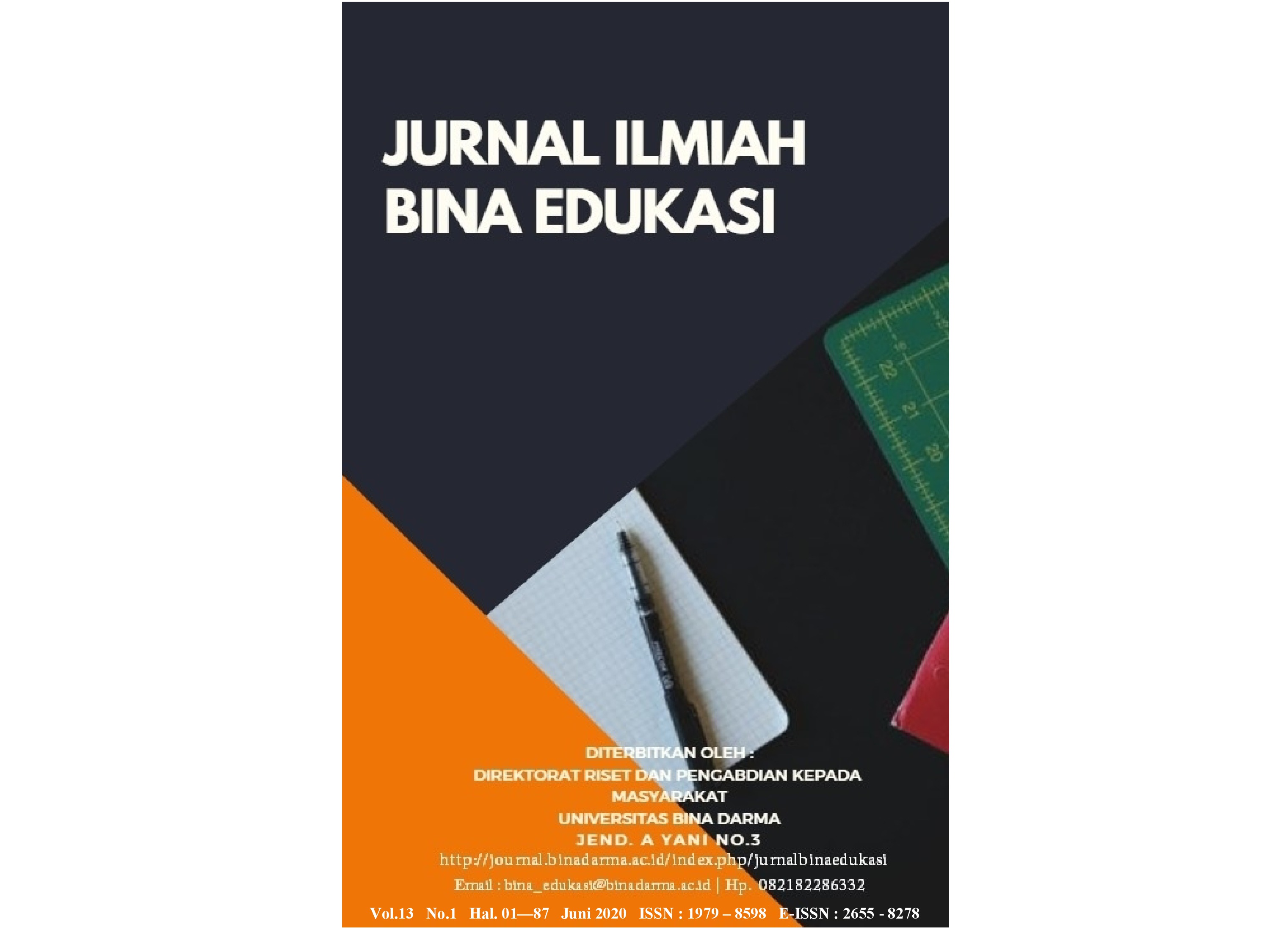 How to Cite
Hidajati, E. (2020). GAYA STILISTIKA PUISI "PEREMPUAN SELALU INGAT" KARYA DIAN RENNUATI: KAJIAN KERELEVANSIAN DENGAN PEMBELAJARAN BAHASA INDONESIA DI SMA. Jurnal Ilmiah Bina Edukasi, 13(1), 52–64. https://doi.org/10.33557/jedukasi.v13i1.1033
Abstract viewed = 412 times
PDF : 781 times

Jurnal Ilmiah Bina Edukasi oleh http://journal.binadarma.ac.id/index.php/jurnalbinaedukasi disebarluaskan di bawah Lisensi Creative Commons Atribusi 4.0 Internasional.