PROBLEMATIKA PENGEMBANGAN KARIR TENAGA PENDIDIK DI SMA NEGERI 8 KABUPATEN BATANGHARI
Firman Khaidir

Universitas Jambi
Keywords:
Career Development, Teachers, Scientific Papers
Abstract
This aims of this research are to investigate teachers' problems related to the career development and to find out the benefits of training for the development of teachers' career. This research utilized qualitative method. It was conducted at SMA Negeri 8 Batanghari Regency. The research subjects were from 59 teachers. Data collection instruments consisted of observation and interview. All data were analysed descriptively. The results of this study are: Teachers already understand the writing of scientific papers which is a major obstacle in managing promotions. This effort was made in accordance with the needs of teachers in terms of knowing the guidelines for writing scientific papers which so far have not been in line with the supervisors of the Batanghari District Education Office. In addition, the obstacle faced is the motivation of teachers to conduct CAR in each learning process that can be used as scientific writing material so that it can be published in the form of a journal with ISBN / ISSN standards. So that credit numbers are met for teachers to take the promotions.
References
Arifin. (2003). Memahami Paradigma Baru Pendidikan Nasional dalam Undangundang Sisdiknak. Catatan ketiga. Jakarta: Ditjen Kelembagaan Agama Islam.

Creswell, J.W. (2007). Qualitative Inquiry & Research Design: Choosing among Five Approaches. 2nd Edition. California: Sage.

Kunandar. (2013). Penilaian Authentik: Penilaian Hasil Belajar Peserta Didik Berdasarkan Kurikulum 2013. Jakarta: Rajawali Pers.

Larasati, Rahma Titi. (2014). Faktor-Faktor Penghambat Penulisan Karya Tulis Ilmiah Dalam Pengembangan Keprofesian Berkelanjutan Guru SDN Lempuyangwangi Yogyakarta. https://eprints.uny.ac.id/13854/. Diunduh pada 14 April 2020.

Marijan. (2012). Cara Gampang Pengembangan Profesi Guru. Yogyakarta : Sabda Media.

Miles dan Huberman. (1992). Analisis data Kualitatif. Terjemahan Tjetjep Rohedi Rosidi. (2005) Jakarta: Universitas Indonesia.

Moleong, L. J. (2014). Metodologi penelitian Kualitatif. Bandung: PT Remaja Rosdakarya.

Qomar. (2010). Manajemen Pendidikan Islam, Strategi Baru Pengelolaan Lembaga Pendidikan Islam. Jakarta: Erlangga.

Sondang P. Siagian. (2008). Manajemen Sumber Daya Manusia, Jakarta: Bumi Aksara.

Patton, Michael Quinn. (2006). Metode Evaluasi Kualitatif. Yogyakarta: Pustaka Pelajar.

Peraturan Bersama Mendiknas dan Kepala BKN Nomor 03/V/PB/2010, tentang Petunjuk Pelaksanaan Jabatan Fungsional Guru dan Angka Kreditnya.

Peraturan Bersama Mendiknas dan Kepala BKN Nomor 14 tahun 2014, tentang Petunjuk Pelaksanaan Jabatan Fungsional Guru dan Angka Kreditnya.

Peraturan Menteri Pendayagunaan Aparatur Negara dan Reformasi Birokrasi (Permen PANRB) Nomor 16 tahun 2009 tanggal 10 November 2009, tentang Jabatan Fungsional Guru dan Jumlah Angka Kredit.

Peraturan Menteri Pendidikan Nasional Nomor 28 tahun 2010 tentang Penugasan Guru sebagai Kepala Sekolah/Madrasah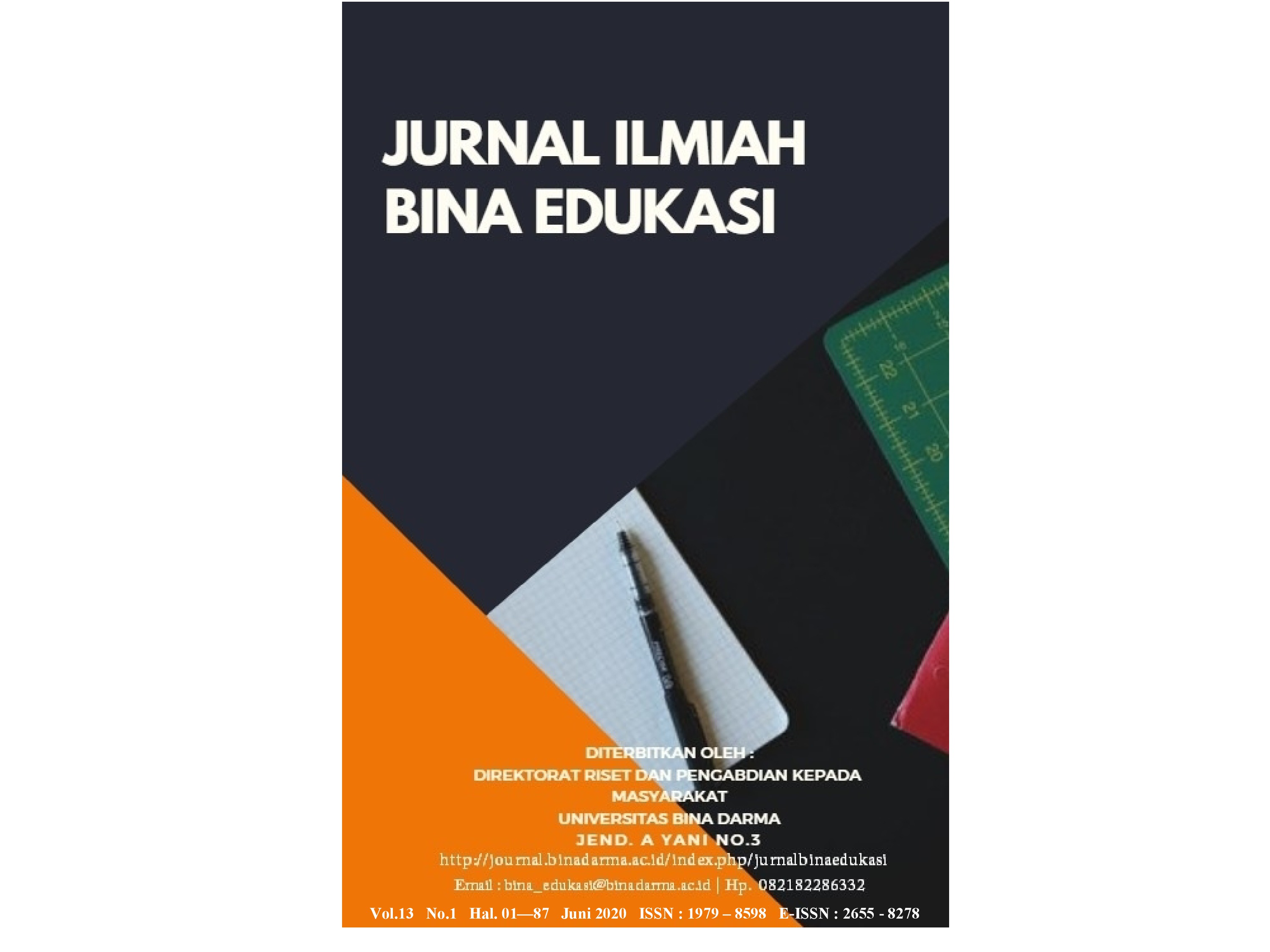 How to Cite
Khaidir, F. (2020). PROBLEMATIKA PENGEMBANGAN KARIR TENAGA PENDIDIK DI SMA NEGERI 8 KABUPATEN BATANGHARI. Jurnal Ilmiah Bina Edukasi, 13(1), 64–74. https://doi.org/10.33557/jedukasi.v13i1.1034
Abstract viewed = 305 times
PDF : 560 times

Jurnal Ilmiah Bina Edukasi oleh http://journal.binadarma.ac.id/index.php/jurnalbinaedukasi disebarluaskan di bawah Lisensi Creative Commons Atribusi 4.0 Internasional.