PENGARUH APLIKASI DISCORD DALAM PEMBELAJARAN DARING TERHADAP HASIL BELAJAR PADA MATAKULIAH KOMPUTER
M.Rasyid Ridho

Universitas Jambi

Muhaimin Muhaimin

Universitas Jambi

Harry Soedarto Harjono

Universitas Jambi
Keywords:
Discord Application, Student Learning Outcomes and Motivation
Abstract
This study aims to explain the influence of Discord application in online learning on student learning outcomes and motivation. Quantitative method with quasi-experimental design with 40 samples. Data collection uses tests and questionnaires, analysis data using instrument tests, normality, homogeneity, while hypothetical tests use Wilcoxon, Mann-Whiteney (U), and Spearman tests. The results of post-test experiment class obtained an average score 83.5 higher than control class 61.25. Based on Wilcoxon Test Asymp.Sig (2-tailed) obtained 0.000 < 0.05, Ha1 received, Mann-Whiteney Test (U) High motivation obtained U= 1,500 Asymp.Sig (2-tailed) obtained 0.000 < 0.05, Ha2 Low motivation obtained U=0.000 Asymp.Sig (2-tailed) obtained 0.000 < 0.05, Ha3 received, there is a significant difference between the results of using discord application and using Whatsapp, Spearman Test Asymp.Sig (2-tailed) obtained 0.000 < 0.05, Ha4 received, correlation coefficient value of 0.973** means the relationship between learning motivation variables and learning outcomes is very strong.
References
Absor, N. F. (2020). Pembelajaran Sejarah Abad 21: Tantangan dan Peluang dalam Menghadapi Pandemi Covid-19. Chronologia: Journal of History Education, 2(1). 30-35. doi:http://dx.doi.org/ 10.22236/jhe.v2i1.5502.
Budiyono. (2004). Statistika untuk Penulisan. Surakarta: Sebelas Maret University Press.
Citron ,J. (2020). "Helping out where we can" blog.Discord.com https://blog.Discord.com/helping-out-where-we-can-3a5fb7bac77a.
Creswell, J. W. (2012). Educational research plannig, conducting and evaluating quantitative and qualitative research. 4th edition. New York: Cambridge University Press.
Efriani, E., Dewantara, J. A., & Afandi, A. (2020). PEMANFAATAN APLIKASI DISCORD SEBAGAI MEDIA PEMBELAJARAN ONLINE. Jurnal Teknologi Informasi Dan Pendidikan, 13(1). https://doi.org/10.24036/tip.v13i1.283.
Field, A. (2009). Discovering statistics using spss (3rd edition). London: SAGE Publication Ltd.
Kusnedi, Y St.(2020) "Implementasi Problem Based Learning Berbantuan Aplikasi Discord Sebagai Upaya Peningkatan Hasil Belajar Komputer Dan Jaringan Dasar Materi Sistem Operasi Pada Siswa Kelas X Tkj Smkn 2 Sampit".
McKnight, P. E., & Najab, J. (2010). Mann-Whitney U Test. The Corsini Encyclopedia of Psychology. doi:10.1002/9780470479216.corpsy0524
Raihan, J. P., & Putri, Y. R. (2018). Pola komunikasi group Discord PUBG.INDO.FUN melalui aplikasi Discord. e-Proceeding of Management, 5(3), 4161-4169.
Sarwono, J & Suhayati, E. (2010.) Riset Akuntansi Menggunakan SPSS. Edisi Pertama. Bandung: Graha Ilmu.
Sugiyono. (2016). Metode Penulisan Kuantitatif Kualitatif dan R&D. Bandung: Alfabeta.
Sundayana, R. (2014). Statistika penulisan pendidikan. Bandung: Alfabeta.
Wulanjani, A. N. (2018). Discord Application: Turning a Voice Chat Application for Gamers into a Virtual Listening Class. In English Language and Literature International Conference (ELLiC) Proceedings (Vol. 2, pp. 115-119).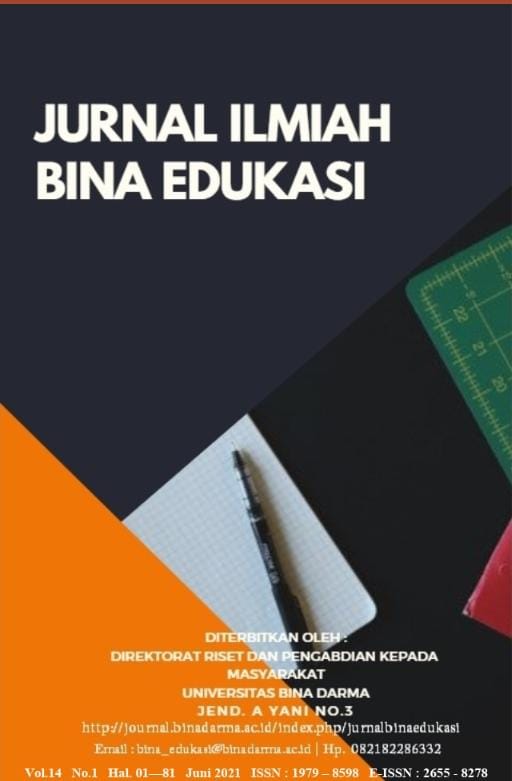 How to Cite
Ridho, M., Muhaimin, M., & Harjono, H. (2021). PENGARUH APLIKASI DISCORD DALAM PEMBELAJARAN DARING TERHADAP HASIL BELAJAR PADA MATAKULIAH KOMPUTER. Jurnal Ilmiah Bina Edukasi, 14(1), 22-35. https://doi.org/10.33557/jedukasi.v14i1.1367
Abstract viewed = 102 times
PDF : 119 times

Jurnal Ilmiah Bina Edukasi oleh http://journal.binadarma.ac.id/index.php/jurnalbinaedukasi disebarluaskan di bawah Lisensi Creative Commons Atribusi 4.0 Internasional.