REALISASI FRASA ATRIBUTIF DALAM WACANA NARASI MAHASISWA UNIVERSITAS BINA DARMA DAN APLIKASINYA DALAM PEMBELAJARAN
Andina Muchti

Universitas Bina Darma
Keywords:
Attributive Endocentric Phrases, Phrase Editing, and Narrative Text
Abstract
This research  will describe attributive endocentric phrases in the narration text student of Bina Darma University, and the application of Bahasa Indonesia learning, especially material for editing phrases. The method used in this research is a qualitative description method. This data research is in the form of words and phrases. The data source for this research is the narrative story student of Bina Darma University. The data collection technique used was the reading and note taking technique. Data analysis using descriptions. The research results presented in this article as a sample are 5 data. The data is intended to be realized in Indonesian language learning, especially the material of editing phrases. The realization of the results of the analysis of attributive endocentric phrases in learning can be applied in the teaching material for editing phrases. The teacher can use the results of the analysis as teaching material in the learning process which is conveyed in the lesson plan
References
Bintari, Kartika dan Sumarlan. (2019). Unsur Pembentuk Frasa Eksosentris dalam Hikayat Hang Tuah. Retorika. Vol 12 No. 2. http://ojs.unm.ac.id/retorika.

Chaer, Abdul. (2009). Pengantar Sintaksis Bahasa Indonesia. Jakarta: PT Rineka Cipta

Chaer, Abdul. (2011). Tata Bahasa Praktis Bahasa Indonesia. Jakarta: Rineka Cipta.

Emzir. 2012. Metodelogi Penelitian Pendidikan Kuantitatif dan Kualitatif. Jakarta: PT RajaGrafindo Persada

Hidayah, Arini. (2019). Frase Nomina Pelaku Endosentris Atributif Bahasa Inggris di Bidang Kantor Depan (Front Office) Hotel. Haluan Sastra Budaya. Vol 3, No 2. https://jurnal.uns.ac.id/hsb/article/view/31862/26915.

Kamus Besar Bahasa Indonesia (Daring). Arti Kata Naratif. https://www.kbbi.co.id/arti-kata/naratif. Diunduh tanggal 14 April 2021.

Kridalaksana, Harimurti. (2001). Kamus Linguistik. Jakarta: Gramedia.

Manaf, Ngusman Abdul. (2009). Sintaksis: Teori dan Terapannya dalam Bahasa Indonesia. Padang: Sukabina Press.

Ramlan. M. (2005). Ilmu Bahasa Indonesia Sintaksis. Yogyakarta: CV. Karyono.

Silabus K13 Bahasa Indonesia kelas X. (Daring). https://www.academia.edu/6551626/1_silabus_bahasa_indonesia_kelas_x_wajib. Diunduh tanggal 1 Juni 2021.

Sugiyono. (2017). Metode Penelitian Kuantitatif, Kualitatif, dan R&D. Bandung : Alfabeta, CV.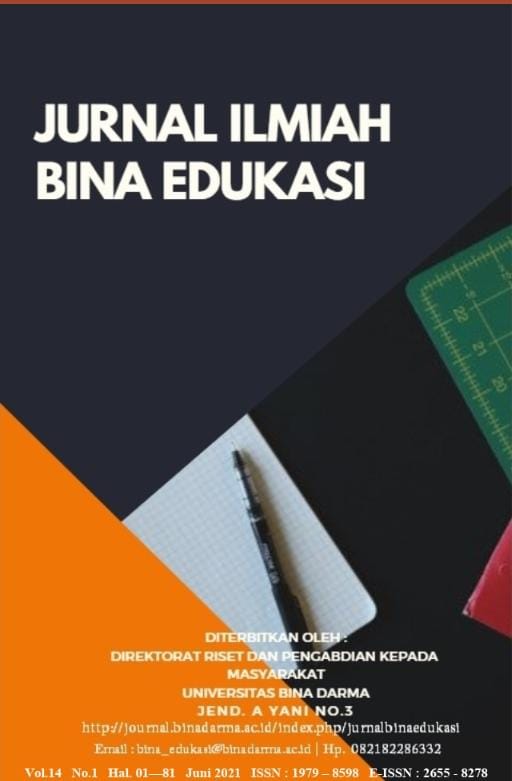 How to Cite
Muchti, A. (2021). REALISASI FRASA ATRIBUTIF DALAM WACANA NARASI MAHASISWA UNIVERSITAS BINA DARMA DAN APLIKASINYA DALAM PEMBELAJARAN. Jurnal Ilmiah Bina Edukasi, 14(1), 36-45. https://doi.org/10.33557/jedukasi.v14i1.1368
Abstract viewed = 28 times
PDF : 27 times

Jurnal Ilmiah Bina Edukasi oleh http://journal.binadarma.ac.id/index.php/jurnalbinaedukasi disebarluaskan di bawah Lisensi Creative Commons Atribusi 4.0 Internasional.