PENINGKATAN KETERAMPILAN MEMBACA PEMAHAMAN MELALUI METODE HYPERSCAN PADA SISWA SMA MUHAMMADIYAH 2 PALEMBANG
Mulyati Mulyati

Universitas Muhammadiyah Palembang
Keywords:
Hyperscan, Reading Comprehension narrative discourse, CAR
Abstract
The hyper-scan method is one way that instructors employ to help students in class XI improve their reading comprehension. Indeed, many students struggle with reading comprehension. This is a Classroom Action Research (CAR) research comprising two cycles of 4 stages: planning, action, observation, and reflection.  was used to analyze the test data. The result shows the average pre-cycle score was 63.83, the first cycle score was 73.77, and the second cycle score was 84.33. According to the percentage of students who qualify, there has traditionally been an increase. The percentage of completion in pre-cycle tests ranged from 10% to 46.6 percent in the first cycle and up to 90% in the second cycle. As a result, it can be concluded that the hyper-scan method can assist in reading comprehension skills development
References
Arikunto, Suharsimi dkk. 2011. Prosedur Penelitian Suatu Pendekatan Praktek. Jakarta: Rineka Cipta.

Aqib, Zainal. 2011. Penelitian Tidakan Kelas. Bandung: CV Yarma Widia.

Chear, Abdul. 2007. Linguistik Umum. Jakarta: Rineka Cipta.

Depdikbutd. 2016. Kamus Besar Bahasa Indonesia. Jakarta: Balai Pustaka.

Deporter, Bobbi. 2009. Quantum Reader. Bandung: PT. Mizan Pustaka.

Nurhadi. 2011. Membaca Cepat dan aktif. Jakarta: Sinar Baru Algensindo.

Olivia, Femi. 2008. Teknik Membaca Efektif Menciptakan Kebiasaan Belajar yang Efektif dengan Membaca Kritis dan Formula 5S.

Roy Hanny, Nilfa. 2013. "Keefektifan Metode Hyperscan dalam Meningkatkan Membaca Pemahaman Wacana Argumentasi Siswa Kelas VII SMP Negeri 26 Palembang". Skripsi. Palembang: FKIP Universitas Muhammdiyah Palembang.
Sunnendar dan Iskandarwassid 2009. Kemampuan Membaca Efektif dan Efisien. Bandung: Angkasa.
Sudijono, Anas. 2012. Pengantar Statistik Pendidikan. Jakarta: Raja Grafindo Persada.
Sugiyono. 2018. Metode Penelitian Pendidikan Pendekatan Kuantitatif, Kualtitatif, dan R&D. Bandung: Alfabeta.
Suherli, Maman Suryaman, dkk. 2017. Buku Guru Bahasa Indonesia SMA/MA/SMK Kelas XI. Jakarta: Kementerian Pendidikan dan Kebudayaan Republik Indonesia 2017.
Sukardi. 2016. Metode Penelitian Pendidikan Kompetensi dan Praktiknya. Jakarta: Bumi Aksara.
Tarigan, Henry Guntur. 2008. Membaca Sebagai Suatu Keterampilan Berbahasa. Bandung: Percetakan Angkasa.

Tampubolon. 2008. Kemampuan Membaca Teknik Membaca Efektif dan Efisien. Bandung: Percetakan Angkasa.

Yuni, Oktavianni. 2018. "Penggunaan Metode Hyperscan pada Pembelajaran Wacana Deskripsi dapat Meningkatkan Keterampilan Membaca Pemahaman Siswa Kelas XI SMA MUHAMMADIYAH 1 Palembang". Skripsi. Palembang: FKIP Universitas Muhammdiyah Palembang.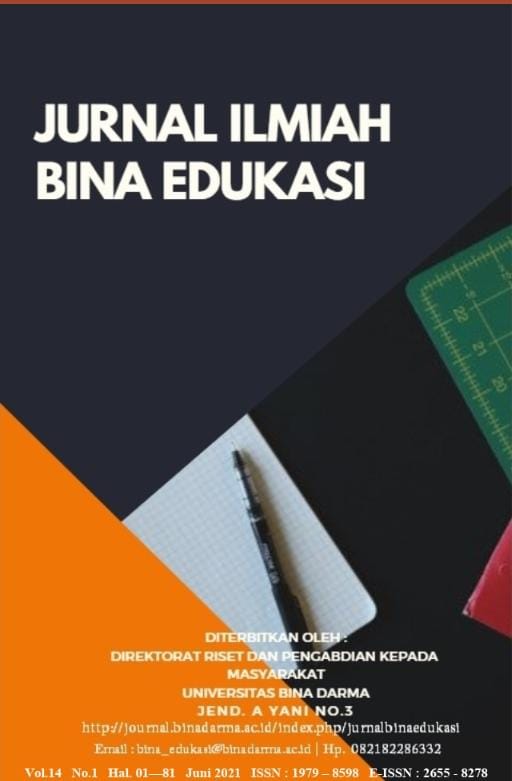 How to Cite
Mulyati, M. (2021). PENINGKATAN KETERAMPILAN MEMBACA PEMAHAMAN MELALUI METODE HYPERSCAN PADA SISWA SMA MUHAMMADIYAH 2 PALEMBANG. Jurnal Ilmiah Bina Edukasi, 14(1), 46-58. https://doi.org/10.33557/jedukasi.v14i1.1369
Abstract viewed = 43 times
PDF : 40 times

Jurnal Ilmiah Bina Edukasi oleh http://journal.binadarma.ac.id/index.php/jurnalbinaedukasi disebarluaskan di bawah Lisensi Creative Commons Atribusi 4.0 Internasional.