PEMANFAATAN APLIKASI ONLINE DALAM PEMBELAJARAN JARAK JAUH DAN DAMPAKNYA TERHADAP PENCAPAIAN KOMPETENSI MULTIMEDIA DI SMKN 1 KOTA JAMBI
Ardiansyah. A

Universitas Jambi

Sofyan Sofyan

Universitas Jambi

Hary Soedarto Harjono

Universitas Jambi
Keywords:
Online Application, Distance Learning, and Achievement of Multimedia Competence
Abstract
This study aims to explain the use of online applications in distance learning and its impact on the achievement of multimedia competencies at SMKN 1 Jambi City. This study uses a qualitative method with phenomenological research. For data collection conducted, interviews and documentation. To analyze the data consists of three activity lines simultaneously, namely data reduction, data presentation, and drawing conclusions.The results of observing can be concluded in class X-1 and X-2 are able to adapt using online applications in online learning. Meanwhile, grades XII-1, XII-2, and XII-3 have gotten used to online applications provided by schools in online learning. Furthermore, the results of interviews from 10 informants and 15 questions became the basis for in-depth data sources on the phenomena that occurred based on experts that distance learning was learning independently by utilizing online applications as a medium in honing skills and communication tools online learning.
References
Agustini, N. (2015). Pemanfaatan Teknologi Informasi Dan Komunikasi Dalam Pembelajaran Al-Qur'an Dan Hadis Di Madrasah Aliyah Negeri 3 Palembang. (Doctoral dissertation, UIN Raden Fatah Palembang).
Ashari, M. (2020). Dipetik Agustus 29, 2020, dari https://www.pikiran-rakyat.com/pendidikan/pr-01565866/94-persen-sekolah-masih-belajar-jarak-jauh-nadiem-diminta-lebih-fokus-pada-perbaikan-kurikulum-PJJ?page=2
Competency Based Education Network. (2017). Quality Framework for Competency Based Education Programs.
Crys. (1997). Creative Excellence in the Japanese University: Knowledge-Content-Cognition and Language-Culture-Communication Integrated Global Awareness Learning. Creative Education 17-35.
Daryanto. (2010). Media Pembelajaran. Yogyakarta: Gava Media.
Davis, F. D, Bagozzi, Warshaw. (1989). User acceptance of computertechnology: A comparison of two theoretical models Management Science 35 (8):982-1003.
Depdikbud. (1999). b. Pedoman Pelaksanaan Kurikulum Sekolah Menengah Kejuruan. Jakarta: Depdikbud.
Elsom, C. M. (2001). Principles of interactive multimedia. London: McGraw Hill.
Kitao, K. S. (1998). Selecting and developing teaching/Learning materials. The Internet TESL Journal. Vol. 4.
Made, W. (2009). Strategi Pembelajaran Inovatif Kontemporer: Suatu Tinjauan Konseptual Operasional. Jakarta: PT. Bumi Aksara.
Miles, Huberman, M. (1992). Analisis Data Kualitatif (Buku Sumber tentang Metode-Metode Baru). Jakarta: UIP.
Munir. (2009). Pembelajaran Jarak Jauh Berbasis Teknologi Informasi dan Komunikasi. Bandung: Alfabeta.
Nurdin, I. R. (2017). Penerapan Sistem Pembelajaran Jarak Jauh Berbasis Massive Open Online Course (Mooc) Di Universitas Ciputra Enterpreunership Online (UCEO) (Doctoral dissertation, Universitas Negeri Semarang).
Puntoadi, D. (2011). Menciptakan Penjualan Melalui Social Media. Jakarta: PT. Elex Komputindo.
Purdy, J. a. (1992). Cabot Wright Begins. New york: Liverlight.
Puspita, R. (2020). Legislator: Perlu Solusi Pembelajaran SMK di Tengah Pandemi. Dipetik September 15, 2020, dari https://republika.co.id/berita/q9yc2z428/legislator-perlu-solusi-pembelajaran-smk-di-tengah-pandemi
Reddi, U. V. (2003). Multimedia as an educational tool. In In Educational multimedia: A handbook for teacher-developers. New Delhi: CEMCA.
Rosyid, N. M., Thohari, I., & Lismanda, Y. F. (2020). Penggunaan Aplikasi Zoom Cloud Meetings Dalam Kuliah Statistik Pendidikan Di Fakultas Agama Islam Universitas Islam Malang. Vicratina: Jurnal Pendidikan Islam, 5(11), 46-52.
Rusman. (2012). Belajar dan Pembelajaran Berbasis Komputer. Bandung: Alfabeta.
Sugiyono. (2020). Metode Penelitian Kuantitatif, Kualitatif dan R&D (2 ed.). (Sutopo, Ed.) Bandung: CV. Alfabeta.
Sutrisno, E. (2010). Manajemen Sumber Daya Manusia. Jakarta: PT. Prenada Media Group.
Yayamasri. (2014). KIKD dan Silabus Multimedia SMK Kurikulum 2013. Dipetik Maret 2, 2021, dari https://yayamasri.wordpress.com/2014/01/16/kikd-dan-silabus-multimedia-smk-kurikulum-2013/.
Yetty, Widyaiswara. (2020). Pelaksanaan Belajar Dari Rumah (BDR) Di Provinsi Jambi Dalam Masa Darurat Penyebaran CoronaVirus Disease (Covid-19). Dipetik Agustus 29, 2020, dari https://lpmpjambi.id/2020/05/01/pelaksanaan-belajar-dari-rumah-bdr-di-provinsi-jambi-dalam-masa-darurat-penyebaran-corona-virus-disease-covid-19/.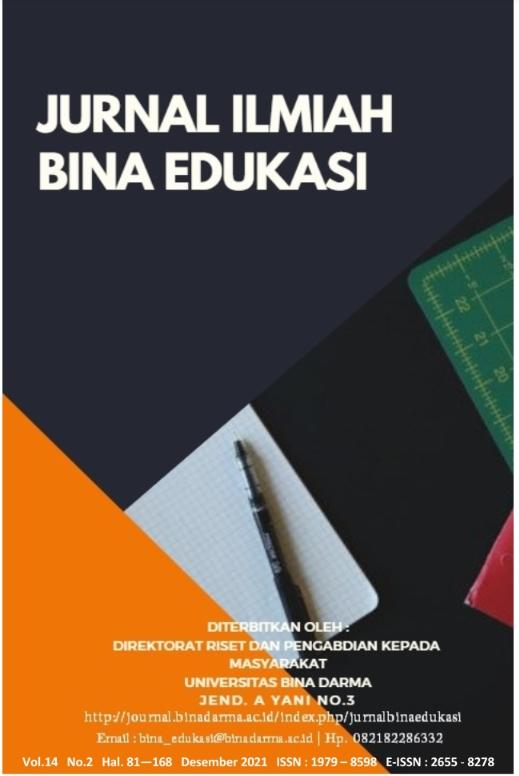 How to Cite
A, A., Sofyan, S., & Harjono, H. (2021). PEMANFAATAN APLIKASI ONLINE DALAM PEMBELAJARAN JARAK JAUH DAN DAMPAKNYA TERHADAP PENCAPAIAN KOMPETENSI MULTIMEDIA DI SMKN 1 KOTA JAMBI. Jurnal Ilmiah Bina Edukasi, 14(2), 81-93. https://doi.org/10.33557/jedukasi.v14i2.1579
Abstract viewed = 18 times
PDF : 18 times

Jurnal Ilmiah Bina Edukasi oleh http://journal.binadarma.ac.id/index.php/jurnalbinaedukasi disebarluaskan di bawah Lisensi Creative Commons Atribusi 4.0 Internasional.