ANALISIS PENCAPAIAN KOMPETENSI KEAHLIAN TATA BOGA SISWA KELAS XI SMKN 4 KOTA JAMBI MELALUI PEMBELAJARAN JARAK JAUH
Iky Sistranafya

Universitas Jambi

Sofyan Sofyan

Universitas Jambi

Nazurty Nazurty

Universitas Jambi
Keywords:
Competency Achievement Analysis, PJJ
Abstract
The purpose of this study to describe implementation of prakerin, achievement of students on the competence of Tata Boga in PJJ SMKN 4 Jambi City. Research method used is qualitative through phenomenological research with purposive sampling techniques, instruments used, namely observation, interview and data analysis refer to Miles and Huberman's theory. The results of observation obtained implementation of prakerin during covid-19 pandemic was not carried out for a full 6 months, but implementation of prakerin was carried out for 2 (two) months in DU/DI. The results of interview were obtained after carrying out prakerin, students gained new experience in the field of food and beverage processing, and knew the stages of food and beverage processing both about cookie dough, texture of cake dough and so on, new knowledge and experience in the industrial world and in the business world. Students use online applications and mobile media tools during PJJ to achieve competency skills tata boga.
References
Abidin, Z., Hudaya, A., & Anjani, D. (2020). Efektifitas pembelajaran jarak jauh pada masa pandemi covid-19. Research and development journal of education, (special edition) , Hlaman 131-146.
Creswell, J. W. (2009). Research Design. Amerika: Sage.
Hasbiansyah, O. (2008). Pendekatan fenomenologi:pengantar praktik penelitian dalam ilmu sosial dan komunikasi. Mediator Vol 9 No1 Juni 2008 , Halaman 163-180.
Jariah, A. (2019). Manajemen teaching factory dalam upaya meningkatkan kompetensi peserta didik kompetensi keahlian tata boga di SMK Negeri 1 Barabai. Prosiding seminar nasional PS2DMP ULM Vol.5, No.2 , Halaman 33-42.
Lestari, I., & Siswanto, B. T. (2015). Pengaruh pengalaman prakerin, hasil belajar produktif dan dukungan sosial terhadap kesiapan kerja siswa SMK. Jurnal pendidikan vokasi, Vol. 5, No.2, Juni 2015 , 5, Halaman 183-193.
Munir. (2009). Pembelajaran jarak jauh berbasis teknologi informasi dan kominukasi. Bandung: Alfabeta.
Nurdin, I., & Hartati, S. (2019). Metodologi Penelitian sosial. Surabaya: Media Sahabat Cendekia.
Prawiyogi, A. G., Purwanugraha, A., Fakhry, G., & Firmansyah, M. (2020). Efektifitas pembelajaran jarak jauh terhadap pembelajaran siswa di SDIT Cendekia Purwakarta. Jurnal pendidikan dasar Vol.11, No.1, 2020 , Halaman 95-101.
Rijali, A. (2018). Analisis data kualitatif. Jurnal Alhadharah Vol 17 No 33 2018 , Halaman 81-95.
Sari, A. S. (2012). Kesiapan berwirausaha pada siswa SMK kompetensi keahlian jasa boga. Jurnal Pendidikan Vokasi, Vol.2, No.2, Juni 2012 , Halaman 154-168.
SMKNegeri4KotaJambi. (2021). Jurnal Kegiatan Praktek kerja industri (Prakerin). SMK Negeri 4 Kota Jambi , halaman 1-30.
Sugiyono. (2020). Metode Penelitian Kuantitatif, Kualitatif dan R&D. Bandung: Alfabeta.
Sunami, A. S. (2014). Peningkatan kemampuan siswa dalam pengolahan kue dan roti melalui pembelajaran bekerja langsung (learnig by doing) di kelas X patiseri program keahlian tata boga SMK Negeri 3 Pati tahun 2010/2011. Teknobuga, Vol.1, No.2, November 2014 , Halaman 30-41.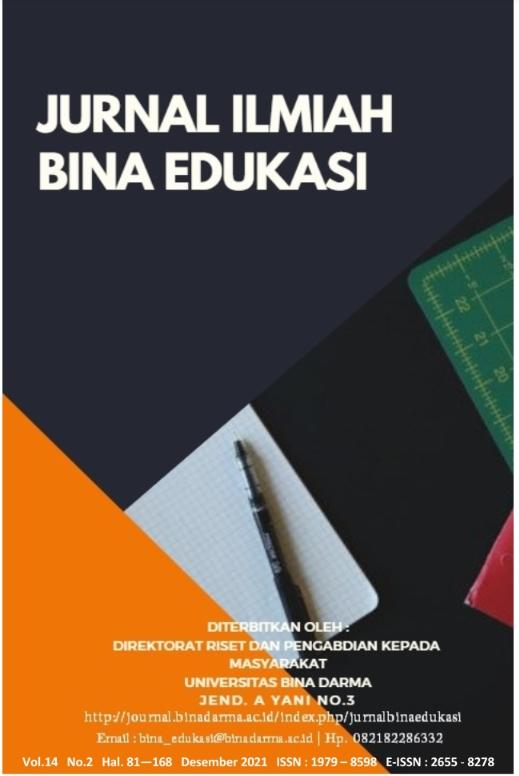 How to Cite
Sistranafya, I., Sofyan, S., & Nazurty, N. (2021). ANALISIS PENCAPAIAN KOMPETENSI KEAHLIAN TATA BOGA SISWA KELAS XI SMKN 4 KOTA JAMBI MELALUI PEMBELAJARAN JARAK JAUH. Jurnal Ilmiah Bina Edukasi, 14(2), 94-106. https://doi.org/10.33557/jedukasi.v14i2.1580
Abstract viewed = 12 times
PDF : 7 times

Jurnal Ilmiah Bina Edukasi oleh http://journal.binadarma.ac.id/index.php/jurnalbinaedukasi disebarluaskan di bawah Lisensi Creative Commons Atribusi 4.0 Internasional.