PEMANFAATAN APLIKASI GOOGLE MEET SEBAGAI MEDIA PELAKSANAAN LAYANAN BIMBINGAN KLASIKAL SISWA SMAN 12 KOTA JAMBI
Desi Gusdarti

Universitas Jambi

Hary Soedarto Harjono

Universitas Jambi

Eddy Haryanto

Universitas Jambi
Keywords:
Utilization, Google Meet Media, Classical Guidance Services
Abstract
The purpose of this study is to find out how to use the Google Meet application in the implementation of classical guidance services in students of class XII SMAN 12 Jambi City. This research method is a qualitative research method that uses purposive sampling techniques in data collection using unstructured interviews and triangulation, after which it is analyzed using qualitative descriptive to get an idea of the facts. The results of the study conducted by researchers through interviews with 5 informants about the use of google meet application as a medium of implementation of classical guidance services for students of class XII SMAN 12 Jambi City showed that the google meet application is the right choice to be used as a medium of implementation of classical guidance services because it meets the five principles of learning media, namely effectiveness, relevance, efficiency, usable and contextual.
References
Atmoko A, Indreswari H, Simon IM, Utami NW, Bariyyah K, (2018). Analisis Kebutuhan Siswa Dalam Layanan konseling Berbasis Blanded Learning Dan Implikasinya Terhadap Pengembangan Karakter. Universitas Negeri Malang. Malang.

Aqib Z, (2011). Bimbingan Konseling Di sekolah. YRAMA WIDYA: Surabaya.

Bangun, N., & Saragih, A. H. (2015). Pengembangan Media Web Bimbingan Konseling. Jurnal Teknologi Informasi & Komunikasi dalam Pendidikan, 2(1).

Gibson.A, Andi & Kurniawan (2008). Multimedia learning. In Journal Psychology of learning and motivation (Vol. 41, pp. 85-139). Academic Press.

Kurniawa. T & Winingsih. E. (2019). Pengembangan Aplikasi Pengenalan Bimbingan Dan Konseling Berbasis Android Sebagai Media Layanan Informasi Untuk Siswa Smp Negeri 3 Gresik. Jurnal BK UNESA, 7(2).

Miles and Huberman (2019). Penelitian Kualitatif. Pustaka Barupres: Yogyakarta.

Prayitno. (2019). Konseling Profesional Yang Berhasil. Raja Grafindo Persada: Depok.

Pujiyanti, A. (2018). Pengembangan Model Cyber Counseling Berbantuan Facebook Untuk Meningkatkan Efektivitas Layanan Informasi Karier Di Sma Negeri 1 Semarang. Prosiding, Vol.22.

Sugiyono (2016). Metode Penelitian Pendidikan (Kuantitatif, Kualitatif, Kombinasi, R&D dan Penelitian Pendidikan). Alfabeta: Bandung.

Sujarweni, VW. (2020). Metodologi Penelitian. Pustaka Barupres: Yogyakarta.

Sutrisno (2012). Kreatif Mengembangkan Aktivitas Pembelajaran Berbasis TIK. Referensi: Jakarta.

Zadrian, A. (2013). Media pembelajaran.PT Raja Grafindo Persada: Jakarta.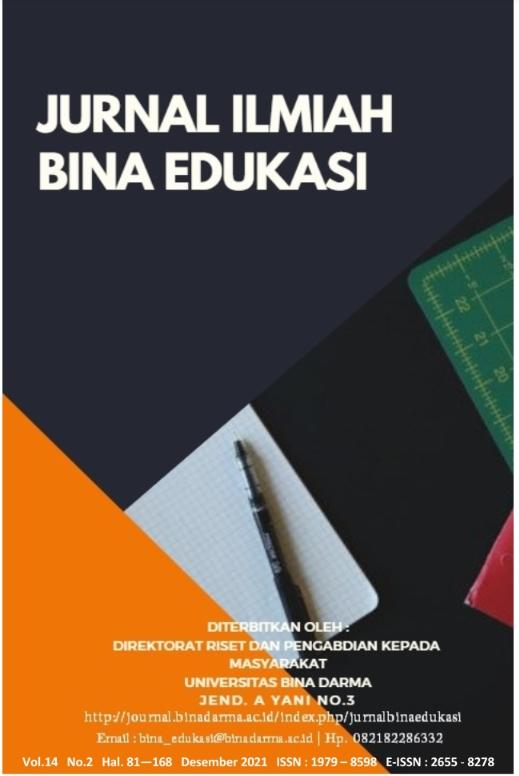 How to Cite
Gusdarti, D., Harjono, H., & Haryanto, E. (2021). PEMANFAATAN APLIKASI GOOGLE MEET SEBAGAI MEDIA PELAKSANAAN LAYANAN BIMBINGAN KLASIKAL SISWA SMAN 12 KOTA JAMBI. Jurnal Ilmiah Bina Edukasi, 14(2), 107–120. https://doi.org/10.33557/jedukasi.v14i2.1581
Abstract viewed = 130 times
PDF : 201 times

Jurnal Ilmiah Bina Edukasi oleh http://journal.binadarma.ac.id/index.php/jurnalbinaedukasi disebarluaskan di bawah Lisensi Creative Commons Atribusi 4.0 Internasional.