ANALISIS KEBUTUHAN MAHASISWA TERHADAP PENGGUNAAN E-MODUL INTEGRAL LIPAT MATA KULIAH FISIKA MATEMATIKA I
Diki Chen

Universitas Jambi

Mashelin Wulandari

Universitas Jambi

Riska Fitriani

Universitas Jambi
Keywords:
e-module, physics mathematics, multiple integral
Abstract
The aims of this study is to find out the levels and opinions regarding the multiple integral material e-module are planned to be developed. This type of research is a mixed method with the sampling technique used is purposive sampling. The sample used was an active student of regular class B 2019 who had contracted a physics mathematics course I. The instruments used were in the form of questionnaires and interview sheets which were analyzed using descriptive statistics for questionnaires and interviews were analyzed using Miles and Huberman. The results obtained indicate that most of the samples think that the e-module is a very good idea, this can be seen from the results of descriptive statistics, the average value is 22.4 which is in the required category, the results of this quantitative data are strengthened by the results of interviews that mostly support the creation of this e-module.
References
Afnan, A., Fauzia, R., & Tanau, M. U. (2020). Hubungan Efikasi Diri dengan Stress pada Mahasiswa yang Berada dalam Fase Quarter Life Crisis. Jurnal Kognisia: Jurnal Mahasiswa Psikologi Online, 3(1), 23-29.
Afrizon, R. (2018). Studi Pendahuluan Workshop Rancangan Pembelajaran IPA Terpadu Bermuatan Mind Mapping. Semesta: Journal of Science Education and Teaching, 1(2), 26-31.
Astalini, A., Darmaji, D., Kurniawan, D. A., & Chen, D. (2021). Investigating Student Perceptions Based on Gender Differences Using E-Module Mathematics Physics in Multiple Integral Material. Jurnal Pendidikan Sains Indonesia, 9(4), 598-615.
---------------------------------------------------------------------------- . (2021). Students' Perceptions of Mathematical Physics E-Module on Multiple Integral Material. Journal of Education Technology, 5(4), 612-621.
----------------------------------------------------------------------------- . (2021). Mathematical physics e-module: A study of students' perception based on gender. Momentum: Physics Education Journal, 209-226.
Chen, D., & Kurniawan, D. A. (2022). Preliminary studies: Analysis Of Student Needs For The Use Of Multiple Integral E-Module Of Mathematics Physics I Course. Buana Pendidikan: Jurnal Fakultas Keguruan dan Ilmu Pendidikan Unipa Surabaya, 18(1), 73-80.
Chen, D., Fitriani, R., Maryani, S., Rini, E. F. S., Putri, W. A., & Ramadhanti, A. (2021). Deskripsi Keterampilan Proses Sains Dasar Siswa Kelas VIII Pada Materi Cermin Cekung. PENDIPA Journal of Science Education, 5(1), 50-55.
Chen, D., Putri, N. D., Meliza, W., Astuti, Y., Wicaksono, L. Y., & Putri, W. A. (2021). Identifikasi Minat Siswa SMA Kelas X Terhadap Mata Pelajaran Fisika. PENDIPA Journal of Science Education, 5(1), 36-39.
Fitriani, R., Maryani, S., Chen, D., Aldila, F. T., Ginting, A. A. B., Sehab, N. H., & Wulandari, M. (2021). Mendeskripsikan Keterampilan Proses Sains Siswa melalui Kegiatan Praktikum Viskositas di SMAN 1 Muaro Jambi. PENDIPA Journal of Science Education, 5(2), 173-179.
Gunawan, G., Harjono, A., & Sahidu, H. (2017). Studi pendahuluan pada upaya pengembangan laboratorium virtual bagi calon guru fisika. Jurnal Pendidikan Fisika dan Teknologi, 1(2), 140-145.
Kamid, K.., Rohati, R., Kurniawan, D. A., Perdana, R., Chen, D., & Wulandari, M. (2021). Impact of the Integration of Ethno-mathematics with TPACK framework as a problem-based learning (PBL) model. Eurasian Journal of Educational Research, 96(96), 217-239.
Muslim, F., Refnida, R., Chen, D., & Wirayuda, R. P. (2021). Macroeconomic Digital Book Development: How are the Feasibility of Experts and Student Responses?. Journal of Education Technology, 5(3), 501-510.
Rini, E. F. S., Wibisono, G., Ramadhanti, A., Simamora, N. N., & Chen, D. (2020). Pengaruh Kemandirian Terhadap Prestasi Belajar Siswa Kelas XI di SMA Negeri 11 Kota Jambi. Jurnal Pendidikan Fisika Dan Teknologi, 6(2), 256-263.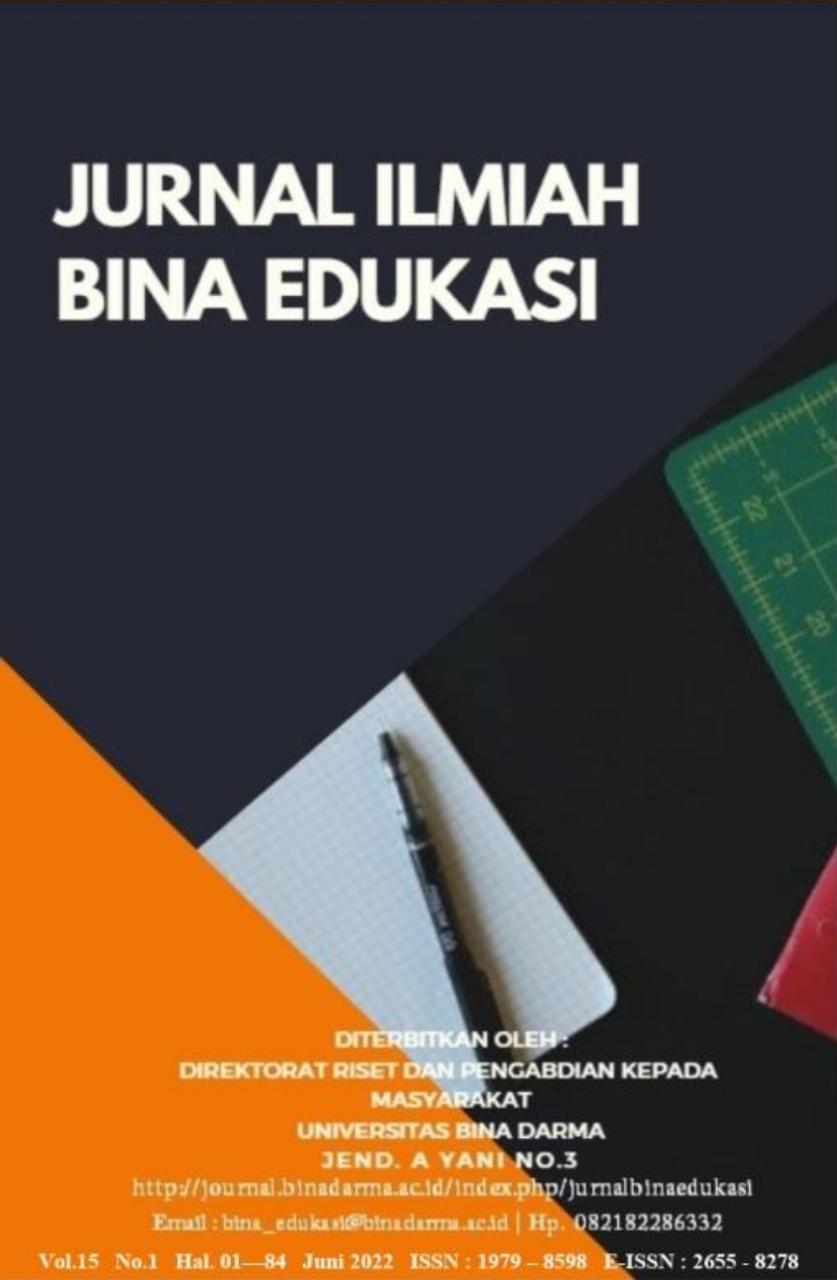 How to Cite
Chen, D., Wulandari, M., & Fitriani, R. (2022). ANALISIS KEBUTUHAN MAHASISWA TERHADAP PENGGUNAAN E-MODUL INTEGRAL LIPAT MATA KULIAH FISIKA MATEMATIKA I. Jurnal Ilmiah Bina Edukasi, 15(1), 32–39. https://doi.org/10.33557/jedukasi.v15i1.1759
Abstract viewed = 316 times
PDF : 307 times

Jurnal Ilmiah Bina Edukasi oleh http://journal.binadarma.ac.id/index.php/jurnalbinaedukasi disebarluaskan di bawah Lisensi Creative Commons Atribusi 4.0 Internasional.