IMPLEMENTASI PENDEKATAN KONSTRUKTIVISME DALAM PEMBELAJARAN MENULIS TEKS EKSPOSISI SISWA KELAS X SMAN 1 SEBERIDA
Vivi Oktaviani

Universitas Riau

Elvrin Septyanti

Universitas Riau

Silvia Permatasari

Universitas Riau
Keywords:
constructivism approach, write, exposition text
Abstract
This study aims to determine the level of students' ability to write expository texts through a constructivism approach. The class that was used as the experimental class was class X MIPA A, which amounted to 35 students with a sample that would be used as many as 30 students. The data of this research is an essay test instrument which is carried out at the time of the pre-test before the learning process is carried out, and the post-test which is carried out after the learning process is carried out. From the results of the study, the average pre-test was 60.63, and the post-test average was 81.93. From the results of hypothesis testing, it was obtained that tcount < ttable at the 95% confidence level or 1-5 percent, namely 0.7428 <2.0450, so the average post-test value in the experimental class was significant. Based on the results of the study, it can be concluded that learning using a constructivist approach can help improve students' ability to write expository texts, which can be seen from the average value of pretest to posttest.
References
Alwasilah, A. Chaedar an Suzanna Alwasilah. (2005). Pokoknya Menulis; Cara Baru Menulis Dengan Metode Kolaborasi. Bandung: PT. Kiblat Buku Utama.
Dalman. (2016). Keterampilan Menulis. Jakarta: PT. Raja Grasindo Persada.
Deni Rosdiana. (2020). Peningkatan Kemampuan Menulis Teks Eksposisi Dengan Menggunakan Strategi Think-Talk-Write. Jurnal Education FKIP UNMA. Vol. 6 No 1. Fakultas Keguruan Dan Ilmu Pendidikan Universitas Majalengka.

Keraf, Gorys. (1981). Eksposisi Dan Deskripsi. Jakarta: Nusa Indah.
Khodijah, N. (2014). Psikologi pendidikan. Jakarta : Raja Grafindo Persada.
Razak, Abdul. (2018). Statistka; Pengolaan data sosial sistem manual. Pekanbaru: Autografika.
-------------------. (2019). Penelitian Pendidikan;Menggapai Mixed Methods Bidang Pembelajaran Bahasa Indonesia. Pekanbaru: Ababil Press.

Semi, M. Atar. (2007). Dasar-Dasar Keterampilan Menulis. Angkasa: Bandung.
Sugiyono. (2019). Metode Penelitian Kuantitatif, Kualitatif dan R & D. Bandung: Alfabeta.
Tarigan, Henry Guntur. (2008). Menulis Sebagai Suatu Keterampilan Berbahasa. Bandung: Angkasa.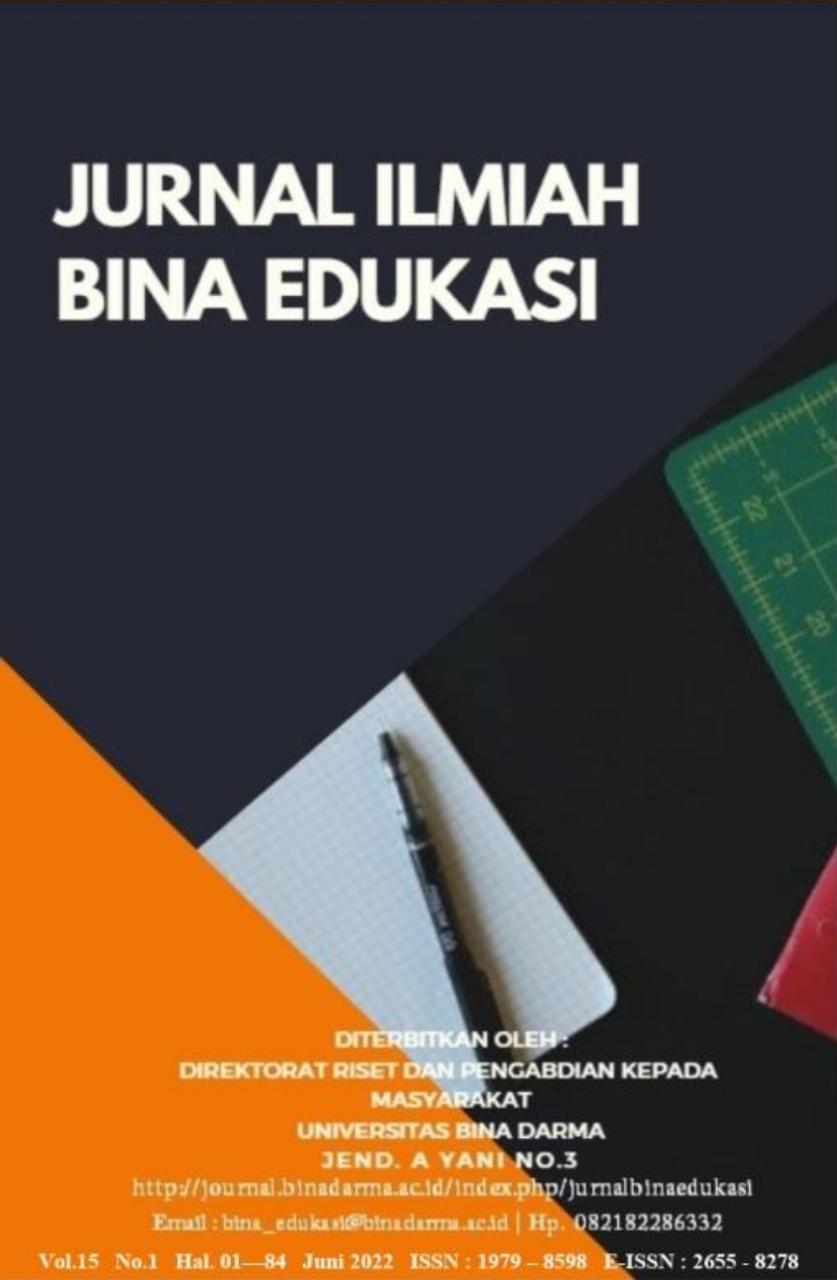 How to Cite
Oktaviani, V., Septyanti, E., & Permatasari, S. (2022). IMPLEMENTASI PENDEKATAN KONSTRUKTIVISME DALAM PEMBELAJARAN MENULIS TEKS EKSPOSISI SISWA KELAS X SMAN 1 SEBERIDA. Jurnal Ilmiah Bina Edukasi, 15(1), 50–60. https://doi.org/10.33557/jedukasi.v15i1.1761
Abstract viewed = 78 times
PDF : 74 times

Jurnal Ilmiah Bina Edukasi oleh http://journal.binadarma.ac.id/index.php/jurnalbinaedukasi disebarluaskan di bawah Lisensi Creative Commons Atribusi 4.0 Internasional.