PENGUASAAN KOSAKATA BAKU DAN TIDAK BAKU: SEBUAH STUDI KASUS MAHASISWA UBD
Andina Muchti

Universitas Bina Darma

Yeni Ernawati

Universitas Bina Darma
Keywords:
standard language, non-standard language, case study
Abstract
This research discusses the mastery of standard and non-standard vocabulary by students of Bina Darma University. The purpose of this study is to describe the ability of Bina Darma University students in determining standard and non-standard vocabulary. The determination of standard and non-standard vocabulary is carried out by providing a multiple-choice objective test totaling 20 vocabulary words. This study is about a population study with a total of 50 data derived from the answers of Program Studi Pendidikan Bahasa Indonesia students of UB. This reserch is a descriptive study. For this reason, the right analysis technique is the percentage analysis technique. The percentage obtained by students in this study will be calculated by this formula . Based on that thing, an average result is 61.1% of students was declared able to distinguish between standard and non-standard Indonesian vocabulary. From this figure, it is concluded that PBI UBD's students have sufficient abilities in the percentage range of 61-70 with a C grade
References
Arikunto, Suharsimi. (2019). Prosedur Penelitian. Jakarta: Rineka Cipta.
Chaer, Abdul. (1998). Tata Bahasa Praktis Bahasa Indonesia. Jakarta: Rineka Cipta.
Ginting, Darman. (2020). Kemampuan Membedakan Bahasa Indonesia Baku dan Tidak baku oleh Siswa SMP Negeri 3 Mardingding. Cendikia: Media Jurnal Ilmiah Pendidikan, 11 (1) pp 1—10.
Gulo, W. (2008). Dasar-dasar Statistika Sosial. Semarang: Satya Wacana.
Husaini, Dkk. (2020). Implementasi Pendekatan Saintifik sebagai Upaya Peningkatan Hasil Belajar Tema 2 Materi Kata Baku dan Tidak Baku pada Siswa Kelas VI SDN 55 Nisan Antara. Prosiding Pendidikan Profesi Guru Universitas Ahmad Dahlan.
Nazir, Moh. (2011). Metode Penelitian. Bogor: Penerbit Ghalia Indonesia
Ningrum, Via Setya. (2019). Penggunaan Kata Baku dan Tidak Baku di Kalangan Mahasiswa Universitas Pembangunan Nasional "Veteran" Yogyakarta. Jurnal Skripta: Jurnal Pembelajaran Bahasa dan Sastra Indonesia Universitas PGRI Yogyakarta. Vol. 5 No. 2 September 2019.
Nurhasanah, Nina. (2017). Peranan Bahasa Sebagai Mata Pelajaran Wajib di Indonesia. Eduscience – Volume 2 Nomor 2 Februari 2017
Sugiyono (2019). Metode Penelitian Kuantitatif, Kualitatif, dan R&D. Bandung : Alphabet.
WIDYASTUTI, R. (2010). Interferensi Bahasa Jawa dalam Karangan Narasi Berbahasa Indonesia Siswa Kelas VIII SM Negeri 2 Sawit Boyolali Tahun Ajaran 2009/2010. Universitas Muhammadiyah Surakarta.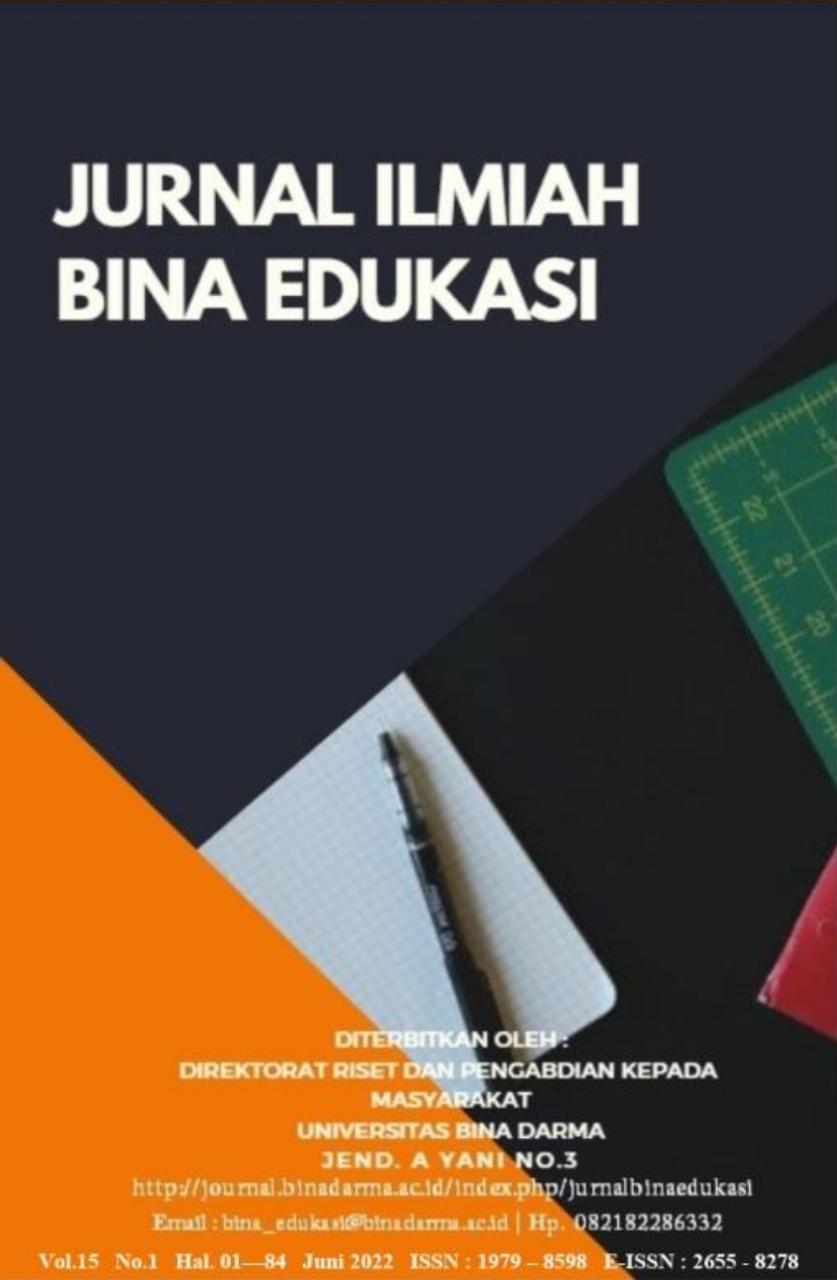 How to Cite
Muchti, A., & Ernawati, Y. (2022). PENGUASAAN KOSAKATA BAKU DAN TIDAK BAKU: SEBUAH STUDI KASUS MAHASISWA UBD. Jurnal Ilmiah Bina Edukasi, 15(1), 61–70. https://doi.org/10.33557/jedukasi.v15i1.1762
Abstract viewed = 184 times
PDF : 134 times

Jurnal Ilmiah Bina Edukasi oleh http://journal.binadarma.ac.id/index.php/jurnalbinaedukasi disebarluaskan di bawah Lisensi Creative Commons Atribusi 4.0 Internasional.