EFEKTIVITAS MEDIA LAGU "RUANG RINDU" KARYA LETTO DALAM PEMBELAJARAN MENULIS PUISI DI MADRASAH ALIYAH NEGERI 2 PALEMBANG
Enny Hidajati

Universitas Bina Darma

Iis Ariska

Universitas Bina Darma
Keywords:
effectiveness, ruang rindu, letto, writing, poetry
Abstract
This study aims to a difference in the ability to write poetry in the tenth
grade students of Madrasah Aliyah Negeri (MAN) 2 Palembang who participated in learning by using song media and without using song media. This study also aims to examine the effectiveness of song media in improving the ability to write poetry for students of class X in (MAN) 2 Palembang. The method used in this study is a quantitative experimental method. There are two variables in this research, namely the independent variable in the form of song media, and the dependent variable in the form of the abilityto writing poetry. Data analysis techniques were carried out using t-test and score gain. The results of the t-test on the posttest core between the control class and the experimental class resulted. . These results indicate that the song media proved effective in learning to write poetry.
References
Andjani, Karina. 2014. Apa itu Musik? Kajian tentang Sunyi dan Bunyi. Tanggerang: CV. Marjin Kiri.
Anggraeni, Sri Wulan. 2016. Penggunaan Media Lagu Anak dalam Meningkatkan Hasil Pembelajaran Menulis Puisi. http://journal.ubpkarawang.ac.id diunduh 26 Maret 2018.
Hikmah, Rofiqotun. 2017. Peningkatan Kemampuan Menulis Puisi Bebas Menggunakan Media Video Reality Show pada Siswa Kelas VIII A Negeri 1 Baregbeg Ciamis (Skripsi). Ciamis: Program Studi Pendidikan Bahasa dan Sastra Indonesia FKIP Universitas Galuh.
Jabrohim, dkk. 2009. Cara Menulis Kreatif. Yogyakarta: Pustaka Pelajar.
Mulyadi, Yadi. 2017. Bahasa Indonesia untuk Siswa SMA-MA/SMK-MAK Kelas X. Bandung: Yrama Widya.
Pamungkas, Hendricus Agil Galih. 2016. Peningkatan Keterampilan Menulis Puisi Menggunakan Media Gambar Siswa Kelas VIII SMP Vita Surabaya Tahun Ajaran 2015/2016 (Skripsi). Surabaya: Pendidikan Bahasa dan Sastra Indonesia FKIP Universitas Sanata Darma.
Pradopo, Rachmat Djoko. 2012. Pengkajian Puisi. Yogyakarta: Gadjah Mada University Press.
Prayono. 2008. Metodologi Penulisan Kuantitatif untuk Psikologi dan Pendidikan. Yogyakarta: Pustaka Pelajar.
Sanjaya, Wina. 2014. Strategi Pembelajaran Berorientasi Standar Proses Pendidikan. Jakarta: Prenadamedia Group.
Sumardjo, Jakob, dkk. 1997. Apresiasi Kesusatraan. Jakarta: PT Gramedia Pustaka Utama.
Tarigan, Hendry Guntur. 2008. Menulis sebagai Sesuatu Keterampilan.
Waluyo, J. Herman. 2006. Pengkajian dan Apresiasi Prosa Fiksi. Surakarta: Universitas Sebelas Maret.
Zain, dkk. 2013. Strategi Belajar Mengajar. Jakarta: PT Rineka Cipta.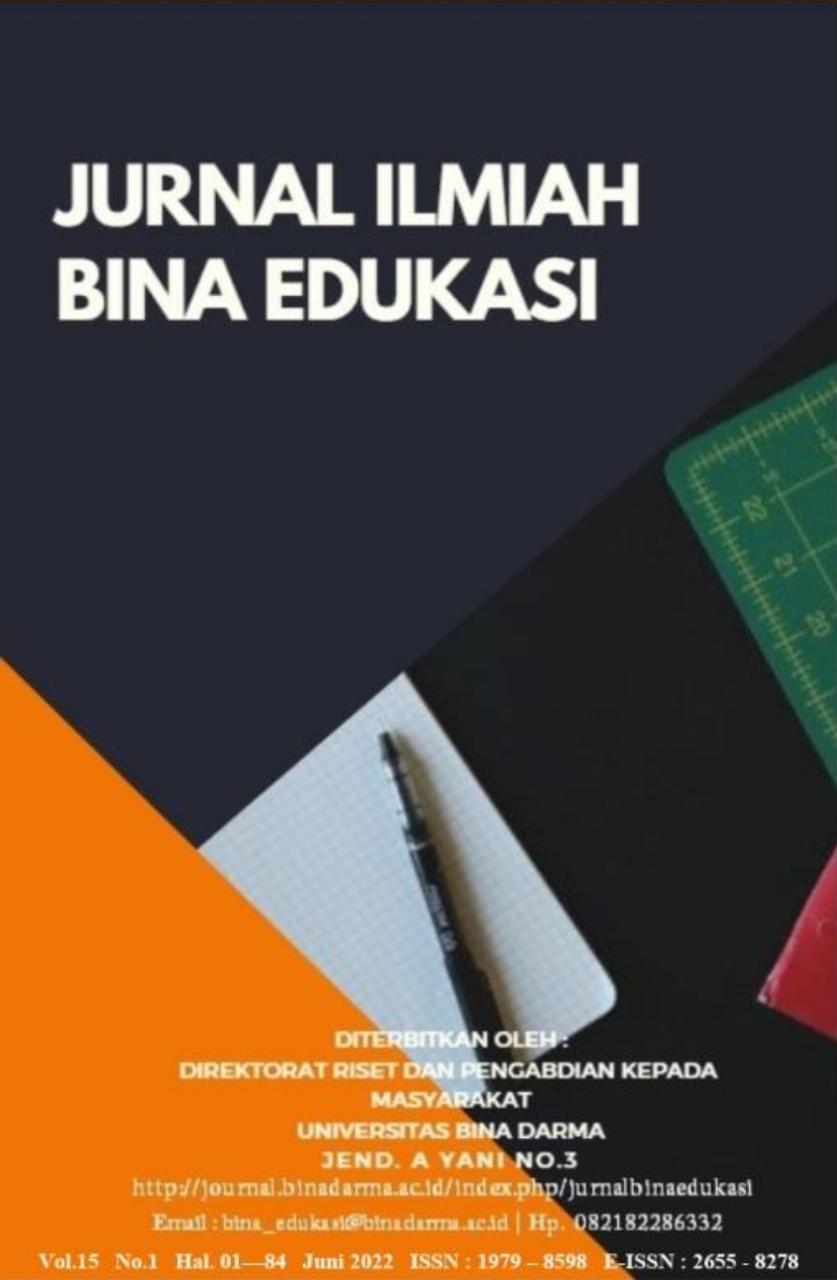 How to Cite
Hidajati, E., & Ariska, I. (2022). EFEKTIVITAS MEDIA LAGU "RUANG RINDU" KARYA LETTO DALAM PEMBELAJARAN MENULIS PUISI DI MADRASAH ALIYAH NEGERI 2 PALEMBANG. Jurnal Ilmiah Bina Edukasi, 15(1), 71–84. https://doi.org/10.33557/jedukasi.v15i1.1763
Abstract viewed = 92 times
PDF : 63 times

Jurnal Ilmiah Bina Edukasi oleh http://journal.binadarma.ac.id/index.php/jurnalbinaedukasi disebarluaskan di bawah Lisensi Creative Commons Atribusi 4.0 Internasional.