NILAI PENDIDIKAN BERKARAKTER DALAM NOVEL HAFALAN SHOLAT DELISA KARYA TERE LIYE: KAJIAN SOSIOLOGI SASTRA
Eka Wanispa

Universitas Bina Darma

Enny Hidajati

Universitas Bina Darma
Keywords:
character education, novel, sociologycal literary
Abstract
This research type is descriptive research by using approach of sociology of literature. The object of this research is the values ​​of character education in this novel. The data in this study are words, sentences, and discourses contained in this novel. The source of data in this novel. Data collection is done by reading and writing techniques. This study aims to explain the values ​​of education contained in this novel.. The results obtained in this study are 13 points, namely: (1) religious values, (2) honest values, (3) discipline value, (4) hard work value, (5) creative value, (6) independent value, (7) ) the value of curiosity, (8) the value of appreciation, (9) friendly and communicative value, (10) the value of peace love, (11) the value of reading, (12) the value of social care, (13) the value of responsibility.
References
Alfin, Moil Aprianto. (2015). Nilai-nilai Pendidikan Berkarakter dalam Novel Mualaf Karya John Michaelson. [Online]. (Diakses http://digilib.uinsby.ac.id/.tanggal 14 April 2017).

Damono, Sapardi Djoko. (2002). Pedoman Penelitian Sosiologi Sastra. Pusat Bahasa.Jakarta.

Hafid, Anwar. Dkk. (2014). Konsep Dasar Ilmu Pendidikan. Bandung: Alfabeta.

Kementerian Pendidkan Nasional. (2010). Panduan Pendidikan Karakter. Direktorat Pembinaan SMP. Jakarta.

Liye, Tere. (2008). Hafalan Shalat Delisa. Republika. Jakarta.

Ratna, Nyoman Kutha. (2003). Paradigma Sosiologi Sastra. Pustaka Pelajar.Yogyakarta.

Sukardi. (2013). Metodologi Penelitian Pendidikan. Jakarta: PT Bumi Aksara.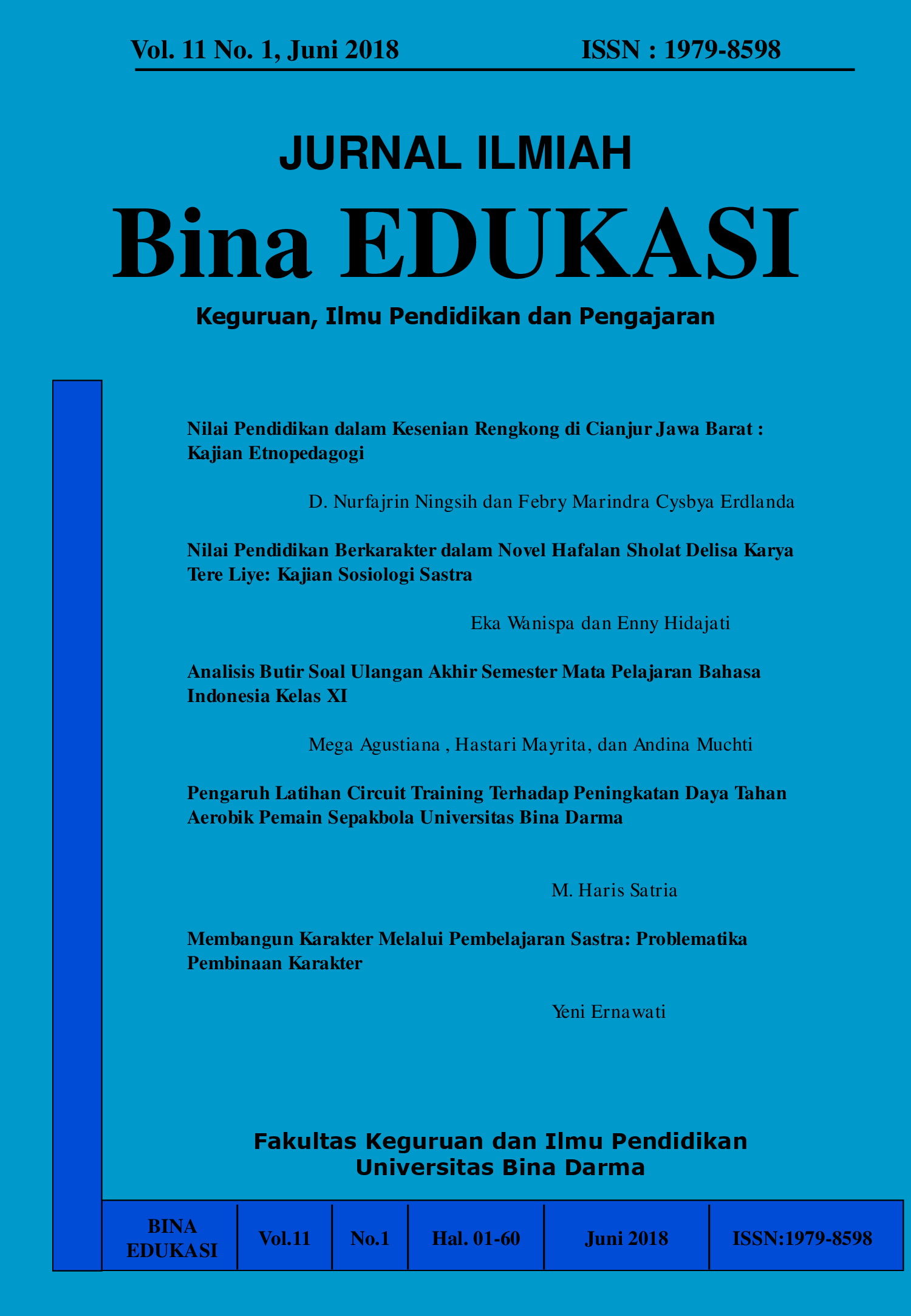 How to Cite
Wanispa, E., & Hidajati, E. (2019). NILAI PENDIDIKAN BERKARAKTER DALAM NOVEL HAFALAN SHOLAT DELISA KARYA TERE LIYE: KAJIAN SOSIOLOGI SASTRA. Jurnal Ilmiah Bina Edukasi, 11(01), 13-25. https://doi.org/10.33557/jedukasi.v11i01.202
Abstract viewed = 237 times
Download PDF : 564 times

Jurnal Ilmiah Bina Edukasi oleh http://journal.binadarma.ac.id/index.php/jurnalbinaedukasi disebarluaskan di bawah Lisensi Creative Commons Atribusi 4.0 Internasional.