LINKTREE SEBAGAI MULTIMEDIA PEMBELAJARAN ONLINE DALAM PEMAHAMAN KONSEP SISTEM PERSAMAAN LINEAR DUA VARIABEL (SPLDV)
Andriani Renova

Universitas Jambi

Ali Idrus

Universitas Jambi

Suratno Suratno

Universitas Jambi
Keywords:
Linktree, multimedia, online learning, SPLDV strategy
Abstract
The goal of this study is to describe how students at MTS Negeri 3 Muaro Jambi understand the concept of a two-variable linear equation system (SPLDV) by using linktree as an online learning multimedia. This is a qualitative study with a case study approach, with data collected through observation techniques, documentation, and interviews. Researchers select informants in grades VIII A, B, C, and D, namely each class of two students, totalling eight informants for data collection. The process of systematically searching for and organizing observed observations, interviews, field records, and other materials understood by researchers is known as data analysis. The findings of the study, which were observed by researchers show that the analysis of the use of linktree as an online learning multimedia in understanding the concept of a two-variable linear equation system (SPLDV) has a positive impact and aids in problem solving.
References
Akbar, A., S., T. (2005). Menguasai Internet Plus Pembuatan Web. Bandung: M2S.
Arifin, Z. (2013). Evaluasi Pembelajaran. Bandung: Remaja Rosda Karya.
Aufman, et. al. (2008). Persamaan Linear Dua Variabel. Definition.
Barnett, et. al. (2001). College Algebra, Ninth Edition. New York: Mc Graw Hill.
Elsom, C., M. (2001). Principles of Interactive Multimedia. London: McGraw Hill.
Hariandi, A., & Irawan, Y. (2016). Peran Guru Dalam Penanaman Nilai Karakter Religius Di Lingkungan Sekolah Pada Siswa Sekolah Dasar. Jurnal Gentala Pendidikan Dasar, Vol. 1 No. 1.
Jasmine. (2021). "Apa Itu Linktree Dan Manfaat Linktree Yang Wajib Kamu Tahu." Retrieved November 21, 2021 (https://academy.desty.app/apa-itu-linktree-dan-manfaat-linktree-yang-wajib-kamu-tahu/).
Moleong, L. J. (2008). Metodologi Penelitian Kualitatif. Bandung: Remaja Rosdakarya.
Mukhtar. (2013). Metode Praktis Penelitian Deskriptif Kualitatif. Jakarta: Gaung Persada.
Munir. (2010). Kurikulum Berbasis Teknologi Informasi Dan Komunikasi. Bandung: Alfabeta.
Nurafni, Minawati, M. (2021). Efektivitas Penerapan Aplikasi Linktree Dan Wordwall Terhadap Motivasi Intrinsik Siswa Kelas V Sekolah Dasar. Universitas Muhammadiyah Prof. Dr. Hamka.
Nuzirman, S. M. (2021). Pengembanagn Materi Ajar Berbasis (ICT) Dengan Memakai Linktree Pada Materi Aritmatika Sosial Siswa Kelas VII SMPS Islam Annur Prima Di Masa Pandemi Covid 19. Universitas Muslim Nusantara Al Washliyah.
Reddi, U. (2003). Multimedia as an Educational Tool. In In Educational Multimedia: A Handbook for Teacher-Developers. New Delhi: CEMCA.
Rusman. (2012). Belajar Dan Pembelajaran Berbasis Komputer. Bandung: Alfabeta.
Satrio, Y., D. (2020). LKP: Rancang Bangun Aplikasi Tautan GNFI Berbasis Website Pada Perusahaan Good News from Indonesia. (Doctoral dissertation, Universitas Dinamika).
Sintiya, I. (2021). Efektivitas Pembelajaran E-Learning Berbantuan Linktree Terhadap Hasil Belajar IPA Materi Tata Surya Kelas VI Min 1 Kota Surabaya. Universitas IAIN Sunan Ampel Surabaya.
Subagyo, P., J. (2011). Metode Penelitian Dalam Teori Dan Praktik. Yogyakarta: Rineka Cipta.
Sudijono, A. (2011). Pengantar Evaluasi Pendidikan. Jakarta: Rajawali Pers.
Sugiyono. (2020). Metode Penelitian Kuantitatif, Kualitatif Dan R&D. 2 ed. edited by Sutopo.Ed. Bandung: CV. Alfabeta.
Susanto, A. (2013). Teori Belajar Dan Pembelajaran Di Sekolah Dasar. Jakarta: Kencana Prenada Media Group.
Whatsapp. (2020). Whatsapp Messenger. Retrieved 22 Desember 2020. (https://itunes.apple.com/id/app/whatsapp-messenger/id310633997?l=id&mt=8).
Widi. (2021). Apa Itu Linktree?. Retrieved November 20, 2021 (https://linktr.ee/help/linktree-ff524ba1864c/id/articles/5434130-apa-itu-linktree).
Zaccaria, A. (2020). "Bootstrapped and Global from Day One: The Story of Linktree." Retrieved November 21, 2021 (https://startupnation.com/start-your-business/bootstrapped-global-linktree)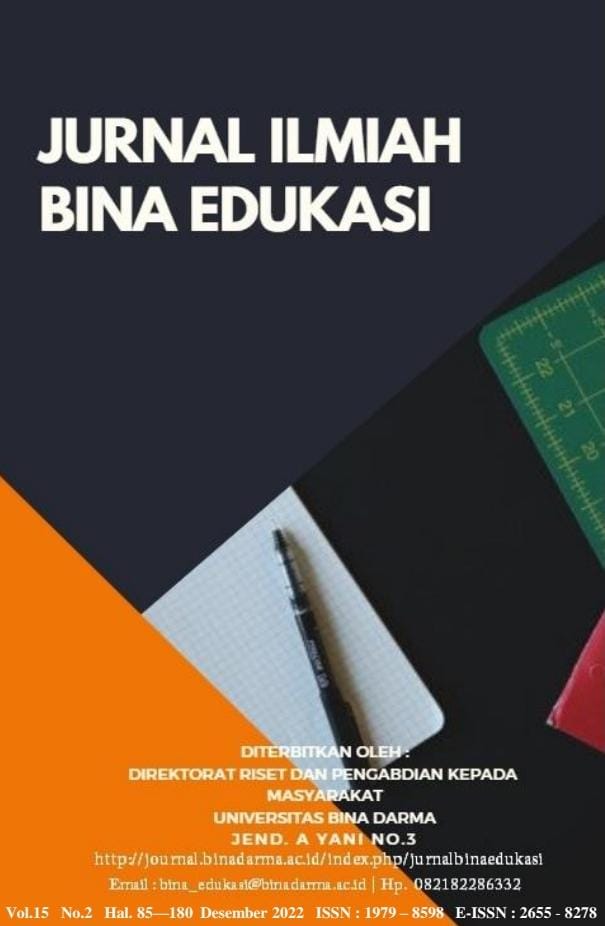 How to Cite
Renova, A., Idrus, A., & Suratno, S. (2022). LINKTREE SEBAGAI MULTIMEDIA PEMBELAJARAN ONLINE DALAM PEMAHAMAN KONSEP SISTEM PERSAMAAN LINEAR DUA VARIABEL (SPLDV). Jurnal Ilmiah Bina Edukasi, 15(2), 101–115. https://doi.org/10.33557/jedukasi.v15i2.2119
Abstract viewed = 135 times
PDF : 178 times

Jurnal Ilmiah Bina Edukasi oleh http://journal.binadarma.ac.id/index.php/jurnalbinaedukasi disebarluaskan di bawah Lisensi Creative Commons Atribusi 4.0 Internasional.