KOMPETENSI PEDAGOGIK GURU DALAM MENINGKATKAN MINAT BELAJAR PESERTA DIDIK DI SEKOLAH MENENGAH ATAS
Yurniati Yurniati

Universitas Bina Darma

Waspodo Waspodo

Universitas Bina Darma
Keywords:
Pedagogical Competence, Teacher, Learning Interest, Student Covid-19
Abstract
This research uses qualitative descriptive method. Data collection was carried out by interviews, observations, and documentation. Data analysis techniques are carried out through data reduction, data presentation, and drawing conclusions. The results show that (1) the pedagogical competence of teachers at SMA Negeri 6 Prabumulih has been carried out properly; (2) various efforts made by teachers in increasing students' interest in learning during the Covid-19 pandemic, such as building communication with parents of students so that they can participate in learning, innovate and be creative in learning, and build a learning atmosphere as attractive as possible so that students do not feel bored; (3) there are factors faced by teachers in increasing students' interest in learning such as internet networks and economic factors.
References
Abdul Saidir Amir. (2019). 4 Kompetensi Guru Profesional. Deepublish, Yogyakarta.
Aslamiyah, S. S., & Manan, A. (2019). Kompetensi Pedagogik Guru dalam Menumbuhkan Motivasi Belajar Peserta Didik. Akademika, 13(02).
Haikal, R. F., & Sami'an, S. (2021). Pengaruh Kompetensi Pedagogik Guru terhadap Minat Belajar Peserta Didik pada Masa Pandemi Covid-19. Thoriqotuna: Jurnal Pendidikan Islam, 4(2), 327-334.
Janawi. (2018). Kompetensi Guru Citra Guru Profesional. Alfabeta, Bandung.
Nurhasanah, Siti, A. Sobandi. (2016). "Minat Belajar sebagai Determinan Hasil Belajar Siswa". Jurnal Pendidikan Manajemen Perkantoran, 1(1): 128—135.
Nur Irwantoro, M.Pd., & Yusuf Suryana, M.Pd. (2016). Kompetensi Pedagogik untuk Peningkatan dan Penilaian Kinerja Guru dalam Rangka Implementasi Kurikulum Nasianal. Genta Group Production, Surabaya.
Peraturan Pemerintah RI No. 19 tahun 2005 tentang Standar Nasional Pendidikan.
Purnawan, Fajri. (2017). "Hubungan antara Minat Belajar dengan Hasil Belaajr Matematika Siswa Kelas X SMA Negeri 1 Tambang, Kec. Tambang, Kab. Kampar". Skripsi. Riau: Universitas Islam Riau.
Puthree, dkk. (2021). Analisis Faktor Rendahnya Motivasi Belajar Siswa Sekolah Dasar Selama Pembelajaran Daring. Jurnal Basicedu, 5(5), 3101-3108. https://doi.org/10.31004/basicedu.v5i5.1279
Sanusi, A., Nur, T., & Darmiyanti, A. (2021). Hubungan Kompetensi Pedagogik Guru PAI dengan Kemandirian Belajar Siswa di Masa Pandemi Covid 19. Edukatif:Jurnal Ilmu Pendidikan, 3(4), 2256-2264.
Silaban, G. T. (2020). Peran kompetensi pedagogik guru untuk mendorong keaktifan siswa pada pembelajaran daring (Doctoral dissertation, Universitas Pelita Harapan).
Undang-undang RI No. 14 tahun 2005 tentang Guru dan Dosen.
Undang-undang RI No. 20 tahun 2003 tentang Sistem Pendidikan Nasional.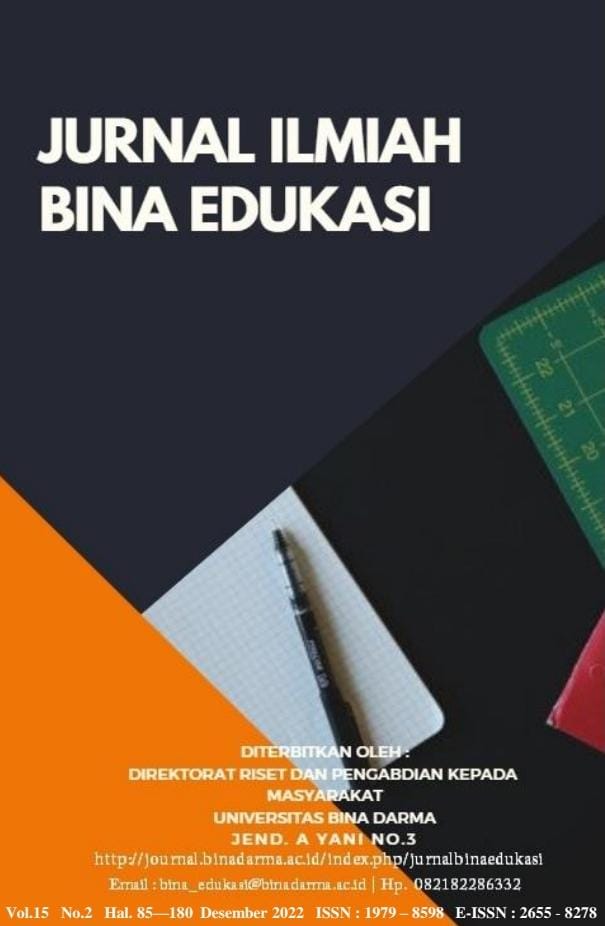 How to Cite
Yurniati, Y., & Waspodo, W. (2022). KOMPETENSI PEDAGOGIK GURU DALAM MENINGKATKAN MINAT BELAJAR PESERTA DIDIK DI SEKOLAH MENENGAH ATAS. Jurnal Ilmiah Bina Edukasi, 15(2), 159–170. https://doi.org/10.33557/jedukasi.v15i2.2137
Abstract viewed = 154 times
PDF : 122 times

Jurnal Ilmiah Bina Edukasi oleh http://journal.binadarma.ac.id/index.php/jurnalbinaedukasi disebarluaskan di bawah Lisensi Creative Commons Atribusi 4.0 Internasional.