TELEGRAM SEBAGAI MEDIA PEMBELAJARAN BAHASA INDONESIA
Yeni Ernawati

Universitas Bina Darma

Ririn Ririn

Universitas Bina Darma

Andina Muchti

Universitas Bina Darma
Keywords:
Telegram App, Instructional Media, Bahasa Indonesia, Learners
Abstract
This study aims to determine the use of telegrams as online learning media in Bahasa Indonesia subjects, as well as the obstacles in using telegrams as learning media. This research was conducted at SMP Negeri 1 Rambang Kuang. This research is a qualitative research with a phenomenological approach. Collecting data using observation, interviews, questionnaires, and documentation. From the results of this study it is known that the telegram application is used as a medium for disseminating subject matter, delivering information, and evaluating student activity. However, there are obstacles in the use of telegrams for teachers and students, namely limited facilities, economic conditions, communication skills, skills in using learning technology, thinking skills, and learning interest. The efforts made to overcome these obstacles are (a) holding limited offline learning; (b) organizing training for teachers, (c) making independent worksheets; (d) improve communication skills; and (e) involve parents to play an active role in their children's online learning at home.
References
Arifin, Haris Nursyah. (2020). Penggunaan Video Pembelajaran dan Diskusi melalui Telegram dalam Pembelajaran Daring Masa Pendemi Covid 19 di Madrasah Aliyah Al-Amin Tabanan Tahun Pelajaran 2020/2021. Widya Balina, 5 (2), 148—160. https://doi.org/10.53958/wb.v5i2.59
Asmuni. (2020) "Problematika Pembelajaran Daring di Masa Pandemi Covid-19 dan Solusi Pemecahannya". Jurnal Paedagogy, 7(4), 281-288. doi: 10.33394/jp.v7i4.2941.
Bare, Y., S, M., & Mira, K. (2022). Persepsi Guru dan Siswa terhadap Pemanfaatan Media Pembelajaran Google Classroom pada Mata Pelajaran Biologi SMA. Journal on Teacher Education, 3(2), 356-366. doi:10.31004/jote.v3i2.4060
Barokah, E. (2021). Penerapan Penggunaan Telegram dalam Pembelajaran Bahasa Indonesia Meningkatkan Kemampuan dan Hasil Belajar pada Teks Hikayat. Jurnal Pendidikan Dan Kewirausahaan, 9(2), 309–325.
Lestari, Wiji (2021). Pemanfaatan Whatsapp Sebagai Media Pembelajaran Dalam Jaringan Pada Masa Pandemi Covid-19 di VI Sekolah Dasar : Jambi.
Putri, R., Meldawati, & Junaidi, J. K. (2021). Gambaran Motivasi Belajar dalam Penggunaan Media Pembelajaran Whatsapp pada Mata Pembelajaran Sejarah Peminatan Kelas XI IIS di SMAN 1 Basa Ampek Balai Tapan Kabupaten Pesisir Selatan. Journal on Teacher Education, 3(1), 77-84. doi:10.31004/jote.v3i1.2457
Rahayu, Susiana. (2021). Analisis Pemanfaatan Whatsapp sebagai Media Pembelajaran Dalam Jaringan di Masa Pandemi. Skripsi. Pacitan: STKIP PGRI Pacitan.
Rois, I. N., & Setyawan, C. E. (2021). Penggunaan Aplikasi Telegram sebagai Media Pembelajaran pada Mata Pelajaran Bahasa Arab Peminatan di MAN 1 Kulon Progo. Proceeding of Annual International Symposium on Arabic Language, Culture and Literature, 1(1), 59–68. Retrieved from http://jurnal.uinbanten.ac.id/index.php/aisall/article/view/4348
Subiyantoro, A. (2020). Pengembangan Media Pembelajaran Mobile Learning dengan BOT API Aplikasi Telegram Pada Mata Pelajaran PPKn di SMAN 12 Jakarta. Kajian Moral Dan Kewarganegaraan, 08(3), 15. Retrieved from https://ejournal.unesa.ac.id/index.php/jurnal-pendidikan-kewarganegaraa/article/view/36178/32207
Syafitri, Pipit. (2021). Pengembangan Media Pembelajaran Interaktif pada Mata Pelajaran Akutansi Perusahaan Dagang Kelas XII IPS SMA Negeri 7 Pekanbaru. Skripsi. Pekanbaru: Universitas Islam Riau.
Tompo, Basman (2018). Pesona Bot Telegram. Sulawesi Selatan : CV. Syahadah Creative Media (SCM)
Windrayadi, Y. D. P., & Yusuf, M. (2021). Pengembangan E-Learning Berbasis Aplikasi Telegram Sebagai Alternatif Media Pembelajaran Pada Masa Pandemi Covid 19 . OPORTUNITAS: Jurnal Pendidikan Ekonomi, Manajemen, Kewirausahaan Dan Koperasi, 2(2), 59–64. Retrieved from http://journal.unirow.ac.id/index.php/oportunitas/article/view/347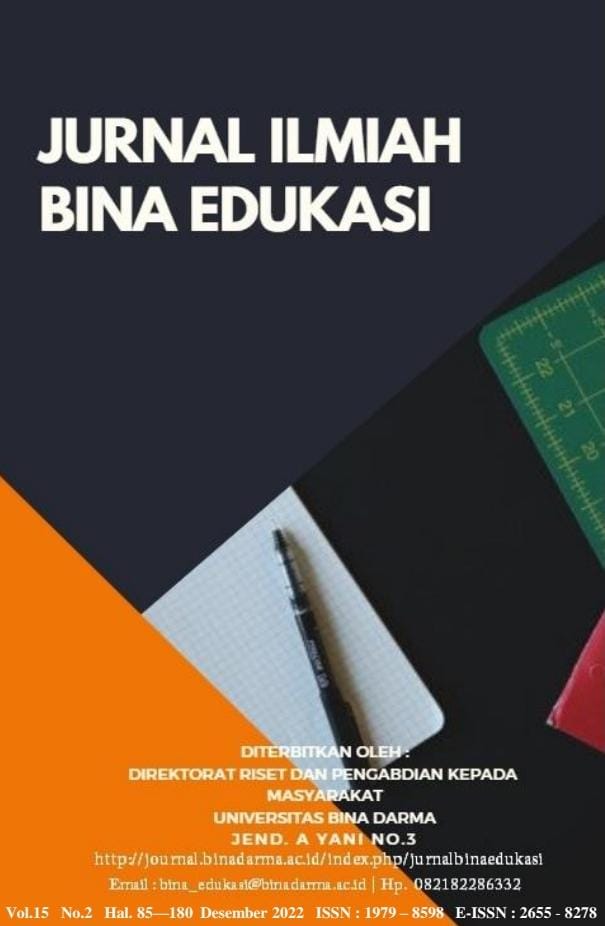 How to Cite
Ernawati, Y., Ririn, R., & Muchti, A. (2022). TELEGRAM SEBAGAI MEDIA PEMBELAJARAN BAHASA INDONESIA. Jurnal Ilmiah Bina Edukasi, 15(2), 171–180. https://doi.org/10.33557/jedukasi.v15i2.2138
Abstract viewed = 145 times
PDF : 145 times

Jurnal Ilmiah Bina Edukasi oleh http://journal.binadarma.ac.id/index.php/jurnalbinaedukasi disebarluaskan di bawah Lisensi Creative Commons Atribusi 4.0 Internasional.