SASTRA DAERAH "LEGENDA KAKEK SANG GERIGAP" SEBAGAI SARANA PEMBELAJARAN MORAL PADA SISWA
Enny Hidajati

Universitas Bina Darma
Keywords:
literature, moral learning, Levi Strauss
Abstract
Regional literature is a literature that lives and thrives in society and becomes a reflection of its people. Regional literature contains a philosophical life full of advice that contains a good moral message that can be a valuable learning for anyone. Unfortunately, there is a shift in value so that regional literature tends to be forgotten. The problem discussed in this research is how structural analysis of Levi-Strauss and what moral values ​​are contained in the story? Therefore, this study aims to analyze the folklore structurally to capture the learning of moral values ​​contained in LKSG. The method used is deskpitive. The approach used is the structural approach Levi-Strauss gives special attention to the myth. Discussion is divided into several episodes of the story to facilitate analysis. The results show that great powers are sometimes only myths that can be defeated with strong adhesions, confidence and use of common sense.
References
Dinas Kebudayaan dan Pariwisata Provinsi Sumatera Selatan. (2008). Kompilasi Satra Tutur Sumatera Selatan. Dinas Kebudayaan dan Pariwisata Provinsi Sumatera Selatan.
Dinas Pariwisata, Seni Budaya, Pemuda dan Olahraga. (2016). Dokumen Data Warisan Budaya Kabupaten Ogan Ilir. Indralaya: Dinas Pariwisata, Seni Budaya, Pemuda dan Olahraga
Lintani, Vebri Al dkk. (2014). Sastra Tutur Sumatera Selatan di Kabupaten Ogan Komering Ilir dan Musi Banyuasin. Palembang: Depdikbud
Luxemburg, Jan van. (1989). Pengantar Ilmu Sastra. Gramedia: Jakarta
Ratna, Nyoma Kutha. (2005). Teori, Metode, dan Teknik Penelitian Sastra.Pustaka Belajar: Yogyakarta
Semiawan, Conny. (2002). Penerapan Pembelajaran pada Anak. Jakrta: PT Indeks
Sukardi. (2013). Metodologi Penelitian Pendidikan. Jakarta: PT Bumi Aksara
Taum, Yoseph Yapi. Teori-Teori Analisis Sastra Lisan: Strukturalisme Levi-Strauss (daring). (Diakses pada www.academia.edu. 10 Juli 2018)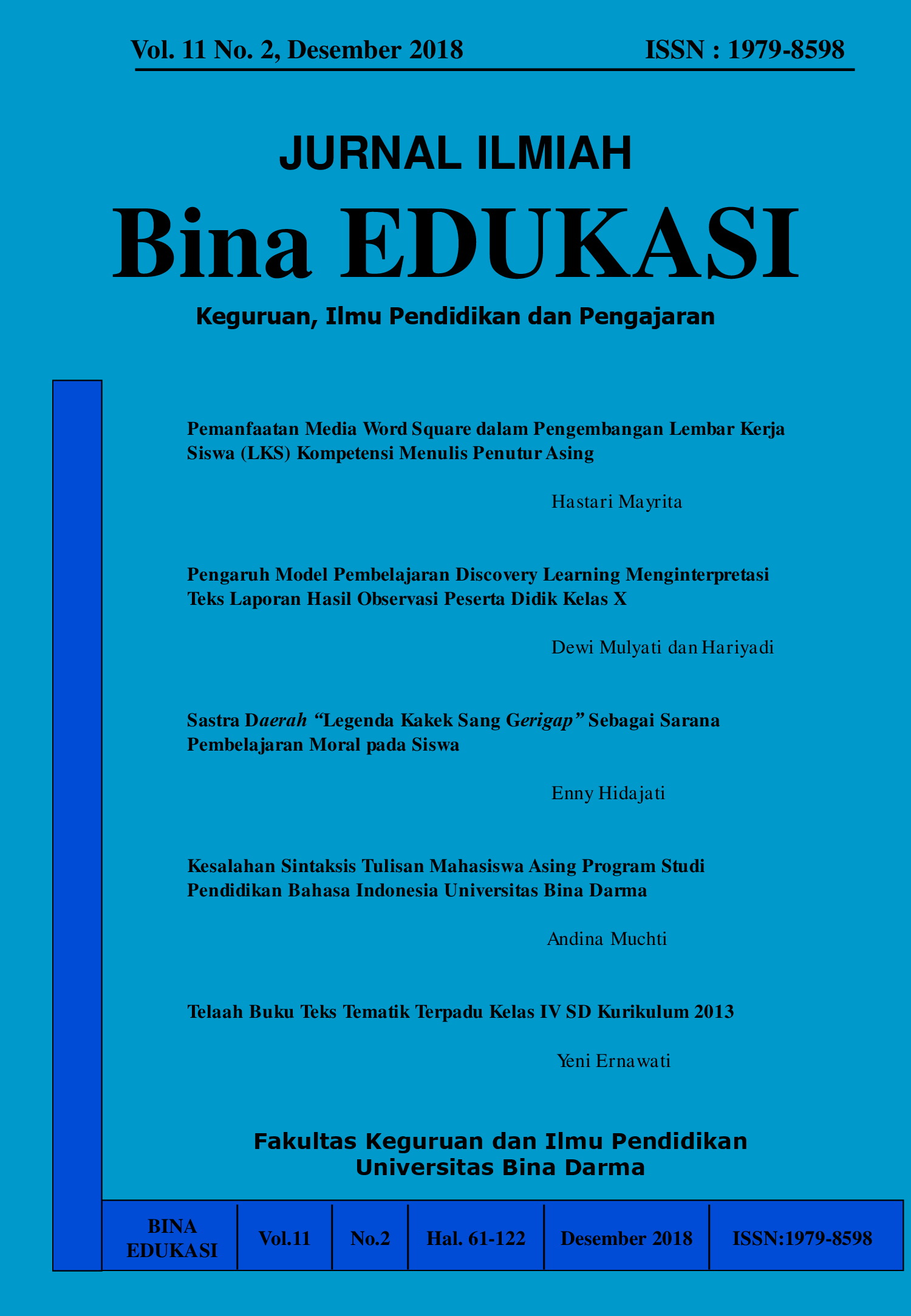 How to Cite
Hidajati, E. (2019). SASTRA DAERAH "LEGENDA KAKEK SANG GERIGAP" SEBAGAI SARANA PEMBELAJARAN MORAL PADA SISWA. Jurnal Ilmiah Bina Edukasi, 11(2), 86-98. https://doi.org/10.33557/jedukasi.v11i2.221
Abstract viewed = 216 times
pdf : 658 times

Jurnal Ilmiah Bina Edukasi oleh http://journal.binadarma.ac.id/index.php/jurnalbinaedukasi disebarluaskan di bawah Lisensi Creative Commons Atribusi 4.0 Internasional.