VIDEO PEMBELAJARAN PEMANDUAN CITY TOUR KEAHLIAN USAHA PERJALANAN WISATA SISWA SMK NEGERI 2 KOTA JAMBI
Endra Gunawan

Universitas Jambi

Suratno Suratno

Universitas Jambi

Akhmad Habibi

Universitas Jambi
Keywords:
Media development, Learning videos, citytours
Abstract
The aims of this study is to describe the concept and theoretical framework, procedures, conceptual feasibility and practicality of developing learning videos on the procedures for tour guided ways for students of class XI SMKN 2 Jambi City. This research method is development research using the Dick, Carey, and Carey model. Data collection using Flowchart describes the stages of production that are used as a guide to compile a development schedule including: time, crew, place, equipment, and others as production support. Descriptive analysis techniques are used to analyse data from product development trials, particularly those related to mastery analysis of learning materials and learning media. Content and media analysis is used to process data obtained from expert content and plan reviews, media experts, and content experts.
References
Alessi & Trollip. (2001). Multimedia for learning: Methods and development Massachusetts. 3nd ed. USA: Pearson Education.
Anderson, R. (1994). Pemilihan dan Pengembangan Media Video Pembelajaran. Jakarta: Grafindo Pers.
Ayuningrum, F. (2012). Pengembangan Media Video Pembelajaran untuk Siswa Kelas X pada Kompetensi Mengolah Soup Kontinental di SMK N 2 Godean. Skripsi. Yogyakarta: Universitas Negeri Yogyakarta.
Rachmadina, Destria. (2020). Pengembangan Video Pembelajaran Matematika Berbantuan Aplikasi Powtoon dengan Pendekatan Kontekstual. Disertasi. Lampung: UIN Raden Intan.
Dick,W, Carey, L., & Carey J.O. (2015). The Systematic Design of Instruction: Eighth Edition. Boston Columbus, Sadidle River: PEARSON.
Fauziyyah, Z. (2019). Pengembangan Media Video Pembelajaran untuk Meningkatkan Keterampilan Menyimak dan Berbicara Siswa Kelas III SDN Merjosari 2 Malang. Disertasi. Malang: UIN Maulana Malik Ibrahim.
Hamalik, U. (1994). Media Pendidikan. Bandung: Citra Aditya Bakti.
Sanaky, A.H.H. (2009). Media Pembelajaran. Yogyakarta: Safiria Insania Press.
Semiawan, Conny R. (2007). Catatan Kecil tentang Penelitian dan Pengembangan Ilmu Pengetahuan. Jakarta: Kencana
Smaldino, (2005). Instructional Technology and Media for Learning Ninth Edition. New Jersey: Upper Saddle River.
Subijanto, dkk. (2020). Revitalisasi Kurikulum SMK Pariwisata Kompetensi Keahlian Tata Boga. Jakarta: Pusatlitjakdikbud.
Wahyudi, J.B. (1992). Teknlogi Informasi dan Produksi Citra Bergerak. Jakarta: PT Gramedia.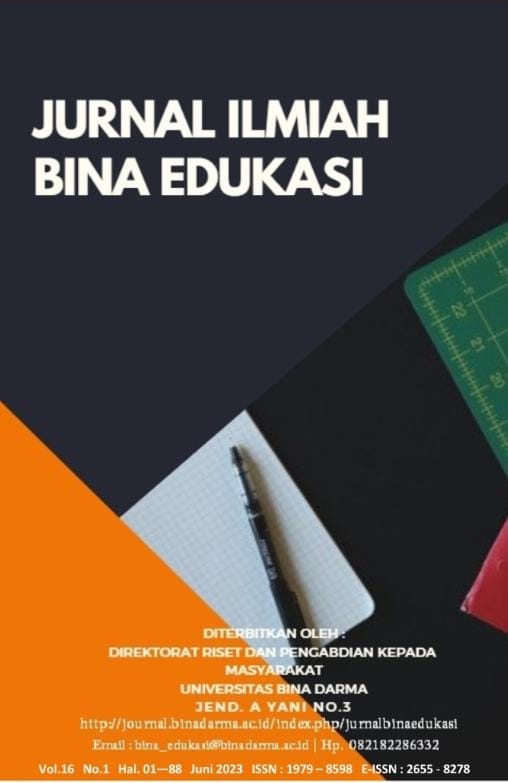 How to Cite
Gunawan, E., Suratno, S., & Habibi, A. (2023). VIDEO PEMBELAJARAN PEMANDUAN CITY TOUR KEAHLIAN USAHA PERJALANAN WISATA SISWA SMK NEGERI 2 KOTA JAMBI. Jurnal Ilmiah Bina Edukasi, 16(1), 01–13. https://doi.org/10.33557/jedukasi.v16i1.2480
Abstract viewed = 37 times
PDF : 40 times

Jurnal Ilmiah Bina Edukasi oleh http://journal.binadarma.ac.id/index.php/jurnalbinaedukasi disebarluaskan di bawah Lisensi Creative Commons Atribusi 4.0 Internasional.