PENGEMBANGAN MEDIA PEMBELAJARAN APLIKASI ANDROID INTERAKTIF BERBASIS PPT PADA MATERI TEKS PERSUASI KELAS VIII
Ayyu Subhi Farahiba

Universitas Trunojoyo Madura

Muhammad Mukhlis Roziqi

Universitas Trunojoyo Madura
Keywords:
interactive android apps, interactive learning media, powerpoint, persuasing text
Abstract
This research was conducted to answer problems and provide solutions for schools based on the results of interviews and analysis of student needs. The purpose of this research is to produce a product and find out the feasibility of developing ppt-based interactive android application learning media on class VIII persuasive text material. This study uses a research and development approach or R&D (Research and Development) with data collection techniques, namely interviews and questionnaires. The test subjects involved 18 teachers/practitioners and class VIII students to assess the feasibility of learning media. The results of the material expert validation test were 95%, media experts were 97.5%, linguists were a percentage of 80%. The overall rating average is 90.8%, which is in the proper category to use. The results of the teacher's response questionnaire obtained a percentage of 97.5% and the student response questionnaire of 80.8% included in the appropriate category and could be used as a learning medium during the teaching and learning process in class
References
Ananda, Rusydi. (2019). Perencanaan Pembelajaran. Medan: Lembaga peduli Pengembangan Pendidikan Indonesia(LPPPI).

Akbar, S. (2017). Instrumen Perangkat Pembelajaran. Bandung: PT. Remaja Rosdakarya.

Arsyad, Azhar. (2014). Media Pembelajaran. Jakarta: Rajawali Pres.

Anyan, A., Ege, B., & Faisal, H. (2020). Pengembangan Media Pembelajaran Interaktif Berbasis Microsoft Power Point. JUTECH : Journal Education and Technology, 1(1).

D. A. Nugraha, & Sudiyono. (2018). Pelatihan dan Pendampingan Pembuatan Media Pembelajaran Interaktif Menggunakan AutoPlay Media Studio Bagi Guru Guru SDN Merjosari 1. Jurnal Terapan Abdimas, 3(2), 182–187.

Damayanti, R., & Mawardi, M. (2018). Developing of MITRA Learning Model Of Problem Solving-Based to Solve Mathematical Problems In Elementary School. Jurnal Prima Edukasia, 6(1), 1–10. https://doi.org/10.21831/jpe.v6i1.17238.

Djamaludin, Ahdar dan Wardana. (2019). Belajar dan Pembelajaran: 4 Pilar Peningkatan Kompetensi Pedagogis. Sulawesi Selatan: CV. Kaafah Learning Centre.

Farahiba, Ayyu Subhi. 2022. Pengembangan Komik Interaktif Pahlawan Madura untuk Meningkatkan Keterampilan Literasi pada Pembelajaran Teks Anekdot. Jurnal Metalingua, 7, 13-24.

Kayati, A. N., & Farahiba, A. S. (2022). Pengembangan Media Penyuntingan Berbasis Android Pada Fabel Bermuatan Kearifan Lokal Madura. Caraka: Jurnal Ilmu Kebahasaan, Kesastraan, dan Pembelajarannya, 8(2), 139-160.

Kosasih, E. (2017). Bahasa Indonesia/Kementerian Pendidikan dan Kebudayaan. Jakarta: Kementerian Pendidikan dan kebudayaan.

Krisnasari, Fransisca Ayu. (2016). Pengembangan Media Powerpoint Untuk Pembelajaran Keterampilan Berbicara Menceritakan Tokoh Idola Pada Siswa Kelas VII SMP Pangudi Luhur 1 Yogyakarta Tahun Ajaran 2014/2015.(Skripsi) Yogyakarta: Universitas Sanata Dharma.

Rahmani, N. F. (2014). Pengembangan Media Interaktif Power Point Pembelajaran Wayang untuk Siswa SMP Kelas VIII DI Yogyakarta. Skripsi. Yogyakarta: Universitas Negeri Yogyakarta.

Sugiyono. 2020. Metode penelitian Kualitatif, kuantitatif dan R&D. Bandung: Alfabeta.

Sulistyorini, S., & Listiadi, A. (2022). Pengembangan media pembelajaran Ispring Suite 10 berbasis android pada materi jurnal penyesuaian di SMK. Edukatif: Jurnal Ilmu Pendidikan, 4(2), 2116-2126.

Supriyadi, S., Lidyawati, Y., & Majid, A. (2022). Pengembangan Media Pembelajaran Sparkol Videoscribe untuk Menulis Teks Fabel Kelas Vii Smp Negeri 42 Palembang. Jurnal Ilmiah Bina Edukasi, 15(2), 85–100. https://doi.org/10.33557/jedukasi.v15i2.2117.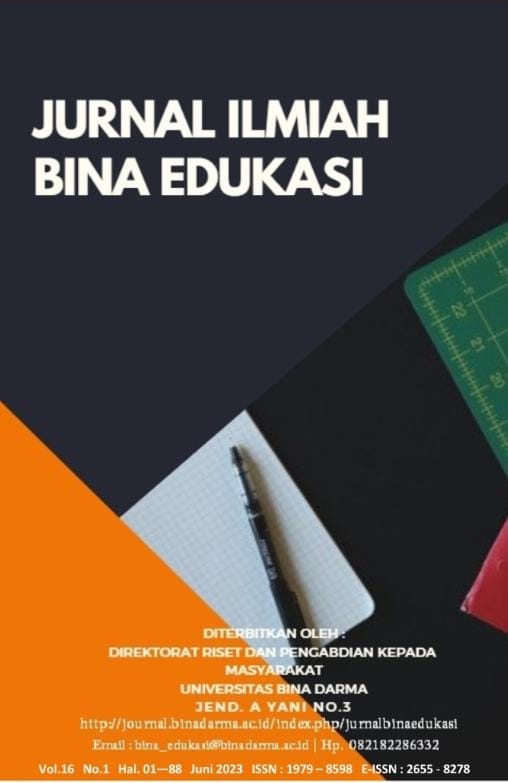 How to Cite
Farahiba, A., & Roziqi, M. (2023). PENGEMBANGAN MEDIA PEMBELAJARAN APLIKASI ANDROID INTERAKTIF BERBASIS PPT PADA MATERI TEKS PERSUASI KELAS VIII. Jurnal Ilmiah Bina Edukasi, 16(1), 14–24. https://doi.org/10.33557/jedukasi.v16i1.2481
Abstract viewed = 69 times
PDF : 64 times

Jurnal Ilmiah Bina Edukasi oleh http://journal.binadarma.ac.id/index.php/jurnalbinaedukasi disebarluaskan di bawah Lisensi Creative Commons Atribusi 4.0 Internasional.