PEMANFAATAN MEDIA GOOGLE FORM DALAM MENINGKATKAN LAYANAN GURU PEMBIMBING PADA PROGRAM PELAYANAN BIMBINGAN KELOMPOK
Muhammad Iqbal

Universitas Jambi

Indryani Indryani

Universitas Jambi

Muhammad Ali

Universitas Jambi
Keywords:
Effectiveness, Google Form, and Guidance Services
Abstract
This study explores the utilization of Google Forms for supervising teachers in conducting group guidance services, its impact on the services provided, and the facilitating and hindering factors at SMA Negeri 12 Jambi City. Employing a qualitative phenomenological research approach, the study outlines five stages involved in using Google Forms for group guidance: orientation/introduction, formation, transition, work, and final stage. The findings reveal that utilizing Google Forms brings about changes in rational thinking, self-motivation, self-confidence, and communication skills among supervising teachers. The supporting factors for implementing Google Forms include its practicality, effectiveness, and innovative use of technology in counseling activities within the independent curriculum. However, obstacles include slow wifi network, student distractions with cellphones, and a lack of emotional connection with students
References
Angin, P. W. (2021). Keefektifan Penggunaan Google Form untuk Mengumpulkan Tugas Siswa pada Masa Pandemi Covid-19. Skripsi tidak dipublikasikan. Fakultas Keguruan dan Ilmu Pendidikan: Universitas Jambi.
Creswell, J. W. (2016). Research Design, Pendekatan Metode Kualitatif, Kuantitaif, dan Campuran. 4th ed. Yogyakarta: Pustaka Belajar.
Moleong, Lexy, J. (2006). Metodologi Penelitian Kualitatif. Bandung: Remaja Rosda Karya.
Patilima, H. (2011). Metode Penelitian Kualitatif. Bandung: Alfabeta.
Prayitno & Erman, A. (2004). Dasar-dasar Bimbingan dan Konseling. Jakarta: Rineka Cipta.
Prayitno. (2017). Konseling Profesional yang Berhasil; Layanan dan Kegiatan Pendukung. Jakarta: Rajawali Pers.
Putri, S. W. (2022). Penggunaan Media Google Form dalam Pembelajaran Bahasa Indonesia Siswa Kelas VII SMPN 8 Kota Tangerang Tahun Pelajaran 2020/2021 (Bachelor's thesis, Jakarta: FITK UIN Syarif Hidayatullah Jakarta).
Rahayu, N. K. S., Wijaya, I. M. G. P., & Puspawati, G. A. M. (2021). Penerapan Media Google Form untuk Meningkatkan Hasil Belajar Dalam Mata Pelajaran Seni Budaya Siswa Kelas X AP2 SMK PGRI 1 Badung Tahun Pelajaran 2020/2021. Batarirupa: Jurnal Pendidikan Seni, 1(2), 79-88.
Sugiyono. (2017). Metode Penelitian Kuantitatif, Kualitatif, dan R&D. Bandung : Alfabeta.
Sukmadinata, N. S. (2011). Metode Penelitian Pendidikan. Bandung: Rosda.
Tohirin. (2009). Bimbingan dan Konseling di Sekolah dan Madrasah (Berbasis Integritasi). Jakarta: Rajawali Pers.
Zulfikar, Z., Hariko, R., Muwakhidah, M., & Aritonang, N. (2017). Konseling Humanistik: Sebuah Tinjauan Filosofi. Jurnal Konseling GUSJIGANG, 3(1). https://doi.org/10.24176/jkg.v3i1.1655.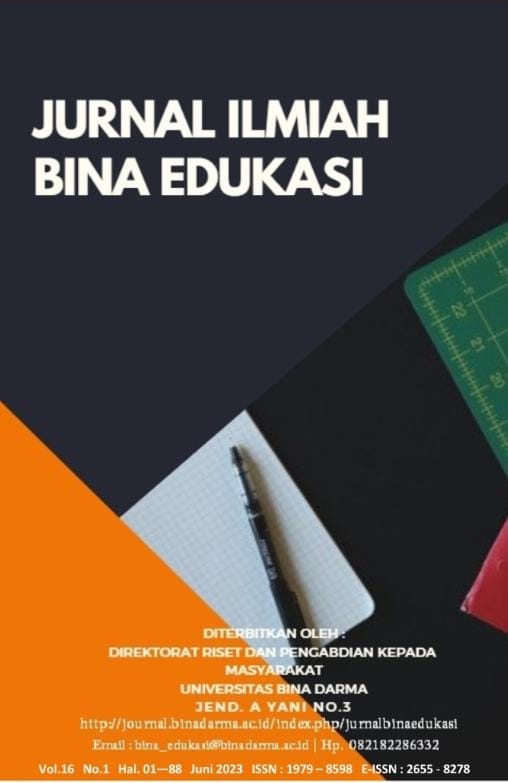 How to Cite
Iqbal, M., Indryani, I., & Ali, M. (2023). PEMANFAATAN MEDIA GOOGLE FORM DALAM MENINGKATKAN LAYANAN GURU PEMBIMBING PADA PROGRAM PELAYANAN BIMBINGAN KELOMPOK. Jurnal Ilmiah Bina Edukasi, 16(1), 53–67. https://doi.org/10.33557/jedukasi.v16i1.2484
Abstract viewed = 45 times
PDF : 36 times

Jurnal Ilmiah Bina Edukasi oleh http://journal.binadarma.ac.id/index.php/jurnalbinaedukasi disebarluaskan di bawah Lisensi Creative Commons Atribusi 4.0 Internasional.