IMPROVING LISTENING COMPREHENSION BY USING (VOA) ENGLISH BROADCAST STUDENTS OF SMK NEGERI 3 KAYU AGUNG
Maratul Azizah

Institut Agama Islam Nusantara Ashiddiqiyah

Hani Atus Sholikhah

Universitas Sriwijaya
Keywords:
Improving, Listening Comprehension, VOA
Abstract
This research was intended to investigate the use of VOA English broadcast for students' listening comprehension. The subject of this research was ten grade Akuntansi of SMK Negeri 3 Kayuagung. The method of this article is a pre-experimental research with students of Akuntansi as the sample. The effect size (ES) calculation is 1.27 as the result; so it meant that improving listening comprehension by using VOA was effective. Based on the calculating the significances' score of pre-test and post-test, the writer measured the effect size (ES) of the treatment. The average of pre-test was 5.00 and def. was 0.71. while the average of post-test was 8.13 and def. was 0.71. and standard deviation in both pre-test and post-test was 1.13 and it is categorized high. This findings can also be used as a references for teacher to improve students' listening comprehension in teaching and learning process
References
Afrianti, N. & Rachmiati, C. (2021) Factors Influencing Community Compliance with the Covid 19 Health Protocol. Permas Scientific Journal: Kendal STIKES Scientific Journal, 11 (1), 113-124.
Ahmadi, Mohammad Reza; Gilakjani, Abbas Pourhossein. (2012). Reciprocal Teaching Strategies and Their Impacts of English Reading Comprehension. Journal Theory and Practice in Language Studies, Vol.2. No.10.pp. 2053- 2060.
Badan Standar Nasional Pendidikan. (2006) Panduan Penyusunan Kurikulum Tingkat Satuan Pendidikan Jenjang Pendidikan Dasar dan Menengah. Jakarta.
Brown, H. Duglas. (1994). Teaching a Principle An Interactive Approach to Language Pedagogy. New Jersey: A Paramount Communications Company.
Dierking, P. (2018). Voice of America: Current Event Activities in the English LanguageClassroom.https://americanenglish.state.gov/files/ae/resource_files/5.3_webinar_slides.pdf.
Hamouda, A. (2012). Listening Comprehension Problems-Voices from the Classroom. Language in India, 12(8).
Harrel & Hatfield. (1998). Educational and Training. Boston: Harvard Business.
Hidayat, A.A. (2007). Metode Keperawatan dan Teknik Analisis Data. Jakarta: Penerbit Salemba Medika.
Hutchinson, T and Waters, A. (1987). English for Specific Purposes. A learning-Centered Approach. Cambridge University.
Kusumawardani, R., Santosa, R., & Roschsantiningsih, D. (2018). Explore the Use of Authentic Materials to Teach Reading for Junior High School. International Journal of Multicultural and Multireligious Understanding, 5(4), 298-307.
Loise Cohen, Lawrence Manion, Keith Marrison. (2000). Research Method in Education: London and New York.
Marrison, Bruce. (1989). Using News Broadcast for Authentic Listening Comprehension. ELT Journal, Vol (43). Oxford University press.
Mishan, Freda. (2005). Designing Authenticity Language Learning Materials. London: Longman.

Nation, I.S.P & Newton Jonathan. (2009). Teaching ESL/EFL Listening and Speaking. Routledge. New York.
Nisa, et al. on Brown, H. Duglas. 1994. Teaching a Principle An Interactive Approach to Language Pedagogy. New Jersey: A Paramount Communications Company.
Nunan, David. (2003). Practice English Language Teaching; first edition. New York. Mcg raw hill.
Oguz, Aytunga & Bahar Oguz H. (2008). The Importance of Using Authentic Materials in Prespective Language Teacher Training. Pakistan Journal of Social Sciences, Vol 5 no 4. Dumlupinar University. Turkey.
Richard, C. Jack. (2008). Teaching Listening and Speaking. New York: Cambridge University.
Rost, M. (2001). Teaching and researching listening. London: Longman.
Shockingawful. (2017). iRubric: English Listening Skills: Following directions. https://www.rcampus.com/rubricshowc.cfm sp=yes&code=L95572.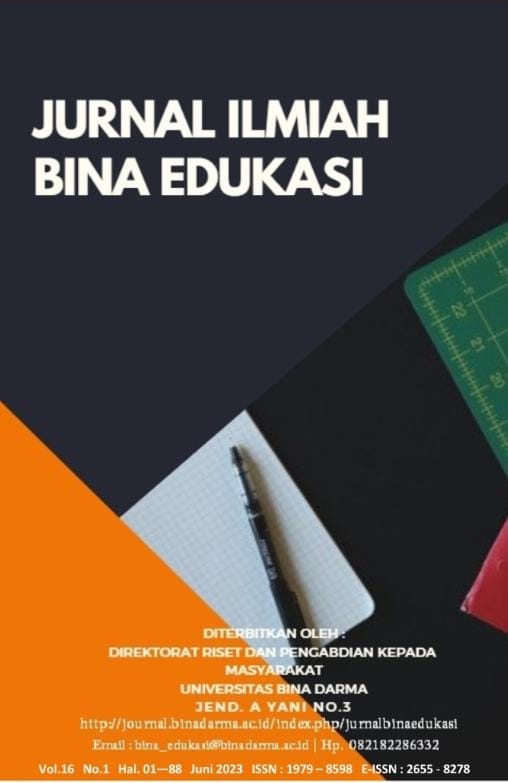 How to Cite
Azizah, M., & Sholikhah, H. (2023). IMPROVING LISTENING COMPREHENSION BY USING (VOA) ENGLISH BROADCAST STUDENTS OF SMK NEGERI 3 KAYU AGUNG. Jurnal Ilmiah Bina Edukasi, 16(1), 68–78. https://doi.org/10.33557/jedukasi.v16i1.2493
Abstract viewed = 42 times
PDF : 36 times

Jurnal Ilmiah Bina Edukasi oleh http://journal.binadarma.ac.id/index.php/jurnalbinaedukasi disebarluaskan di bawah Lisensi Creative Commons Atribusi 4.0 Internasional.