ANALISIS PEMANFAATAN LABORATORIUM SEBAGAI SUMBER BELAJAR AKUNTANSI DI SMK NEGERI 1 JEJAWI OKI
Erma Yulaini

Universitas PGRI Palembang

M. Toyib

Universitas PGRI Palembang
Keywords:
Laboratory Utilization, Learning Resources, Accounting
Abstract
The purpose of this study was to determine the utilization of laboratories as a learning resource for accounting students at SMK Negeri 1 Jejawi OKI. The sample in this study were 72 people. This research is quantitative research. Data collection techniques using questionnaires and documentation. Questionnaires are arranged using a Likert scale. From the results of the study it is known that 83% positively utilize the laboratory as a learning resource at school, while 17% prefer to use books and modules as learning resources. Based on the results of this study, it is recommended that schools can maximize the function of the laboratory as a learning resource, as well as improve facilities and infrastructure in the laboratory, both in terms of quantity and quality. So that it is expected to motivate students to be active in utilizing the laboratory as a source of learning accounting.
References
Abdullah, Ramli. (2012). Pembelajaran Berbasis Pemanfaatan Sumber Belajar. Jurnal Ilmiah Didaktika, 12 (2):216-231.

Arikunto, Suharsimi. (2013). Prosedur Penelitian. Jakarta: Rineka Cipta.

Multazam, Ahmad. (2013). "Fungsi dan Manfaat Laboratorium sebagai Sumber Belajar". Diakses dari https://multazam-einstein.blogspot.co.id pada 20 April 2018, 14:47 WIB.

Poerwadarminta, WJS. (2016). Kamus Umum Bahasa Indonesia. Jakarta Timur: PT Balai Pustaka (Persero).

Rahayuningsi, Edia & Djoko, Dwiyanto. (2008). Pembelajaran di Laboratorium. Yogyakarta: Pusat Pengembangan Pendidikan Universitas Gadjah Mada.

Rahmiyati. (2008). The Effectivenenss Of Laboratory Use In Madrasah Aliyah In Yogyakarta. Jurnal Penelitian dan Evaluasi Pendidikan, 12 (1): 90-91.

Rohani, Ahmad. (2010). Pengelolaan Pengajaran. Jakarta: Rineka Cipta.

Sitepu, B.P. (2014). Pengembangan Sumber Belajar. Jakarta: PT. Raja Grafindo Persada.

Warista, Bambang. (2018). Teknologi Pembelajaran, Landasan dan Aplikasinya. Jakarta: Rineka Cipta.

Wulandari, Novi & Suci Rohayati. (2005). Pengaruh Computer Knowledge, Computer Attitude, dan Fasilitas Laboratorium Komputer Terhadap Hasil Belajar Komputer Akuntansi Peserta didik Kelas XI Akuntansi SMK Negeri 1Surabaya. Jurnal Pendidikan Akuntansi. Vol 0 NO. 0, Hal. 1.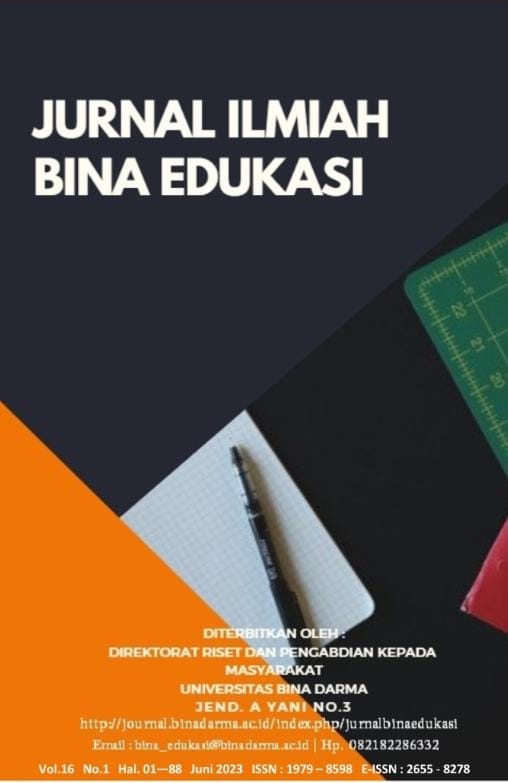 How to Cite
Yulaini, E., & Toyib, M. (2023). ANALISIS PEMANFAATAN LABORATORIUM SEBAGAI SUMBER BELAJAR AKUNTANSI DI SMK NEGERI 1 JEJAWI OKI. Jurnal Ilmiah Bina Edukasi, 16(1), 79–88. https://doi.org/10.33557/jedukasi.v16i1.2495
Abstract viewed = 43 times
PDF : 33 times

Jurnal Ilmiah Bina Edukasi oleh http://journal.binadarma.ac.id/index.php/jurnalbinaedukasi disebarluaskan di bawah Lisensi Creative Commons Atribusi 4.0 Internasional.