SISTEM ANALISIS BUTIR SOAL PADA CBT DENGAN METODE TEORI RESPON BUTIR
Wahyuni Wahyuni

STMIK Widya Cipta Dharma

Muhammad Fahmi

STMIK Widya Cipta Dharma
Keywords:
Item Analysis System, Item Response Theory, Computerized Based Test
Abstract
Analysis of the quality of the items is carried out so that the questions made actually consist of quality items in order to measure learning outcomes. Currently, there are still many teachers who have not analyzed the questions they made because they think that analyzing the questions takes a long time and takes a lot of energy. As a result, many items used cannot produce correct data about student learning outcomes. Therefore, a Question Item Analysis System was made using the Website-based Item Response Theory method to determine the quality of the items presented. In this study, a website-based item analysis system was developed using the item response theory method with a 3PL approach model. This system is made one package with CBT. Responses from participants to analyze the items are obtained automatically when participants take the CBT test
References
[1] Fitri Maiziani, "Efektivitas Computerized Based Testing Sebagai Sarana Tes Hasil Belajar," Kiprah, vol. 4, no. 1, pp. 15-32, Juni 2016.
[2] Pusat Penilaian Pendidikan. (2019) UNBK Pusat Penilaian Pendidik Kementrian Pendidikan dan Kebudayaan. [Online]. unbk.kemdikbud.go.id

[3] Baiq Desi Dwi Arianti, Yosi Nur Kholisho, Kholid Ismatulloh, and dkk., "Pelatihan Computer Based Test (CBT) Ujian Nasional Untuk Siswa SMK di Lombok Timur," Absyara: Jurnal Pengabdian Pada Masyarakat Bidang Pendidikan, Sains dan Teknologi, vol. 1, no. 1, pp. 22-32, Juli 2020.
[4] Risca Ferry Fergyana, "Analisis Kualitas Butir Soal Ujian Akhir Semester Ganjil Teori Kejuruan Kelas X Akuntansi SMK Muhammadiyah Wonosari Tahun 2016/2017," Program Studi Pendidikan Akuntansi Jurusan Pendidikan Akuntansi Fakultas Ekonomi Universitas Negeri Yogyakarta, Yogyakarta, Skripsi 2017.
[5] B Andriawan, "Evaluasi Pembelajaran Menggunakan Item Response Theory Model 2 Parameter Logistik," Universitas Islam Negeri Maulana Malik Ibrahim, Malang, Tesis 2019.
[6] Ahmad Sholihul, "PENGEMBANGAN SISTEM INFORMASI ANALISIS BUTIR SOAL TERINTEGRASI DENGAN COMPUTER BASE TEST ( CBT ) BERBASIS WEB MENGUNAKAN TEORI CLASSICAL MEASUREMENTS," Universitas Islam Nahdlatul Ulama , Jepara, Tesis oai:eprints.unisnu.ac.id:1544, 2018.
[7] Tika Clarinta Putri Utama, "Pengembangan Web Interface Untukanalisis Item Response Theory Dengan Pendekatan Model Campuran Dan Penerapannya Pada Bank Soal Mgmp," Universitas Jember, Jember, Tesis http://repository.unej.ac.id//handle/123456789/93839, 2015.
[8] Alhamidi, "Mengukur Kemampuan Bahasa Inggris Siswa Sekolah Menengah Atas Dengan Menggunakan Aplikasi Computer Based Testing (CBT)," Jurnal TEKNOIF, 2015.
[9] Ajat Rukajat, Teknik Evaluasi Pembelajaran, 1st ed. Jogjakarta: Deepublish, 2018.
[10] Samsul Hadi, Pengembangan Computerized Adaptive Test Berbasis Web, 1st ed. Sleman, Yogyakarta: Aswaja Pressindo, 2013.
[11] Sudaryono, Teori Respon Butir, 1st ed. Yogyakarta: Graha Ilmu, 2013.
[12] Anisa, "Perbandingan Penskoran Dikotomi dan Politomi dalam Teori Respon Butir untuk Pengembangan Bank Soal Matakuliah Matematika Dasar," Jurnal Matematika, Statistika, & Komputasi, pp. 95-113, 2013.
[13] F. A. Nurcahyo, "Aplikasi IRT dalam Analisis Aitem Tes Kognitif," Buletin Psikologi, pp. 64–75, 2017.
[14] L. V. Aprillian and M. H. K. Saputra, Belajar Cepat Metode SAW, L. V. Aprillian, Ed.: Kreatif Industri Nusantara, 2020.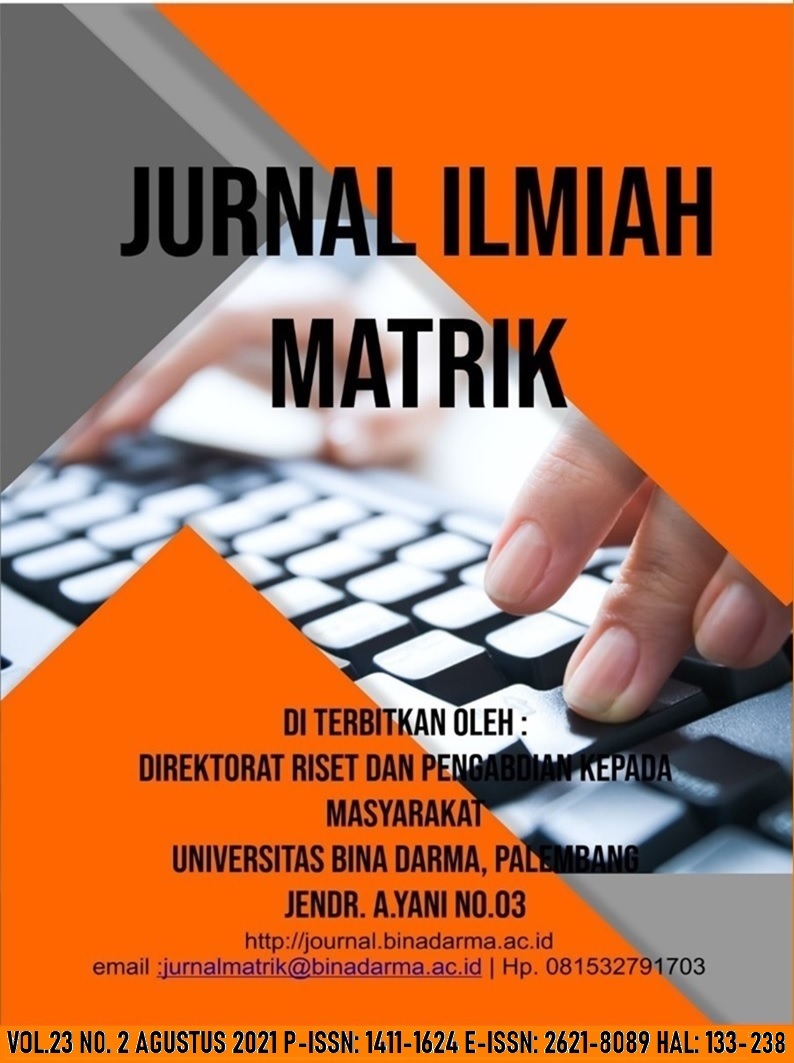 How to Cite
Wahyuni, W., & Fahmi, M. (2021). SISTEM ANALISIS BUTIR SOAL PADA CBT DENGAN METODE TEORI RESPON BUTIR. Jurnal Ilmiah Matrik, 23(2), 201-208. https://doi.org/10.33557/jurnalmatrik.v23i2.1427
Abstract viewed = 36 times
PDF : 19 times