PENERAPAN TAKSONOMI BLOOM DAN KRATHWOHL'S PADA APLIKASI RUBRIK PENILAIAN HASIL BELAJAR SISWA DI SAMARINDA UNTUK ASPEK AFEKTIF
Hanifah Ekawati

STMIK Widya Cipta Dharma

Wahyuni Wahyuni

STMIK Widya Cipta Dharma

Nila Ratna Sari

STMIK Widya Cipta Dharma
Keywords:
Learning Outcomes, Affective, Application, Waterfall
Abstract
The development of an application for the assessment of learning outcomes in this aspect will help teachers in the teaching and learning process, as well as make it easier for teachers to assess learning outcomes because the rubric is already available for application and there will be output of learning outcomes on the affective aspects of students. In this study using the waterfall model development method. As for what is needed data analysis, needs analysis, technology analysis, user analysis. Design, all data that has been collected in the system design process, so as to facilitate the description of the system and clarify the description of the existing system. Implementation, after doing the analysis and design, then the implementation is carried out, namely the development of the system, in this case starting the program. This application uses three users, namely the TU user, the Teacher user, the Homeroom user to view student data reports and student affective learning outcomes reports. The result of this research is a desktop-based application for assessing student learning outcomes in the affective aspect.
References
[1] H. Ekawati, "Pengembangan Rubrik Hasil Belajar Matematika Untuk Aspek Kognitif Pada Materi Bangun Datar," Jurnal Pendas Mahakam, vol. 2, no. 1, p. 13, 2017.
[2] P. Rozak, "Evaluasi Afektif dalam Pembelajaran," Journal STIT Pemalang, vol. 4, no. 1, p. 20, 2014.
[3] I. Magdalena, "Penggunaan Instrument Non-Tes dalam Pembelajaran Bahasa Indonesia untuk Menilai Ranah Afektif Siswa SDN Karangsari 1 Tangerang," Jurnal Halaqah, vol. 2, no. 3, p. 13, 2020.
[4] R. H. Hutapea, "Instrumen Evaluasi Non-Tes dalam Penilaian Hasil Belajar Ranah Afektif dan Psikomotorik," Jurnal Teologi dan Pendidikan Kristen Kontekstual, vol. 2, no. 2, p. 15, 2019.
[5] L. Yunita, "Penerapan Instrument Penilaian Ranah Afektif Siswa pada Praktikum Kimia di Sekolah," Prosiding Seminar Nasional Pendidikan FKIP UNTIRTA, 2017.
[6] R. Utari, "Taksonomi Bloom," Jurnal Pusdiklat KNPK. Acedemia Edu, 2011.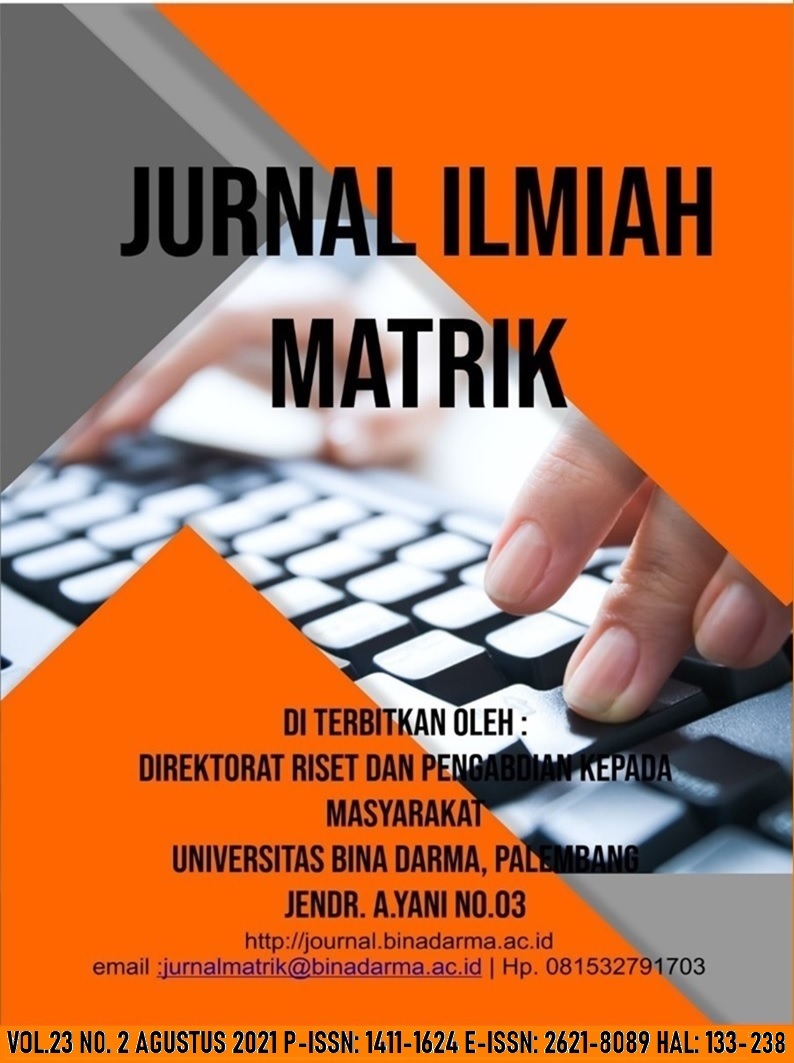 How to Cite
Ekawati, H., Wahyuni, W., & Sari, N. (2021). PENERAPAN TAKSONOMI BLOOM DAN KRATHWOHL'S PADA APLIKASI RUBRIK PENILAIAN HASIL BELAJAR SISWA DI SAMARINDA UNTUK ASPEK AFEKTIF. Jurnal Ilmiah Matrik, 23(2), 189 - 200. https://doi.org/10.33557/jurnalmatrik.v23i2.1428
Abstract viewed = 79 times
PDF : 65 times