Penerapan Algoritma Boyer-Moore Dalam Perpustakaan Virtual SMK Muhammadiyah 1 Samarinda Sebagai Pendukung Pembelajaran Daring
Bartolomius Harpad

STMIK Widya Cipta Dharma

Salmon Salmon

STMIK Widya Cipta Dharma
Keywords:
Boyer-moore algorithm, online, library.
Abstract
The existence of a library can be a historical chain for the past, a root for living in the present and a guide for stepping into the future. The library of SMK Muhammadiyah 1 Samarinda is a source of student knowledge that can improve the quality of student knowledge. Most of the school libraries in Samarinda, book searches are still not computerized, manual searches or searches cause operational activities to be ineffective and run slowly, from the problems at the school a system is needed that can solve problems so that it can facilitate library visitors and support learning during. Therefore, to overcome this problem, a virtual search system was created by implementing the Boyer-Moore algorithm. The Boyer–Moore algorithm is considered the most efficient algorithm in implementing a virtual book catalog search in the library. The system development tool uses flowchat, and the development method uses waterfall with the stages of development being analysis, design, coding, testing and maintenance. Data collection techniques consist of secondary data obtained by studying literature studies in the form of writings or documents, primary data comes from the location of the study directly, besides that data collection through observation is also carried out, namely direct observation of how the system works, system problems, system input data, existing processes and system outputs
References
[1] Aulia, R. 2008. Analisis Algoritma Knuth Morris Pratt dan Algoritma Boyer Moore dalam Proses Pencarian String. Makalah If2251 Strategi Algoritmik, pp. 1-5.
[2] Dimyati, Mudjiono. 2015. Belajar Dan Pembelajaran. Jakarta: Rineka Cipta.
[3] Fernando, Hary., 2009. "Perbandingan dan pengujian beberapa algoritma pencocokan string." Makalah IF2251, pp.1-7.
[4] Pertiwi, Dini Hari., 2011 "Desain dan Implementasi Sistem Informasi Perpustakaan Berbasis WEB dengan MVC (Model View Controler). " Jurnal Teknologi Informatika (TEKNOMATIKA) 1, pp. 1-23.
[5] Pratiwi, D., Hartini, S., & Marlina, S. 2018. Rancang Bangun Sistem Informasi Perpustakaan Pada Sekolah SMK Yadika 13 Tambun Utara Berbasis WEB. Paradigma-Jurnal Komputer dan Informatika, 20(1), 53-58.
[6] Pressman R. Software Engineering: A Practitioner's Approach Seventh Edition. New York: McGraw Hill. 2010.
[7] Putera, A. R., & Ibrahim, M. 2018. Rancang Bangun Sistem Informasi Peminjaman dan Pengembalian Buku Perpustakaan SMP Negeri 1 Madiun. Doubleclick: Journal of Computer and Information Technology, 1(2), 57-61.
[8] Sagita, Vina, And Maria Irmina Prasetiyowati., 2013."Studi Perbandingan Implementasi Algoritma Boyer- Moore, Turbo Boyer-Moore, Dan Tuned Boyer-Moore Dalam Pencarian String." Ultimatics 5.1, pp.31-37
[9] Sutedjo, Budi Dan An, Michael., 2002 "Algoritma Dan Teknik Pemrograman Konsep, Implementasi, Dan Aplikasi". Yogyakarta:Andi.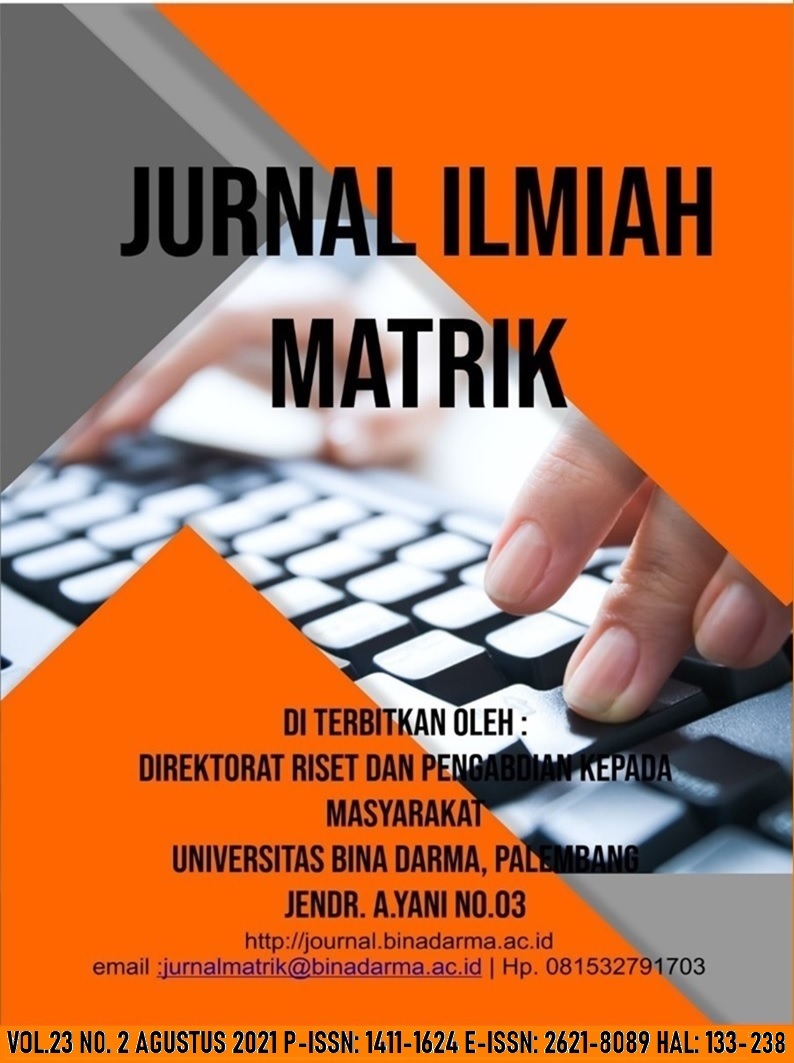 How to Cite
Harpad, B., & Salmon, S. (2021). Penerapan Algoritma Boyer-Moore Dalam Perpustakaan Virtual SMK Muhammadiyah 1 Samarinda Sebagai Pendukung Pembelajaran Daring. Jurnal Ilmiah Matrik, 23(2), 182-188. https://doi.org/10.33557/jurnalmatrik.v23i2.1430
Abstract viewed = 23 times
PDF : 9 times