ANALISIS PERANCANGAN E-COMMERCE TART & CAKE FAFA CHEESE BERBASIS WEB
Kusnandar Kusnandar

STMIK Widya Cipta Dharma

Ita Arfyanti

STMIK Widya Cipta Dharma

Nursobah Nursobah

STMIK Widya Cipta Dharma
Keywords:
Analysis, Design, E-Commerce, Tart
Abstract
This study discusses about e-commerce analysis and design at the Fafa Cheese shop. The sales system is still done manually, monthly data reports are still done in recording into a book which can lost sales reports, and there is no price information and tart sold, it is necessary to have the delivery status of the tart sold. The development of this sales information system uses the waterfall development system. This study aims to design an online cake sales application, provide information about prices and cakes sold and provide information that cakes have been sent to customers. The results of this study are the creation of e-commerce design, making it easier to make monthly reports, the availability of price information and cakes sold, and the status of cake delivery if the cake has been sent to the customer.
References
Kirana, D. 100 Kreasi Cake Ulang Tahun Anak. (n.p.): Gramedia Pustaka Utama. 2013.
Setiawan, B., Suliawati, S., & Arfah, M, "Menentukan Kriteria Yang Paling Berpengaruh Antara Investasi, Produk, Potensi Keuntungan Dan Merek Terhadap Keputusan Wirausahawan Membeli Franchise (Studi Kasus Franchise Fafa Cheese)," Buletin Utama Teknik, 16(3), 219-223., 2021.
Susilawati, A., "Pengaruh Produk Terhadap Tingkat Kepuasan Pelanggan di Fafa Cheese Yogyakarta (Skripsi, STP AMPTA Yogyakarta). 2018.
Bairizki, A., "Pengaruh Harga, Promosi dan Kualitas Produk Terhadap Keputusan Pembelian Dalam Meningkatkan Penjualan (Studi Kasus Pada Ud Ratna Cake & Cookies)," VALID Jurnal Ilmiah, 14(2), 71-82. 2017.
Gunawan, D., Hastuti, D. P., & Andriani, R., "Sistem Informasi Penjualan Berbasis Web Pada Restoran Caki Cake Karawang," Jurnal Akrab Juara, 3(1), 1-16. 2018.
Fatonah, A., Ningsih, R., & Aprilliah, W., "Perancangan Sistem Informasi Penjualan Kue Berbasis Web Pada Toko Ana Cake Cikarang," Jurnal Sistem Informasi, 4(2), 273-280. 2015.
Istanti, L. N., Agustina, Y., Wijijayanti, T., & Dharma, B. A., "Pentingnya Penyusunan Laporan Keuangan Umkm Bagi Para Pengusaha Bakery, Cake And Pastry (Bcp) Di Kota Blitar," Jurnal Graha Pengabdian, 2(2), 163-171. 2020.
Naufal, M. M. A., Hernawati, E., & Qana'a, M., "Aplikasi Penjualan Kue Berbasis Web Pada Toko Yanie's Cakes And Cookies," eProceedings of Applied Science, 5(1). 2019.
Wibowo, T. J., Suryasari, S., & Aribowo, A., "Sistem Informasi Penunjang Proses Pemesanan dan Desain Kue Pada Toko Kue Artisan Online Berbasis Web," Ultima InfoSys: Jurnal Ilmu Sistem Informasi, 10(1), 48-54. 2019.
I. Sommerville, Software Engineering. Netherlands, Pearson, 2015.
F. H. Utami dan Asnawati. Rekayasa Perangkat Lunak. Deepublish. 2015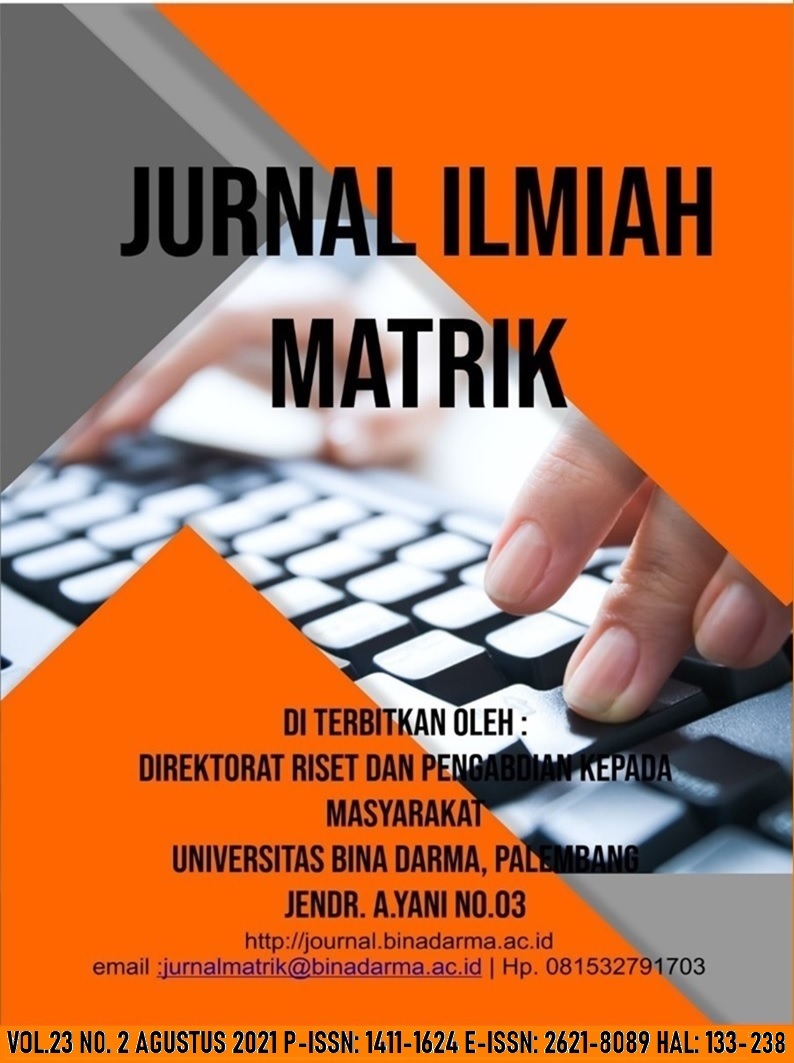 How to Cite
Kusnandar, K., Arfyanti, I., & Nursobah, N. (2021). ANALISIS PERANCANGAN E-COMMERCE TART & CAKE FAFA CHEESE BERBASIS WEB. Jurnal Ilmiah Matrik, 23(2), 219 - 228. https://doi.org/10.33557/jurnalmatrik.v23i2.1450
Abstract viewed = 61 times
PDF : 36 times