ANALISIS METODE GAUSS-JORDAN DALAM PENENTUAN ARUS PADA RANGKAIAN LISTRIK
Patrisius Batarius

Universitas Katolik Widya Mandira, Kupang

Ignatius Pricher A. N. Samane

Universitas Katolik Widya Mandira, Kupang
Keywords:
Gauss-Jordan, Number of iterations, Electrical Circuits, Simultaneous Equations
Abstract
Persamaan simultan sering dijumpai di bidang teknik termasuk pada bidang elektro khususnya pada rangkaian listrik. Salah satu metode untuk menentukan arus listrik dalam sebuah rangkaian listrik menggunakan metode Gauss-Jordan. Permasalahannya adalah berapa jumlah iterasi yang dibutuhkan oleh metode Gauss-Jordan dalam menyelesaikan sebuah persamaan simultan dari sebuah rangkain listrik. Tujuan penelitian ini selain menghitung nilai arus pada masing-masing loop sebuah rangkaian listrik, juga mengetahui banyaknya iterasi pada metode Gauss-Jordan dalam menyelesaikan sebuah persamaan simultan yang dihasilkan dari sebuah rangkaian listrik. Satu iterasi pada proses Gauss-Jordan yakni: normalisasi matriks kemudian dilanjutkan perkalian elemen matriks dengan persamaan ternomalisasi untuk menghasilkan matriks saat ini. Langkah selanjutnya adalah pengurangan element matriks dari sebelumnya dengan matriks saat ini untuk menghasilkan matriks selanjutnya. Acuan ini digunakan untuk menghitung jumlah iterasi dari metode Gauss-Jordan. Hasil proses metode Gauss Jordan menunjukan bahwa umlah iterasi Gauss-Jordan menyelesaikan persamaan simultan dengan model darai rangkain listrik sebanyak n iterasi. Dengan n adalah jumlah loop dari rangkaian listrik tersebut atau jumlah variabel dari persamaan simultan. Model persamaan simultan pada rangkaian listrik diperoleh dengan menerapkan Hukum Kirchof Tegangan dan Hukum Kircof Arus, diperoleh persamaan setiap loop pada rangkaian listrik
References
Michailidis, P, D., Margaritis, K., G., 2011, Open Multi Processing (OpenMP) of Gauss-Jordan Method for Solving System of Linear Equations, 11th IEEE International Conference on Computer and Information Technology, 978-0-7695-4388-8/11 $26.00 © 2011 IEEE, DOI 10.1109/CIT.2011.47
Megha, 2016, Comparative analysis of gauss elimination and gauss-Jordan elimination, International Journal of Multidisciplinary Education and Research, ISSN: 2455-4588; Impact Factor: RJIF 5.12, www.multieducationjournal.com, Volume 1; Issue 3; May 2016; Page No. 72-77.
Saeed,M., Nisar, S., Razzaq, S., Masood, R., Imran,.R., 2015, Gaussian Elimination Method-A Study of Applications, Global Journal of Science Frontier Research: F, Mathematics and Decision Sciences, Volume 15 Issue 5 Version 1.0 Year 2015 Type : Double Blind Peer Reviewed International Research Journal Publisher: Global Journals Inc. (USA) Online ISSN: 2249-4626 & Print ISSN: 0975-5896
DasGupta, D, 2013, "In-Place Matrix Inversion by Modified Gauss-Jordan Algorithm", Applied Mathematics, 2013, 4,1392-1396, http://dx.doi.org/10.4236/am.2013.410188, Published Online October 2013.
Juya, A.Y.M., Archila, A.C., 2019, Iterative refinement of the Gauss-Jordan method, in ill conditioned systems, Ciencia en Desarrollo, Vol. 10 No. 2, 2019.
Hasanudin, M., Kristiadi, D.P., Yuliana, K., Tarmizi, R., Kuswardani, D., Abdurrasyid, A., Using Gauss - Jordan elimination method with The Application of Android for Solving Linear Equations, International Journal for Educational and Vocational Studies, Vol. 1, No. 6, October 2019, pp. 609-613.
Xingping Sheng X., 2018, Computation of weighted Moore–Penrose inverse through Gauss–Jordan elimination on bordered matrices, Applied Mathematics and Computation 323 (2018) 64–74, www.elsevier.com/locate/amc, https://doi.org/10.1016/j.amc.2017.11.041.
Hartono, Rifdian I.S., Slamet H., 2020, "Work Analysis of Constant Current Regulator BF 1200 With Current Loop and Gauss Jordan Method as Learning Media for Cadets", Advances in Engineering Research, volume 196, International Joint Conference on Science and Engineering (IJCSE 2020),
Weldesemaet, M.K., 2018, The Importance of Gauss-Jordan Elimination Methods for Balancing Chemical Reaction Equation, IJEDR, Vo. 6, Issue 2, ISSN: 2321-9939
Chapra, S.C., Canale, R.P, Numerical methods for engineers, 6th, 2010, Mc Graw-Hill Companies, ISBN 978–0–07–340106–5, pp.227-324.
Sauer T., Numerical Analysis, 2th, 2012, Pearson, ISBN-13: 978-0-321-78367-7, pp.99-135
https://id.wikipedia.org/wiki/Hukum_sirkuit_Kirchhoff, (diakses tgl 13/02/2021)
https://id.wikipedia.org/wiki/Hukum_Ohm, (diakses tgl 13/02/2021).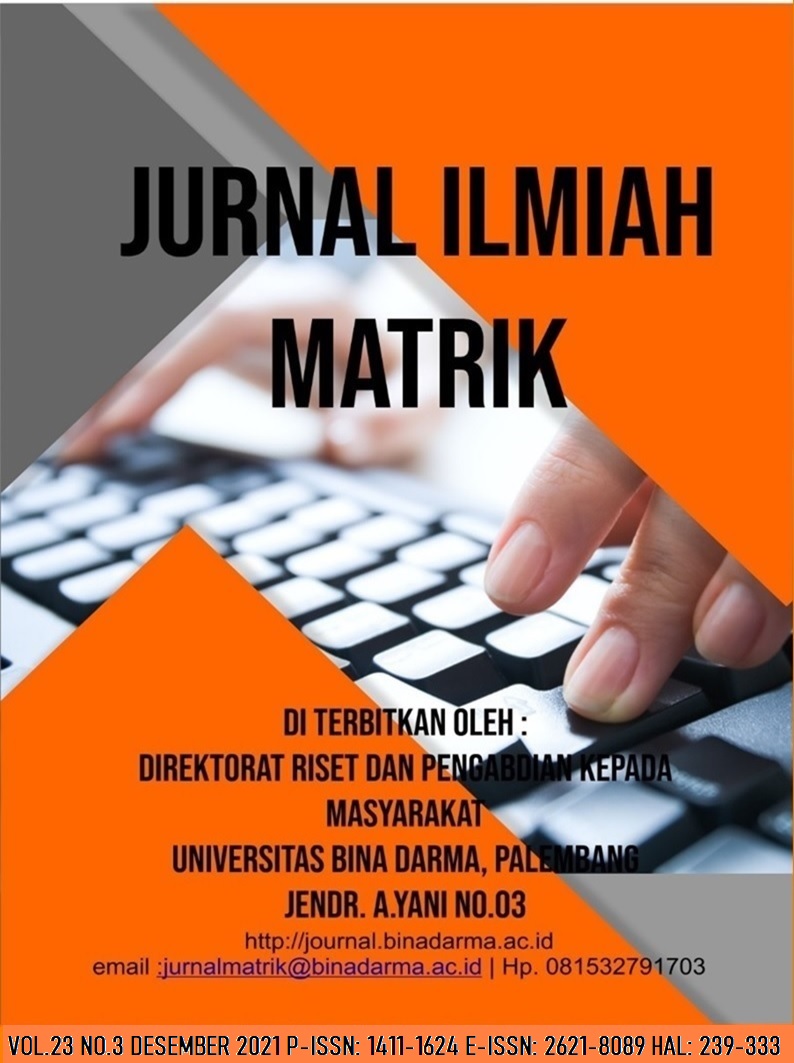 How to Cite
Batarius, P., & Samane, I. (2022). ANALISIS METODE GAUSS-JORDAN DALAM PENENTUAN ARUS PADA RANGKAIAN LISTRIK. Jurnal Ilmiah Matrik, 23(3), 279–290. https://doi.org/10.33557/jurnalmatrik.v23i3.1508
Abstract viewed = 369 times
PDF : 393 times