SISTEM PAKAR UNTUK MENDIAGNOSIS HAMA PENYAKIT TANAMAN SEMANGKA MENGGUNAKAN METODE CERTAINTY FACTOR DAN METODE BAYES
Luqman Imam

UPN "VETERAN" JAKARTA

Henki Bayu Seta

Universitas Pembangunan Nasional Veteran Jakarta

Ria Astriratma

Universitas Pembangunan Nasional Veteran Jakarta
Keywords:
Watermellon, Expert System, Diagnose, Pest disease, Certainty Factor, Bayes
Abstract
Watermelon is one of the most popular fruits by the general public. Apart from the benefits of watermelon, watermelon also has several diseases that are difficult for farmers to know, such as fruit rot (anthracnose), fruit scabies (bacterial fruit blotch), and others. Although watermelon disease is common, there are still many farmers who do not know about this problem. Therefore, an expert system for watermelon disease detection can be used using the certainty factor algorithm and the Bayes method. Based on the problems that occurred, this study raised the title "Expert System for Diagnosing Pests and Diseases of Watermelon Plants using the Certainty Factor Method and the Bayes Method" to overcome the ignorance of farmers in detecting watermelon disease by entering various characteristics listed in the system based on plant events, the system will provide insight based on existing characteristics using a certainty factor algorithm which will then compare the results with the Bayes method
References
Monica, E., & Rollando, R., "IDENTIFIKASI DAN ISOLASI SENYAWA LIKOPEN DARI SEMANGKA (CITRULLUS LANATUS)," 2019. [Online]. Available: https://publikasiilmiah.unwahas.ac.id/index.php/Farmasi/article/view/2933/2867.
Taufiq, Soegiarto, & Handayani, M. , "Sistem Pakar Diagnosa Penyakit Tanaman Semangka Menggunakan Metode Dempster Shafer Berbasis Web," 2017. [Online]. Available: http://ojs.stmik-banjarbaru.ac.id/index.php/progresif/article/view/163/151.
K. Aryasa, "Sistem Pakar Diagnosa Penyakit Tanaman Agribisnis Menggunakan Metode Certainty Factor.," 2018. [Online]. Available: http://ejurnal.dipanegara.ac.id/index.php/jusiti/article/view/64.
Junaidy B. Sanger1, Fitri Insani2, Priyo P. Nugroho3, "PENGEMBANGAN SISTEM PAKAR UNTUK MENGIDENTIFIKASI PERMASALAHAN LAYANAN JARINGAN INTERNET," 2017.
Amroni, "PENERAPAN SISTEM PAKAR BERBASIS RULE DALAM PEMBAGIAN ZAKAT MENURUT HUKUM ISLAM," Jurnal Ilmiah Media Processor, 2016.
Mohammad Arifin, Slamin, Windi Eka Yulia Retnani, "Penerapan Metode Certainty Factor Untuk Sistem Pakar Diagnosis Hama Dan," 2017.
S. B. Kudadiri, "Sistem Pakar Diagnosa Penyakit Tanaman Tomat yang Disebabkan Abu Vulkanik Sinabung Menerapkan Metode Teorema Bayes," Journal of Information System Research (JOSH), 2021.
Penerapan Metode Dempster Shafer Untuk Mendiagnosa Penyakit, "Penerapan Metode Dempster Shafer Untuk Mendiagnosa Penyakit," Cogito Smart Journal, 2016.
HS, R. H., & Arifin, M., "PERANCANGAN SISTEM INFORMASI PUSAT KARIR SEBAGAI UPAYA MENINGKATKAN RELEVANSI ANTARA LULUSAN DENGAN DUNIA KERJA MENGGUNAKAN UML," 2017. [Online]. Available: https://ejournal.stmik-wp.ac.id/index.php/ictech/article/view/10.
Fadhila Cahya Ningrum1, Dandi Suherman2, Sita Aryanti3, Handika Angga Prasetya4, dan, "Pengujian Black Box pada Aplikasi Sistem Seleksi Sales Terbaik," Jurnal Informatika Universitas Pamulang, 2019.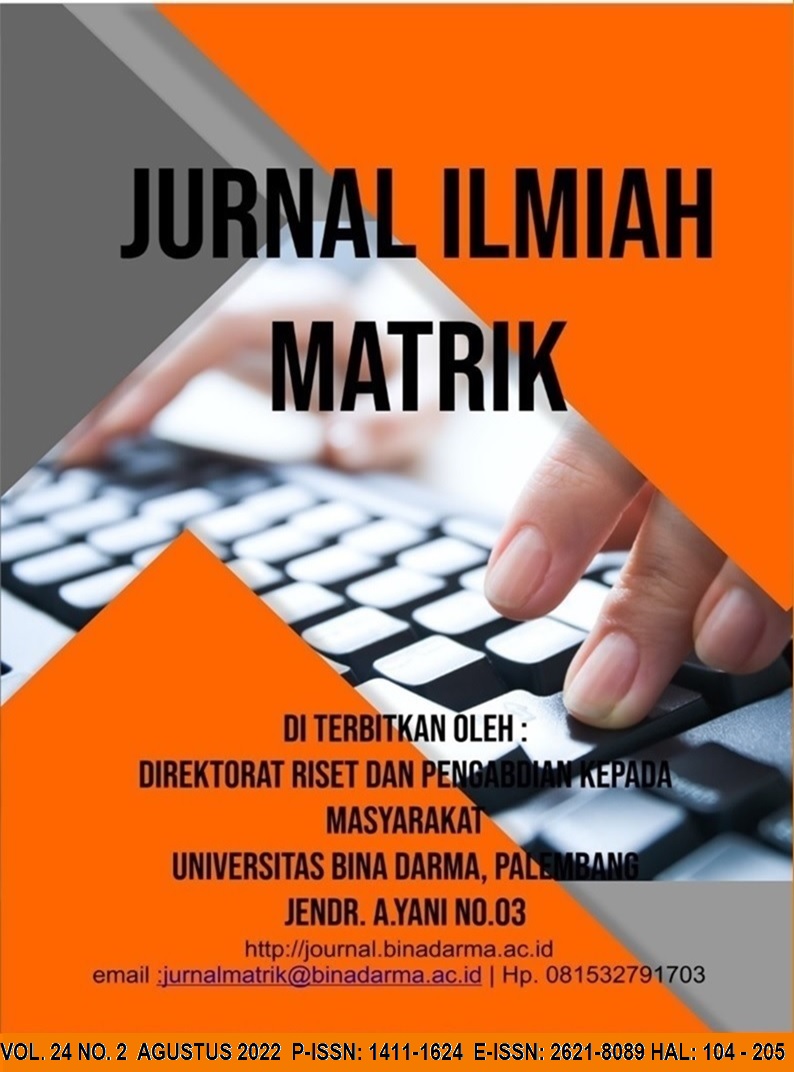 How to Cite
Imam, L., Seta, H., & Astriratma, R. (2022). SISTEM PAKAR UNTUK MENDIAGNOSIS HAMA PENYAKIT TANAMAN SEMANGKA MENGGUNAKAN METODE CERTAINTY FACTOR DAN METODE BAYES. Jurnal Ilmiah Matrik, 24(2), 175–188. https://doi.org/10.33557/jurnalmatrik.v24i2.1764
Abstract viewed = 399 times
PDF : 435 times