SISTEM INFORMASI RESUME PERJALANAN DINAS DI DINAS ESDM PROVINSI SUMATERA SELATAN BERBASIS WEB
Marlindawati Marlindawati

Universitas Bina Darma

Andini Sidqin Maza

Universitas Bina Darma
Keywords:
official trip, information system, web
Abstract
Abstract: The Department of Energy and Mineral Resources of South Sumatra Province is one of the state-owned companies in the energy and electricity of minerals and coal. One of the efforts to increase its activities and to find out the problems that exist in the field is the official trips that are made by the Department of Energy and Mineral Resources. In a month, it can be done six times business trips. Currently, the management of official travel data is carried out through the Ms. Excell, starting from inputting data, making reports to the results of the recapitulation which are stored in the archive book and then inserted into the filing cabinet. This kind of data management can create problems, such as the difficulty of reviewing official travel data and reports because they have to be viewed one by one in the filing cabinet. This action can take a long time due to the amount of data that is always increasing and there is overlap. In addition, the possibility of data being lost or scattered may occur. These are what make the author wants to build a web-based official travel information system so that the problems that often occur today can be solved.
Keywords: official trip, information system, web
Abstrak: Dinas Energi dan Sumber Daya Mineral Provinsi Sumatera Selatan merupakan salah satu perusahaan milik negara yang bergerak dibidang energi dan ketenagalistrikan mineral dan batubara. Salah satu upaya dalam meningkatkan aktivitasnya dan untuk mengetahui permasalahan yang ada pada lapangan, maka Dinas ESDM pun perlu melakukan perjalanan dinas.  Dalam satu bulan bisa dilakukan 6 kali perjalanan dinas. Saat ini pengelolaan data perjalanan dinas dilakukan melalui aplikasi Ms. Excell, mulai dari penginputan data, pembuatan laporan sampai hasil rekapitulasi yang disimpan kedalam buku arsip dan selanjutnya dimasukkan kedalam lemari arsip. Pengelolaan data seperti ini tentu saja menimbulkan permasalahan-permasalahan, diantaranya kesulitan untuk melihat kembali data perjalanan dinas dan laporan-laporan  karena harus dilihat satu-persatu didalam lemari arsip dan ini membutuhkan waktu yang lama karena jumlah data yang selalu bertambah dan juga terjadinya tumpang tindih. Selain itu, kemungkinan data hilang atau tercecer bisa saja terjadi. Hal inilah yang membuat penulis ingin membangun sebuah sistem informasi perjalanan dinas berbasis web, agar permasalahan-permasalahan yang sering terjadi saat ini bisa teratasi.  
Kata kunci: perjalanan dinas, sistem informasi, web
References
Agustin H, "Sistem informasi manajemen menurut perspektif islam," Jurnal Tabarru': Islamic Banking and Finance, vol. 1, no. 1, pp. 63-70, 2018.
Aman, Mustar, "Pengembangan sistem informasi wedding organizer menggunakan pendekatan sistem berorientasi objek pada CV pesta," Jurnal Janitra Informatika dan Sistem Informasi, vol. 1, no. 1, pp. 47-60, 2021.
Aryawan, I. Komang B Mas, and Nyoman AN Dewi, "Penerapan framework bootstrap dalam pengembangan sistem informasi pencurian kendaraan bermotor (curanmor) di wilayah hukum polsek kota singaraja," Prosiding SNAST, pp. 75-82, 2021.
Butsianto, Sufajar, "Sistem Informasi Rental Mobil Pada PT. Kembar Jaya Menggunakan Delphi 7," Jurnal SIGMA, vol. 7, no. 2, pp. 103-111, 2017.
Dinggi, reval miftapratama, "Peran stasiun meteorologi maritim tanjung mas semarang dalam mengirimkan informasi cuaca dan gelombang kepada radio pantai." karya tulis. 2018.
Mirawati, and Dini SP, "Pembangunan sistem informasi perpustakaan pada Sekolah Menengah Pertama Negeri 5 Ciamis," Jurnal Informatika, vol. 2, no. 2, 2015.
Mohammad NA and Siahaan D, "Structural and semantic similarity measurement of UML use case diagram," Lontar Komputer, vol. 11, no. 2, pp. 88-100, 2020.
Aleryani AY, "Comparative study between data flow diagram and use case diagram," International Journal of Scientific and Research Publication, vol. 6, no. 3, pp. 124-127, 2016.
Rahadi A, Al-Musadieq M, and Susilo H, "Analisis dan desain sistem informasi persediaan barang berbasis computer (studi kasus pada took Arta Boga)," Jurnal Administrasi Bisnis, vol. 8, no. 2, pp. 1-8, 2014.
Syarif M and Nugraha W, "Pemodelan diagram UML sistem pembayaran tunai pada transaksi e-commerce," Jurnal Teknik Informatika Kaputama, vol. 4, no. 1, pp. 64-70, 2020.
Kurniawan TB, "Perancangan sistem aplikasi pemesanan makanan dan minuman pada cafetaria no caffe di Tanjung Balai Karimun menggunakan bahasa pemrograman PHP dan MySQL," Jurnal TIKAR, vol. 1, no. 2, pp. 192-206, 2020.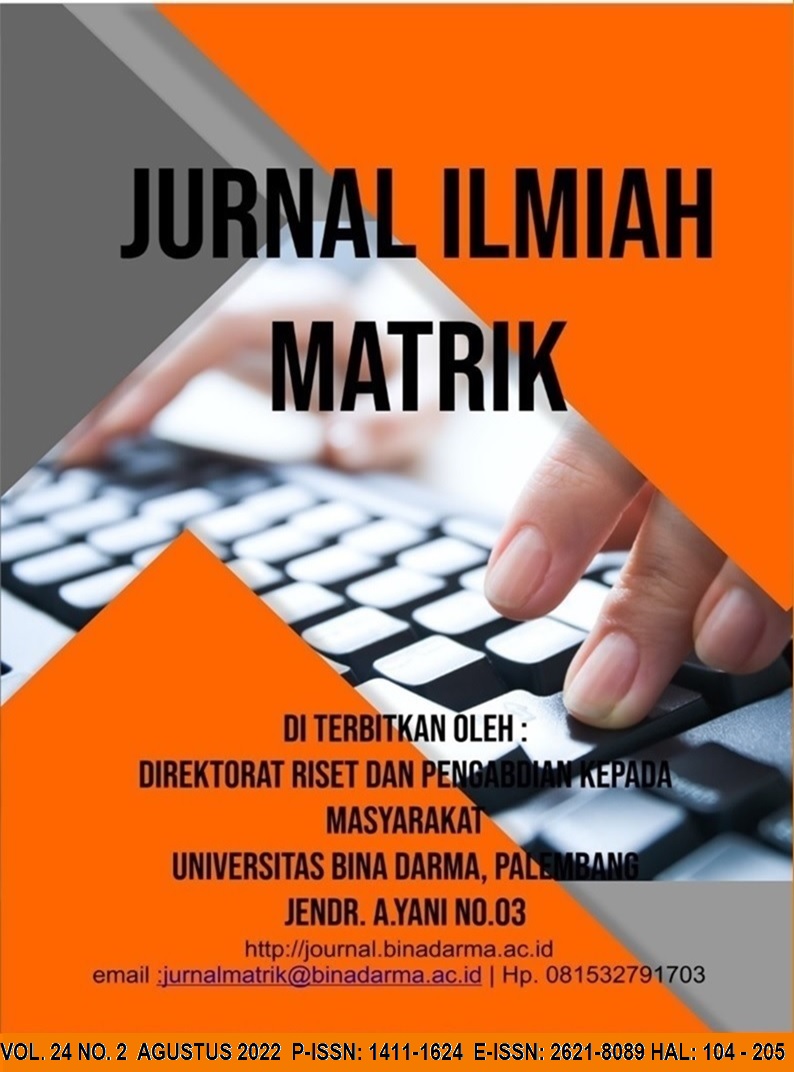 How to Cite
Marlindawati, M., & Maza, A. (2022). SISTEM INFORMASI RESUME PERJALANAN DINAS DI DINAS ESDM PROVINSI SUMATERA SELATAN BERBASIS WEB. Jurnal Ilmiah Matrik, 24(2), 111–118. https://doi.org/10.33557/jurnalmatrik.v24i2.1808
Abstract viewed = 89 times
PDF : 63 times