PERANCANGAN SISTEM INFORMASI PENDAFTARAN MURID BARU PADA PAUD KANGGURU KECIL BERBASIS WEB
Hanif Rabbani Zubair

UPNVJ

Iin Ernawati

Universitas Pembangunan Nasional Veteran Jakarta
Keywords:
Pendaftaran, PAUD, Waterfall, PHP
Abstract
Perkembangan era digital dalam pemanfaatan teknologi dalam kegiatan masyarakat khususnya dalam bidang pendidikan. Teknologi yang kini mempermudah aktivitas sehari-hari dapat membantu pengelolaan sekolah, terutama pendaftaran. Dilakukan secara manual menggunakan media kertas. Hal ini dapat menimbulkan beberapa kendala yaitu pada saat dibutuhkan data dan waktu yang dibutuhkan untuk mengisi formulir serta penyebaran informasi pendaftaran yang terbatas hanya menggunakan brosur/flyer. Penelitian ini bertujuan untuk membuat sistem informasi berbasis web untuk membantu dan mengurangi hambatan yang mungkin timbul pada sistem sebelumnya. Sistem informasi pendaftaran berisi proses pendaftaran, mulai dari memberikan informasi pendaftaran, pengisian formulir pendaftaran, upload berkas persyaratan, pengecekan data, dan pelaporan hasil pendaftaran. Perancangan sistem informasi ini menggunakan pendekatan Waterfall. Bahasa pemograman yang digunakan adalah HTML, CSS, dan PHP yang didukung oleh MySQL sebagai databasenya. Hasil dari sistem informasi pendaftaran pada website PAUD Kangguru Kecil dapat mempermudah proses pendaftaran dan penyebaran informasi secara online.
References
R. Tarmizi, A. Marjuki, and L. Lestari, "Penggunaan Aplikasi Pendaftaran Siswa Baru Pada Sekolah Menengah Atas Pgri Balaraja Berbasis Website," SENSI J., vol. 5, no. 1, pp. 35–48, 2019, doi: 10.33050/sensi.v5i1.310.
I. A. Huda, "Perkembangan Teknologi Informasi Dan Komunikasi (Tik) Terhadap Kualitas Pembelajaran Di Sekolah Dasar," J. Pendidik. dan Konseling, vol. 2, no. 1, pp. 121–125, 2020, doi: 10.31004/jpdk.v1i2.622.
L. N. Jayati and I. N. Isnainiyah, "Perancangan Sistem Informasi Pendaftaran pada TK Islam Budaya I Berbasis Web," Inform. J. Ilmu Komput., vol. 17, no. 2, pp. 76–87, 2021, [Online].
L. W. Pratama, "PENERAPAN RAD ( RAPID APPLICATION DEVELOPMENT ) MODEL DALAM SISTEM INFORMASI PENERIMAAN PESERTA DIDIK BARU & COMPANY PROFILE TK ABA 36 MENGGUNAKAN CODEIGNITER ( APPLICATION OF RAD ( Rapid Application Development ) MODEL IN INFORMATION SYSTEM ADMISSION OF," pp. 1–5, 2020.
Nizarman, "Manajemen Penerimaan Siswa Baru," Manajer Pendidik., vol. 9, no. 2, pp. 224–234, 2015, [Online].
R. S. Pressman, Rekayasa Perangkat Lunak: Pendekatan Praktisi Buku I. Yogyakarta: Andi, 2015.
A. Adetokunbo and A. Basirat, "Software Engineering Methodologies: A Review of the Waterfall Model and Object- Oriented Approach," Int. J. Sci. Eng. Res., vol. 4, no. 7, pp. 427–434, 2014.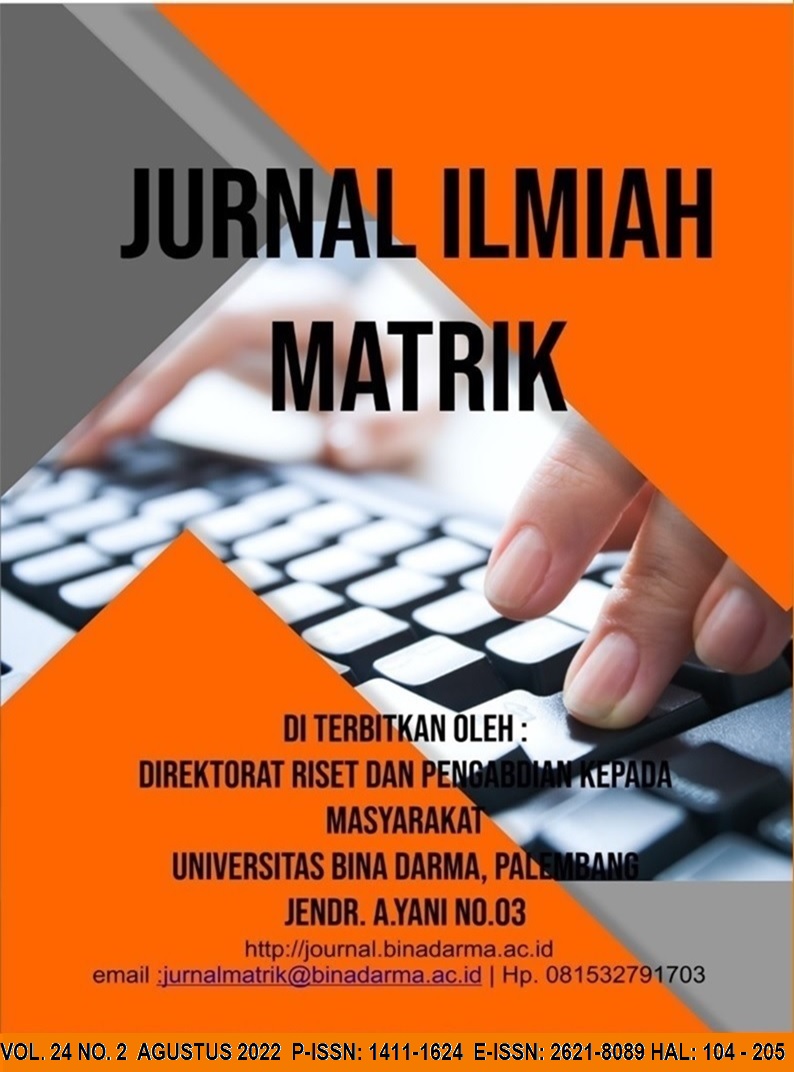 How to Cite
Zubair, H., & Ernawati, I. (2022). PERANCANGAN SISTEM INFORMASI PENDAFTARAN MURID BARU PADA PAUD KANGGURU KECIL BERBASIS WEB. Jurnal Ilmiah Matrik, 24(2), 165–174. https://doi.org/10.33557/jurnalmatrik.v24i2.1835
Abstract viewed = 638 times
PDF : 330 times