ANALISIS PERANCANGAN FITUR PADA SISTEM ERP UNTUK INVENTORY MODULE DI PT XYZ UNTUK MENGURANGI BULLWHIP EFFECT
Hery Hery

Universitas Pelita Harapan

https://orcid.org/0000-0001-6483-0511

Jansen Wiratama

Universitas Multimedia Nusantara

Wiracayana Ratanaghara Jayamangala

Universitas Multimedia Nusantara
Keywords:
Bullwhip Effect; Modifikasi ERP; Product Requirement Document; Prototype; Supply Chain;
Abstract
PT XYZ, which is implementing ERP for the POS and Inventory modules, made a request to modify the ERP system, especially the inventory module to reduce the Bullwhip Effect (BE), where when this system was implemented it did not yet have this feature, but PT XYZ's request needed to be analyzed further. so that the developed features do not waste resources, budget and time from the project. To validate the request for modification of PT XYZ, it is necessary to analyze the identification of non-conformities first by conducting in-depth interviews with the top management of PT XYZ who were selected based on purposive sampling with the criteria of 1 decade of work and the party responsible for supervising all divisions at PT XYZ , the top management statement is supported by the calculation of the value of the bullwhip effect and data visualization. After it was proven that there was a bullwhip effect at PT XYZ and supported by the results of the BE calculation for 5 outlets, all of which exceeded the BE parameter, and found the cause of BE through data visualization in which PT XYZ forecast demand. Based on the data and facts that have been collected, prototype features are designed that can reduce BE as stated in the Product Requirement Document where product requests, delivery and receipts are included in the prototype features and the type of prototype used is an evolutionary prototype. The prototype was tested for 1 month and according to the Management Representative's and BE calculation results after the implementation of the feature showed a reduction in the Bullwhip effect on PT XYZ
 Keywords : Bullwhip Effec, ERP Modification, Product Requirement Document, Prototype, Supply Chain
References
ZJH Tarigan, Universitas Kristen Petra, Surabaya, Indonesia, dan H. Siagian, "Pengaruh keberlanjutan perencanaan sumber daya perusahaan terhadap kinerja operasional melalui perencanaan dan pengendalian," Int. J. e-Pendidikan. e-Bus. e-manag. e-Belajar., vol. 10, No. 1, hlm. 86–94, 2020.
R. Chugh, SC Sharma, dan A. Cabrera, "Pelajaran yang dipetik dari implementasi Enterprise Resource Planning (ERP) di perusahaan Australia," Int. J. Enterp. Inf. Sistem, vol. 13, No. 3, hlm. 23–35, 2017.
Dirjen Putra, R. Rahayu, dan A. Putri, "Pengaruh sistem implementasi Enterprise Resource Planning (ERP) terhadap kinerja perusahaan yang dimediasi oleh kapabilitas organisasi," Journal of Accounting and Investment, vol. 22, No. 2, pp. 221–241, 2021.
T. Susmantoro, "Pengaruh Organizational Citizenship Behaviour, Perceived Organizational Support, dan Moderasi Kualitas Pelayanan Rekanan ERP terhadap Kinerja Pemggunaan ERP", Ultima Management : Jurnal Ilmu Manajemen, vol. 12, No. 2, pp. 293-307, Dec. 2020.
Bangun,K..,Susanto,Y.B.., & Natalia, Friska. "Analysis of Implementation and Cloud Based ERP Implementation (Case Study of PT. Hologram Indonesia Kreatif)" ADI International Conference Series 593-601, 2021.
TS Kiran dan AV Reddy, "Faktor-faktor penentu keberhasilan implementasi ERP di UKM," J. Proj. Manag., hlm. 267–280, 2019.
W. Latuny and WMS Picauly, "Analisis Bullwhip Effect Dengan Menggunakan Metode Peramalan Pada Supply Chain Di Distributor PT. Semen Tonasa (Studi Kasus: Distributor PT. Semen Tonasa)," ARIKA, vol. 13, No. 2, hlm. 113–126, 2019.
D. Yu Stepanov, "Menggunakan model air terjun, iteratif, dan spiral dalam proyek implementasi sistem ERP di bawah ketidakpastian," J. Phys. Kon. Ser., vol. 2142, No. 1, hal. 012016, 2021.
All Answers Ltd, "The Bullwhip Effect," Ukessays.com, 31-Des-2021. [Online]. Tersedia: https://www.ukessays.com/essays/information-technology/the-bullwhip-effect.php. [Diakses: 03-Jun-2022].
A. Almazrouei, "Bab 13 (2)," Slideshare.net. [Online]. Tersedia: https://www.slideshare.net/abdulrahmanalmazrooei5/chapter-13-2. [Diakses: 03-Jun-2022].
Dokumen persyaratan produk (PRD)," Aha.io, 28-Sep-2021. [Online].Tersedia: https://www.aha.io/roadmapping/guide/requirements-management/what-is-a-good-product-requirements-document-template. [Diakses: 03-Jun-2022].
A. Athuraliya, "Panduan utama untuk membuat diagram alur pengguna," Creately Blog, 27-Feb-2020. [Online]. Tersedia: https://creately.com/blog/diagrams/user-flow-diagram/. [Diakses: 11-Jun-2022].
Dennis, Analisis dan Desain Sistem dengan UML, Edisi ke-4, edisi ke-4. John Wiley & Sons, 2012.
"Tampilan diagram implementasi UML (unified modelling language) dalam perancangan aplikasi data pasien Rawat INaP pada puskesmas lubuk buaya," Polgan.ac.id. [Online]. Tersedia: https://jurnal.polgan.ac.id/index.php/sinkron/article/view/130/69. [Diakses: 04-Jul-2022].
Ozkan, Deniz & Mishra, Alok., Alat Manajemen Proyek Agile: Pandangan Komparatif Singkat. Sibernetika dan Teknologi Informasi. 19. 17-25. 10.2478/cait-2019-0033. 2019.
R. Desanti, C. Supit, and A. Widjaja, "Aplikasi Perekrutan dan Penilaian Karyawan Berbasis Web pada PT. XYZ", Ultima InfoSys : Jurnal Ilmu Sistem Informasi, vol. 8, No. 2, pp. 74-80, Dec. 2017.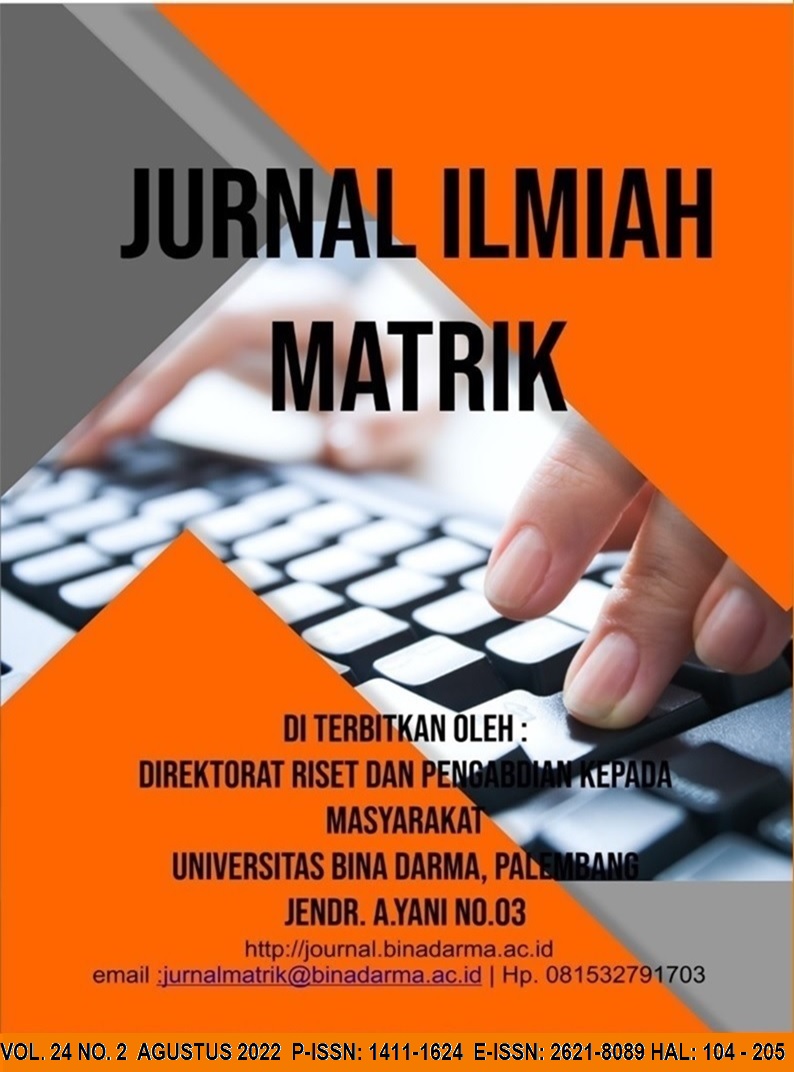 How to Cite
Hery, H., Wiratama, J., & Jayamangala, W. (2022). ANALISIS PERANCANGAN FITUR PADA SISTEM ERP UNTUK INVENTORY MODULE DI PT XYZ UNTUK MENGURANGI BULLWHIP EFFECT. Jurnal Ilmiah Matrik, 24(2), 196–205. https://doi.org/10.33557/jurnalmatrik.v24i2.1840
Abstract viewed = 109 times
PDF : 88 times