PENGEMBANGAN SISTEM INFORMASI PERPUSTAKAAN BERBASIS WEB PADA FAKULTAS DAKWAH DAN ILMU KOMUNIKASI UNIVERSITAS ISLAM NEGERI RADEN INTAN LAMPUNG
M Husaini

Universitas Islam Negeri Raden Intan Lampung

Fiqih Satria

Universitas Islam Negeri Raden Intan Lampung
Keywords:
Sistem Informasi Perpustakaan, UML, ISO 9126
Abstract
Abstract :  The management of the process of borrowing and returning library books can take a lot of time and money because it needs to be recorded by librarian which must be done manually in the borrowing logbook. Utilization of a web-based library information system can save costs and time because the process is carried out using a computer. This study aims to: (1) create a web-based library information system at the Faculty of Da'wah and Communication Sciences, UIN Raden Intan Lampung, and (2) determine the quality standards of software developed based on ISO 9126 quality standards on functionality and usability aspects. The research method used is Research and Development (R&D). The software development process model used the waterfall model which consisted of: (1) requirements analysis, (2) design, (3) implementation, and (4) testing. Then used UML visual modeling, which is a standardized modeling language for object-oriented software development. The results of the study showed that: (1) a web-based library information system was developed using the Code Igniter framework and the waterfall development model consisting of the needs analysis stage, design stage, implementation stage, and testing stage, and (2) the test results on the functionality aspect obtained a value of 1 (good). Usability testing obtained user approval level of 77% (agree) with Cronbach's alpha value of 0.958 (excellent).
References
Abdul Rahman Saleh. Peranan Teknologi Informasi dalam Meningkatkan Kegemaran Membaca dan Menulis Masyarakat, Bogor, Cibinong. 2006.
Andri, Kristanto. 2004. Analisa Sistem Informasi. Yogyakarta: Graha Ilmu
Deppi., Linda, "Merancang e-katalog berbasis Website sebagai media informasi pada Badan Perpustakaan Arsip dan Dokumentasi Daerah (BPAD)," Fakultas Ilmu Komputer Informatics & Business Institute Darmajaya, Jurnal Explore Univ. Bandara Lampung Vol 6, No 2 pp. 01-11, 2016
Firdaus, Dwi Sakethi., dan Firdaus Rosman, "Rancang Bangun Sistem Informasi Perpustakaan Berbasis Web," jurnal komputasi Univ.Lampung Volume 3 no. 1, pp. 94-130, april 2015.
Safiin, Mohammad., "Aplikasi Katalog Perpustakaan STMIK AMIKOM Yogyakarta Menggunakan Mobile Berbasis Android," STMIK AMIKOM: Yogyakarta, 2013.
Sahfitri, V., Prototype E-Katalog Dan Peminjaman Buku Perpustakaan Berbasis Mobile", Jurnal SISFOKOM, Volume 08, Nomor 02, pp. 165-171, September 2019.
Sugiyono.. Metode Penelitian Kuantitatif, Kualitatif, R & D. Bandung: CV Alfabeta. 2017.
Sugiyono., Metode Penelitian Kombinasi (Mix Methods). Bandung: Alfabeta. 2015.
Widoyoko, Eko Putro., Teknik Penyusunan Instrumen Penelitian. Yogyakarta : Pustaka Pelajar. 2014.
Moleong, Lexy J., Metodologi Penelitian Kualitatif. Bandung : PT Remaja Rosdakarya. 2012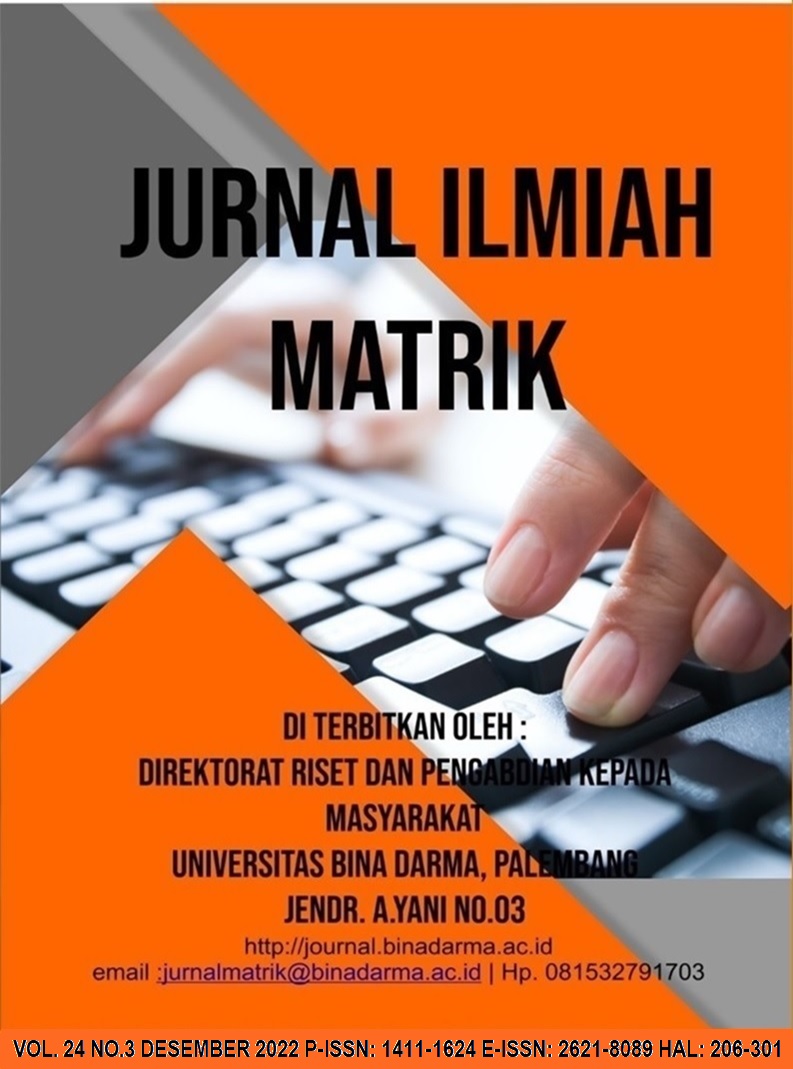 How to Cite
Husaini, M., & Satria, F. (2022). PENGEMBANGAN SISTEM INFORMASI PERPUSTAKAAN BERBASIS WEB PADA FAKULTAS DAKWAH DAN ILMU KOMUNIKASI UNIVERSITAS ISLAM NEGERI RADEN INTAN LAMPUNG. Jurnal Ilmiah Matrik, 24(3), 216–225. https://doi.org/10.33557/jurnalmatrik.v24i3.2045
Abstract viewed = 29 times
PDF : 29 times