PERANCANGAN SISTEM INFORMASI PENGARSIPAN SURAT MASUK DAN SURAT KELUAR PADA BIDANG JEMBATAN DINAS PUBMTR
Dinny Komala Sari

Universitas Bina Darma

Marlindawati Marlindawati
Keywords:
Information Systems, Mail Filing, Xampp, Phpmyadmin Sublime text, UML
Abstract
Abstract : This research was conducted at the Public Works Department on the bridge midwife. This right was back grounded by the existence of a running system and found several shortcomings that occurred, especially in the archiving of the writing structure in the agenda book and the storage of hardcopy files so that this causes difficulties in conducting searches because they have to open one by one in the recording of the agenda book and there can also be loss or damage to the letter stored in hardcopy form. In accordance with the description and existing problems, the author tried to design an archiving information system using the programming languages Xampp,  Phpmyadmin, Sublime text and UML (Use case, Activity and     Class Diagram) as the database. As for what resulted from this study, the information system for archiving incoming and outgoing letters in the Bridge Sector at the Public Works Office of Bina Marga and Spatial Planning of South Sumatra Province.
References
DAFTAR PUSTAKA
D. Anggraeni, "Perancangan sistem informasi akuntansi penjualan dan piutang dagang pada CV. Panen Raya Persada Pontianak," RUBSI: Repository Universitas Bina Sarana Informatika, vol. 85, pp. 1-99, 2017
K.C. Lestari and A.M Amri, Sistem Informasi Akuntansi (Beserta Contoh Penerapan Aplikasi Sia Sederhana dalam UMKM). Deepublish, 2020.
E.Y. Anggraeni, Pengantar Sistem Informasi. Yogyakarta: Andi Offset, 2017.
A.N. Anggraeni, S. Maziyah, and T, Maryanto A.A, "Kemampuan Sumber Daya Manusia Kearsipan Dalam Upaya keberhasilan Pelestariaan Arsip Statis Badan Arsip dan Perpustakaan Daerah Provinsi Jawa Tengah, "Jurnal Ilmu Perpustakaan, vol. 1, no. 1, pp. 169-174, Oct. 2012
Nuraida, Ida (2012). Manajemen Administrasi Perkantoran. Yogyakarta. Kanisius
A. Muharani and Rs. Kurni Setyawati, "Efisiensi pengelolaan dokumen berupa surat studi kasus : PT Astra International Tbk, "J. Adm dan Kesekretariatan. Vol 3, no 1, pp. 138-149, 2017.
S. Mulyani, Metode Analisis dan Perancangan Sistem. Abdi Sistematika, 2017.
J. Hutahaean, Konsep Sistem Informasi. Yogyakarta: Deepublish, 2018
D.R. Prehanto and T. Kistofer, Konsep Sistem Informasi. Surabaya: Scopindo Media Pustaka, 2020.
Rosa A.S and M. Shalahuddin, Rekayasa Perangkat Lunak Terstruktur dan Berorientasi Objek, revisi ed. Bandung: Informatika Bandung, 2018.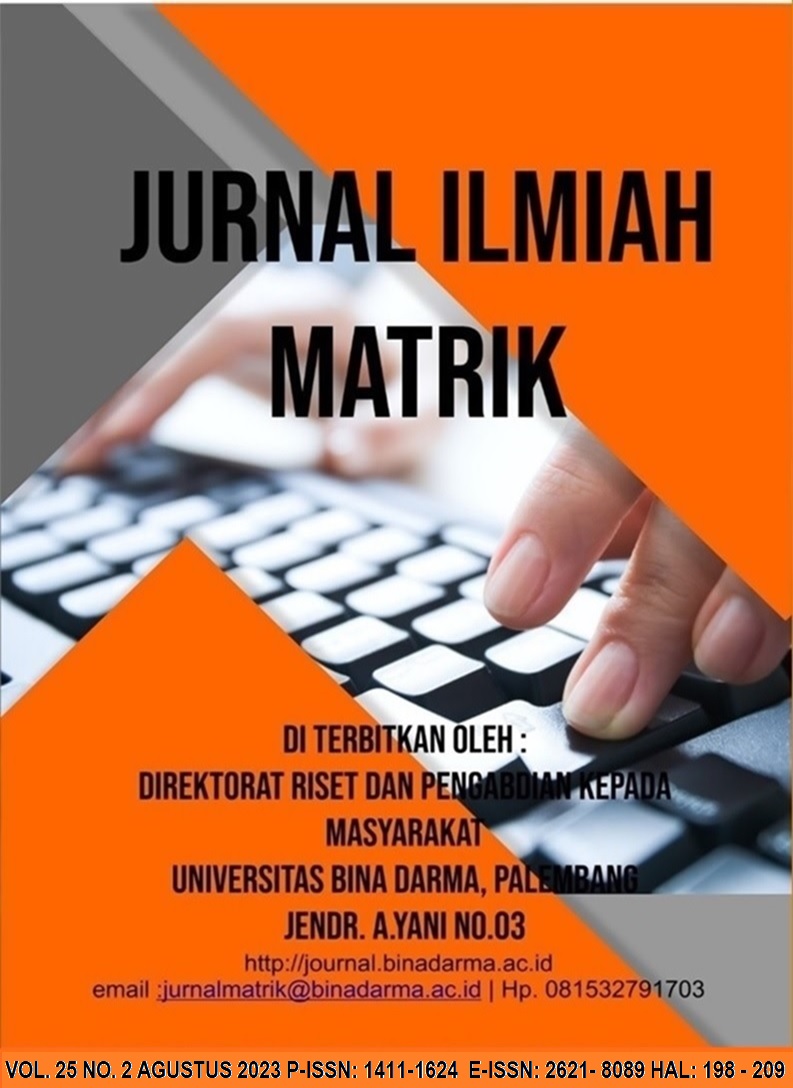 How to Cite
Sari, D., & Marlindawati, M. (2023). PERANCANGAN SISTEM INFORMASI PENGARSIPAN SURAT MASUK DAN SURAT KELUAR PADA BIDANG JEMBATAN DINAS PUBMTR. Jurnal Ilmiah Matrik, 25(2), 191–197. https://doi.org/10.33557/jurnalmatrik.v25i2.2156
Abstract viewed = 30 times
PDF : 21 times