PERANCANGAN APLIKASI BANK SAMPAH "SAMPAHQU" BERBASIS MOBILE DI TANGERANG SELATAN MENGGUNAKAN RAPID APPLICATION DEVELOPMENT
Hery Hery

Universitas Pelita Harapan

https://orcid.org/0000-0001-6483-0511

Helena Juliana Kristina

Universitas Tarumanegara

Eric Jobiliong

Universitas Pelita Harapan

Agustina Christiani

Universitas Pelita Harapan
Keywords:
waste bank, design, application, mobile
Abstract
Currently, household waste management has been managed by a waste bank so that the existing daily waste is collected and sorted to be recycled to make the environment better and less pollution-free. In carrying out its activities, the Garbage Bank in South Tangerang City experienced problems starting from the process of depositing waste from customers, the process of recording transactions and reporting transactions that occurred, modifying so that customer data collection, types of waste, and existing reports were still not well organized and there were no media. Communication can be used between the waste bank and waste bank customers. This research will design a waste bank information system for waste management in South Tangerang from the existing problems. The Rapid Application Development (RAD) methodology with the prototyping method is used in designing a mobile-based integrated waste bank application. The proposed system uses UML (Unified Modeling Language) modeling. The results of this study are an integrated waste bank application that can make a good contribution, namely helping the community to deposit their household waste and assisting waste bank managers in making effective and efficient recording and reporting
References
Suwerda, Bambang., Bank Sampah. Yogyakarta: Pustaka Rihama, 2012.
PERMEN LH No.13 Tahun 2012. Pedoman Pelaksanaan Reduce, Reuse, Dan Recycle Melalui Bank Sampah. [online]. Available: https://peraturan.go.id/common/dokumen/bn/2012/bn804-2012.pdf [acessed : tanggal 25 -03-2023]
Wulandari, D., Utomo, S. H., & Narmaditya, B. S., Waste bank: Waste Management Model in Improving Local Economy. International Journal of Energy Economics and Policy, Vol 7, No. 3, pp 36–41, 2017.
Utami, Eka., Buku Panduan Sistem Bank Sampah Dan 10 Kisah Sukses, Jakarta : Yayasan Unilever Indonesia, 2013.
Wisnu., Dampak Pencemaran Lingkungan, Yogyakarta: Andi, 2011.
Niken, Widya., Jurus Pemkot Tangsel Tangani Sampah yang Menumpuk. [online] Available: https://news.detik.com/berita/d-3505753/jurus-pemkot-tangsel-tangani-sampah-yang-menumpuk [Acessed: 05-03-2023].
Sugiyono. Metode Penelitian Kuantitatif, Kualitatif, dan R&D. Bandung : Alfabeta, CV, 2017.
Rachmat Kriyantono,. Teknik Praktis Riset Komunikasi. Jakarta: Kencana Prenada Media Group, 2014.
Tersiana, Andra., Metode Penelitian. Yogyakarta: Gramedia Pustaka Utama, 2018.
Hery, S. Lukas, P. Yugopuspito, I. M. Murwantara and D. Krisnadi, "Website Design for Locating Tuna Fishing Spot Using Naïve Bayes and SVM Based on VMS Data on Indonesian Sea,". In Proceedings of the 3rd International Seminar on Research of Information Technology and Intelligent System,Indonesia, pp. 89-93, 2020.
A. Dennis, et al., System Analysis And Design An Object-Oriented Approach with UML 5th Edition, New Jersey: Wiley, 2015.
Seundri., Implementasi Diagram UML (Unified Modelling Language) Pada Perancangan Sistem. Jurnal Ilmu Komputer dan Informatika, Vol. 03, No. 01, pp. 2-3, 2018.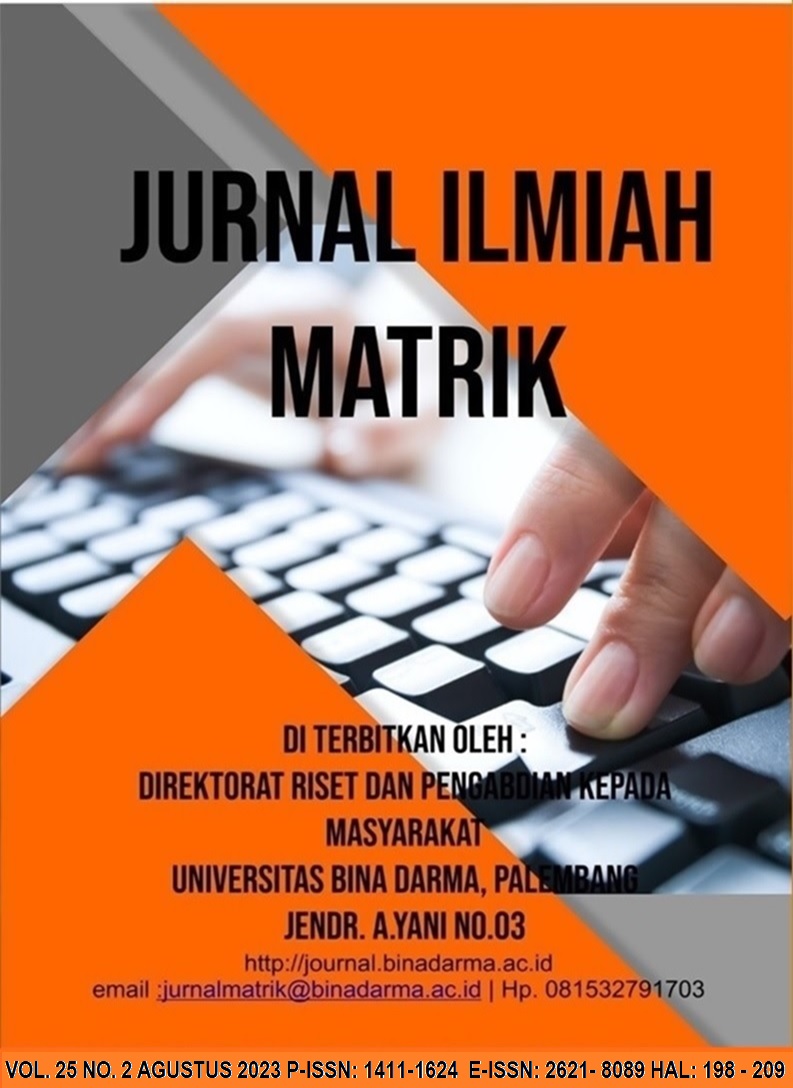 How to Cite
Hery, H., Kristina, H., Jobiliong, E., & Christiani, A. (2023). PERANCANGAN APLIKASI BANK SAMPAH "SAMPAHQU" BERBASIS MOBILE DI TANGERANG SELATAN MENGGUNAKAN RAPID APPLICATION DEVELOPMENT. Jurnal Ilmiah Matrik, 25(2), 157–166. https://doi.org/10.33557/jurnalmatrik.v25i2.2366
Abstract viewed = 84 times
PDF : 23 times