ANALISA WEBSITE PRODI SISTEM INFORMASI UNSIKA BERDASARKAN PRINSIP DAN PARADIGMA INTERAKSI MANUSIA DAN KOMPUTER
Ahzka Nabbilah Tuzzahrah

Universitas Singaperbangsa Karawang

Apriade Voutama

Universitas Singaperbangsa Karawang

Azhari Ali Ridha

Universitas Singaperbangsa Karawang
Keywords:
IMK, Informasi, Website
Abstract
The Unsika Information Systems Study Program Website is a place where Unsika Information Systems students can access information about lectures. The purpose of analyzing the Unsika Information Systems Study Program Website is to be able to find out the relationship between system functions based on the principles and paradigm of Human and Computer Interaction (HCI). In the Website interface design analysis, the author uses the heuristic evaluation method with the aspects being evaluated are human, technology, usability, and ergonomisc aspects. The results of the analysis prove that the Unsika Information Systems Study Program Website has fulfilled the aspects of Human and Computer Interaction where the goal of IMK itself is to make it easy for users to manage the system and be able to generate the required feedback.
References
G. Dwi, P. Haryanto, and A. Voutama, "Perancangan Ui/Ux Sistem Informasi Penyewaan Mobil Berbasis Mobile Dengan Metode Design Thinking," vol. 8, no. 1, pp. 23–30, 2023.
Irwanto, A. Yulianti Aulia, A. Solehudin, and A. Voutama, "Perancangan Pembuatan Aplikasi Rental Kendaraan Berbasis Website," vol. 15, pp. 1–8, 2022.
S. Haryoko, "Penerapan sistem," pp. 1–8, 2012, [Online]. Available: https://jurnal.akba.ac.id/index.php/inspiration/article/viewFile/20/20
A. Yasinta Permana and A. Voutama, "Cara sitasi: Permana AY, Voutama A. 2022. Pemodelan UML Pada Sistem Penjualan Sembako Di Toko Amshop," Inf. Manag. Educ. Prof., vol. 7, no. 1, pp. 41–50, 2022.
E. Novalia, J. Na', G. W. Nurcahyo, and A. Voutama, "Website Implementation with the Monte Carlo Method as a Media for Predicting Sales of Cashier Applications," 2020.
S. Aprudi, "Penerapan Konsep Interaksi Manusia Dan Komputer Pada Sistem Informasi Akademik Fakultas EkonomiUniversitas Musi Rawas," J. Sigmata, vol. 2, p. 13, 2014.
A. Mubarok Zeidan, Carudin, and Voutama Apriade, "Perancangan User Interface/User Experience Pada Aplikasi Baby Spa Berbasis Mobile Untuk User Customer Dan Terapis Menggunakan Metode User Centered Design," 2022.
F. Batubara Aulia, "PERANCANGAN WEBSITE PADA PT. RATU ENIM PALEMBANG," vol. 7, pp. 15–27, 2012.
D. Z. H. Iskandar and A. B. Alpiansah, "Analisa Aplikasi Droidcam Berdasarkan Prinsip dan Paradigma Interaksi Manusia Dan Komputer," J. Tek. Inform. Kaputama, vol. 5, no. 2, pp. 246–252, 2021.
T. Pujadi, "Faktor Manusia dan Ergonomiss Penggunaan Komputer Untuk Meningkatkan Kesehatan dan Keselamatan Kerja (K3)," vol. 2, pp. 102–105, 2008.
P. Weichbroth, "Usability of mobile applications: A systematic literature study," IEEE Access, vol. 8, pp. 55563–55577, 2020, doi: 10.1109/ACCESS.2020.2981892.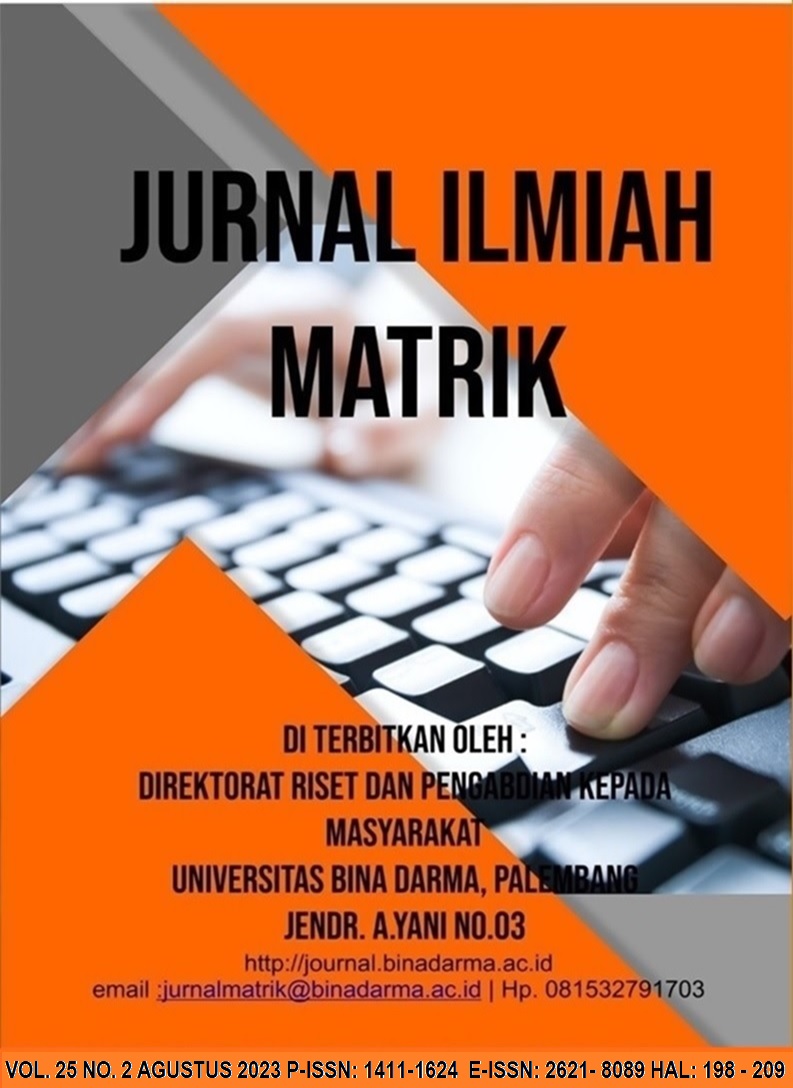 How to Cite
Tuzzahrah, A., Voutama, A., & Ridha, A. (2023). ANALISA WEBSITE PRODI SISTEM INFORMASI UNSIKA BERDASARKAN PRINSIP DAN PARADIGMA INTERAKSI MANUSIA DAN KOMPUTER. Jurnal Ilmiah Matrik, 25(2), 108–115. https://doi.org/10.33557/jurnalmatrik.v25i2.2381
Abstract viewed = 98 times
PDF : 79 times