PEMBANGUNAN INFRASTRUKTUR FIBER TO THE HOME OLEH PT IKHLAS CIPTA TEKNOLOGI DI KAWASAN DESA JATIRANGGON
Dikky Setiyanto

Universitas Singaperbangsa Karawang

Apriade Voutama
Keywords:
jaringan, isp, ftth, fiber, internet
Abstract
In the current era of globalization, the world of technology and information, especially the computer world, is developing very rapidly. Fiber to the Home (FTTH) is one example of the results of the development of the Internet. Fiber to the Home (FTTH) is a fiber-optic-based network communication device that provides various services such as the Internet, telephone network as well as live television broadcasts to private users. Today, many people need the Internet for many activities that require an Internet connection. When we build a FTTH (Fiber to the Home) network, we must build a quality network that is not only connected to the Internet, especially now that many ISPs are building FTTH (Fiber to the Home) networks requiring innovation. In this research, we tested the quality of the Internet, by testing the Quality of Services, which took into account download speed, upload speed, latency, delay and packet loss. The results of the test show that the download speed is 66.22Mbps, upload is 73.69Mbps, ping latency is around 5-8ms, and jitter is 7.84
References
A. Voutama, "Sistem Antrian Cucian Mobil Berbasis Website Menggunakan Konsep CRM dan Penerapan UML," Komputika J. Sist. Komput., vol. 11, no. 1, pp. 102–111, 2022, doi: 10.34010/komputika.v11i1.4677.
R. I. Adam, A. Voutama, F. C. Suci, and V. Efelina, "Pendampingan Pembuatan dan Pengelolaan Sistem Informasi Desa dan Covid-19," Communaut. J. Community Serv., vol. 02, no. 01, pp. 1–10, 2023.
M. H. Ali, H. M. ALkargole, and T. A. Hassan, "A Review of immigration obstacles to PON-FTTH and its evolution around the world," Telkomnika (Telecommunication Comput. Electron. Control., vol. 19, no. 2, pp. 645–663, 2021, doi: 10.12928/TELKOMNIKA.v19i2.16444.
A. A. Yulianti, A. Solehudin, and A. Voutama, "621-Article Text-1903-1-10-20220630," vol. 15, no. 1, pp. 1–8, 2022.
N. Ikhwan, H. Rubiani, N. Barorroh, T. Abdul, and Y. Zhu, "Fiber to the Home ( FTTH ) Network Design Using Gigabit Passive Optical Network ( GPON ) Technology Using Link Power Budget and Rise Time Budget Analysis in Cibeber Village Tasikmalaya," vol. 4, no. 1, pp. 30–36, 2023.
N. B. P. Siahaan, S. Aryza, and S. Anisah, "Analysis And Design Ftth ( Fiber To The Home ) Network With Gpon Technology At Pt Telkom , Tbk," vol. 10, no. 3, pp. 526–530, 2022.
G. Dwi, P. Haryanto, and A. Voutama, "Perancangan Ui/Ux Sistem Informasi Penyewaan Mobil Berbasis Mobile Dengan Metode Design Thinking," vol. 8, no. 1, pp. 23–30, 2023.
A. S. Shibghatullah, M. M. Mohammed, M. Doheir, and A. N. Majed, "Fiber-To-The-Home ( FTTH ) Architecture for," vol. 1, no. 1, pp. 37–42, 2017.
A. Voutama and D. Wahyono, "Perancangan Sistem Informasi Transaksi Penjualan pada Toko Bata Kota Solok," Systematics, vol. 2, no. 1, p. 39, 2020, doi: 10.35706/sys.v2i1.3637.
B. Dermawan, I. Santoso, and T. Prakoso, "Analisis Jaringan Ftth (Fiber To the Home) Berteknologi Gpon (Gigabit Passive Optical Network)," Transmisi, vol. 18, no. 1, pp. 30-37–37, 2016.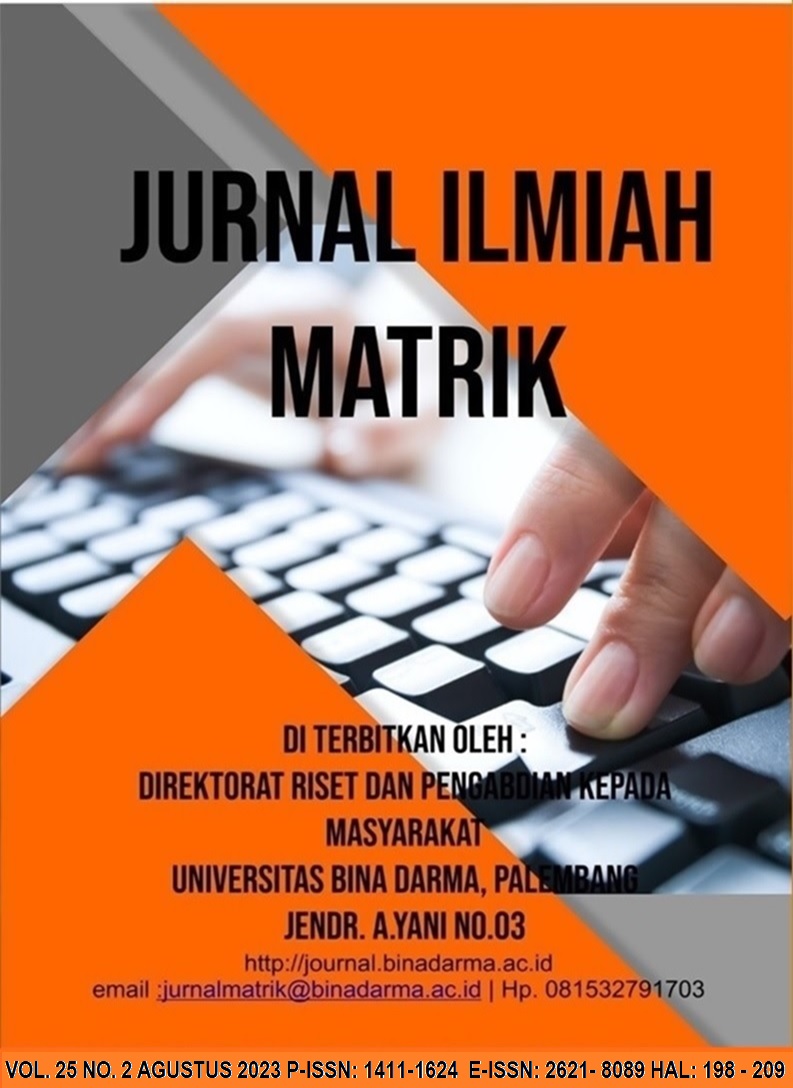 How to Cite
Setiyanto, D., & Voutama, A. (2023). PEMBANGUNAN INFRASTRUKTUR FIBER TO THE HOME OLEH PT IKHLAS CIPTA TEKNOLOGI DI KAWASAN DESA JATIRANGGON. Jurnal Ilmiah Matrik, 25(2), 131–142. https://doi.org/10.33557/jurnalmatrik.v25i2.2382
Abstract viewed = 36 times
PDF : 80 times