KINERJA GURU DALAM PEMBELAJARAN PADA SMPIT X BERDASARKAN METODE LOGIKA FUZZY
Merry Agustina

Universitas Bina Darma
Keywords:
Teachers, The Perfomance of Teachers, Fuzzy Mamdani
Abstract
Schools, teachers and learning are interrelated components. School as a forum that organizes learning for students, and teachers as professionals who transfer knowledge. Performance is a universal concept that is the operational effectiveness of an organization, organization, and employees based on predefined standards and criteria. The performance of teachers can be defined as the extent to which a teacher works maximally in accordance with the ability he has in an effort to achieve institutional goals. This study aims to determine the performance of SMPIT "X" teachers in the learning process by measuring the level of teacher performance, based on teacher competency indicators in the learning process using fuzzy mamdani method. By knowing the level of teacher performance is expected to improve the quality of teachers as one important factor in the process of improving school quality.
References
Dharma Surya. 2004. Manajemen Kinerja. Pustaka Pelajar. Yogyakarta
Darmadi. Pengembangan Model dan Metode Pembelajaran Dalam Dinamika Belajar Siswa [Online]. (Diakses https://books.google.com/books/about/Pengembangan_Model_dan_Metode_Pembelajar.html?id=MfomDwAAQBAJ, tanggal 15 Februari 2017).
Kusumadewi.S dan H. Purnomo.2004. Aplikasi Logika Fuzzy Untuk Mendukung Keputusan. Graha Ilmu. Yogyakarta.
Mulyasa, E. 2004. Implementasi Kurikulum 2004 Panduan Pembelajaran KBK. PT. Panji Rosdakarya. Bandung.
Nazir, Mohammad. 2003. Metode Penelitian, Ghalia Indonesia. Jakarta.
Sardiman, A.M. 2000. Interaksi dan Motivasi Belajar dan Mengajar. Rajawali Pers. Jakarta.
Syah, Muhibbin. 2003. Psikologi Belajar. PT. Raja Grafindo Persada. Jakarta.
Undang-Undang Nomor 20 tahun 2003. 2003. Sistem Pendidikan Nasional. [Online]. (Diakses https://kemenag.go.id/file/ dokumen/UU2003.pdf, tanggal 2 Februari 2017).
Undang-Undang Nomor 14 tahun 2004. 2004. Guru dan Dosen. [Online]. (Diakses https://www.slideshare.net/iwansukma/uu-no-14-tahun-2005-tentang-guru-dan-dosen, tanggal 20 Februari 2017).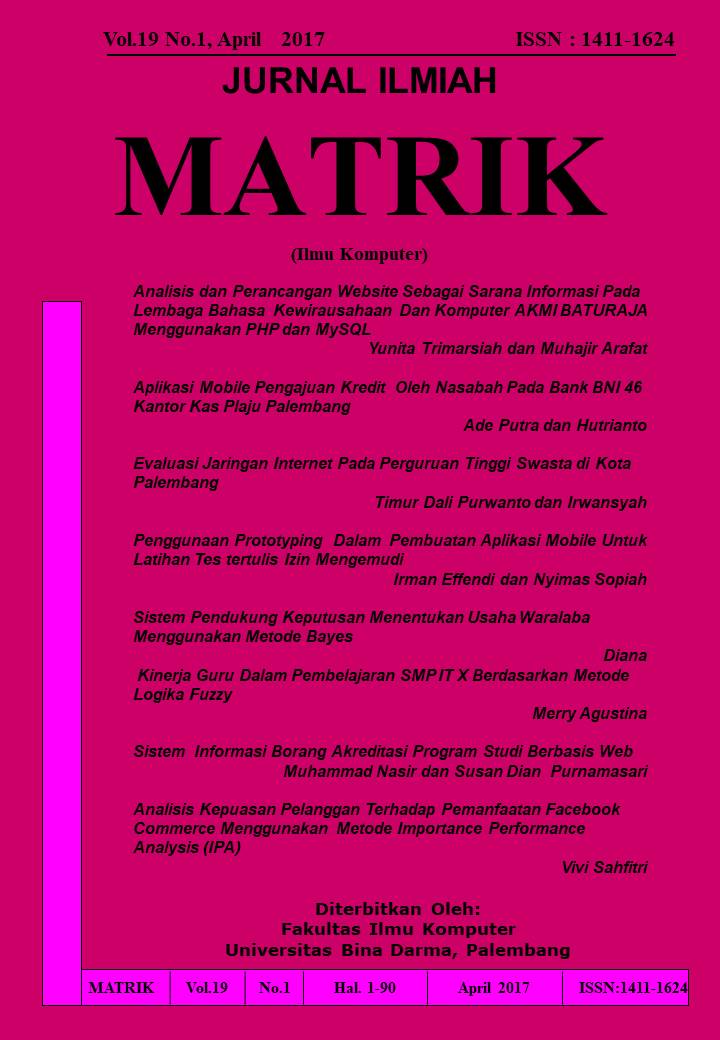 How to Cite
Agustina, M. (2017). KINERJA GURU DALAM PEMBELAJARAN PADA SMPIT X BERDASARKAN METODE LOGIKA FUZZY. Jurnal Ilmiah Matrik, 19(1), 53–66. https://doi.org/10.33557/jurnalmatrik.v19i1.371
Abstract viewed = 54 times
PDF : 58 times