COGNITIVE STYLE MENGENAI ORIENTASI MASA DEPAN KETIKA TAMAT SEKOLAH PADA SISWA SMK YP GAJAHMADA PALEMBANG
Igo Apriyanto

Universitas Bina Darma

Dwi Hurriyati

Universitas Bina Darma
Keywords:
Cognitive style, Future Orientation, Student
Abstract
 This study aims to look at the relationship between cognitive styles by encouraging the future in class XII students of SMK YP Gajah Mada Palembang. The number of participants in this study were 250 students, as many as 118 students were sampled as try outs and 152 samples were taken by research through random sampling techniques. The measuring instrument used in this study is the Cognitiv style scale with future orientation. The analysis technique used is a simple regression analysis technique with the help of SPSS version 20.0. The results of the analysis of research data with a computer using SPSS 20.0 for windows, the correlation coefficient (r) of = 0.988, the coefficient of determination (r2) of = 0.975 and the value of p = 0.000, p <0.01 in the simple regression test. These results indicate that there is a very significant relationship between cognitive style with future orientation in class XII students of SMK YP Gajah Mada Palembang. The effective contribution of the independent variable to the independent variable was 97.5%.
References
Azwar, S. 2012. Reliabilitas dan Validitas.Yogyakarta: Pustaka Pelajar

Desmita. 2014. Psikologi Perkembangan Peserta Didik. Bandung: PT Remaja Rosdakarya.

Hurlock, 2018. Psikologi Perkembangan. Jakarta : Erlangga

Nurmi, J.E. 2014. How Do Adolescents See Their Future? A Review of the Development of Future Orientation and Planning : University of Helsinki

Santrock (2003) John W. Adolescence. Perkembangan Remaja. Edisi Keenam. Jakarta: Erlangga.
Steinberg, 2009. Age Differences in Future Orientation and Delay Discounting, Brasil Child

Sugiyono 2015. Metode Penelitian Kombinasi (Mix Methods). Bandung: Alfabeta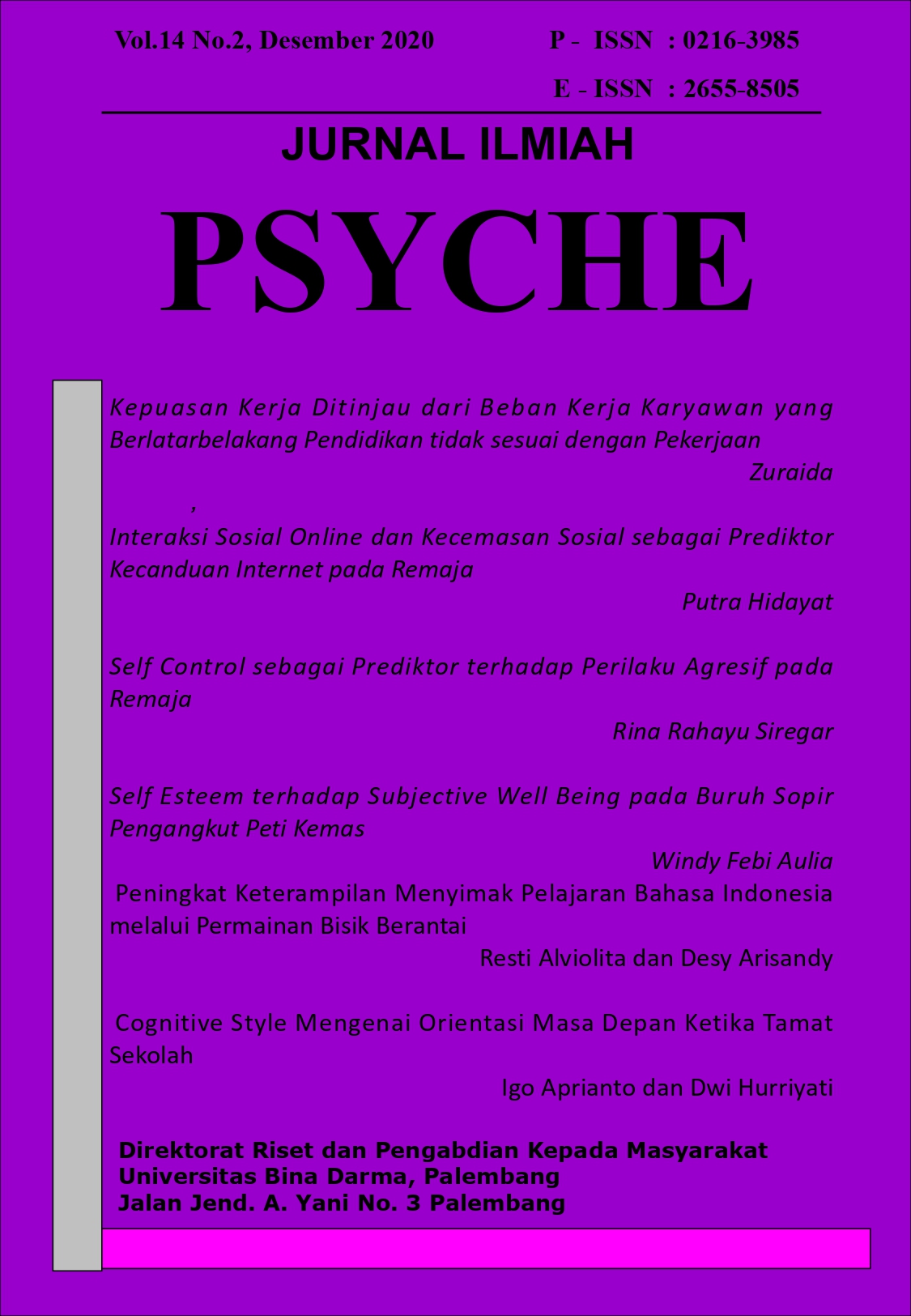 How to Cite
Apriyanto, I., & Hurriyati, D. (2020). COGNITIVE STYLE MENGENAI ORIENTASI MASA DEPAN KETIKA TAMAT SEKOLAH PADA SISWA SMK YP GAJAHMADA PALEMBANG. Jurnal Ilmiah Psyche, 14(2), 127–138. https://doi.org/10.33557/jpsyche.v14i2.1228
Abstract viewed = 204 times
Jurnal Psyche : 151 times

Jurnal Ilmiah Psyche by http://journal.binadarma.ac.id/index.php/jurnalpsyche is licensed under a Creative Commons Attribution-ShareAlike 4.0 International License.