Faktor yang Mempengaruhi Kecanduan Gadget terhadap Perilaku Remaja
Rezky Graha Pratiwi

Fakultas Psikologi, Sekolah Tinggi Ilmu Psikologi Abdi Nusa Palembang12

Rosyidah Umpu Malwa

Fakultas Psikologi, Sekolah Tinggi Ilmu Psikologi Abdi Nusa Palembang12
Keywords:
Gadget Addiction, Behavior, Adolescent
Abstract
This study aims to determine how big the influence of gadget addiction on the behavior of class VIII students at Mts Ma'Ariful Ulum Talang Keramat Banyuasin. The hypothesis proposed in this study is that there is an influence between gadget addiction on the behavior of class VIII students at Mts Ma'Ariful Ulum Talang Keramat Banyuasin. The population in this study was all students of class VIII as many as 110 students, the subjects of this study were 55 students and random sampling technique. Collecting data using addiction and behavior scales, data processing techniques using SPSS. The results of the regression analysis showed R square = 0.277, F = 20.286 and p = 0.000 (p <0.05) with N = 55 and an rtable of 0.266. This shows that addiction has an influence on behavior. Thus, the hypothesis of this study can be accepted that the contribution of addiction to behavior is 27.7%.
References
Asif dan Ramadi 2017. Tentang Hubungan Tingkat Kecanduan Gadget Dengan Gangguan Emosi Dan Perilaku Remaja Usia 11-12 Tahun. Jurnal kedokteran diponegoro Volume 6 No. 2, April 2017 ISSN Online : 2540-8844

Asosiasi Penyelenggara Jasa Internet Indonesia [APJII]. 2014. Profil Pengguna Internet Indonesia Mencapai 171, 71 atau 64,8%. Jakarta: Asosiasi Penyelenggara Jasa Internet Indonesia.

Arifin, 2015. Perilaku Remaja Pengguna Gadget. IAIT Kediri. Volume 26 Nomor 2 September 2015 287, 26 September, 287–315.

Agusta 2016. Faktor-faktor risiko kecanduan menggunakan smartphone pada siswa di SMK negeri 1 kalasan yogyakarta. E-Journal Bimbingan dan Konseling, Volume 3 No. 5. Hal.86-96.

Curenton, S. M. (2008). Early childhood leaders and literacy. Early childhood research quarterly, 23, 597-598. doi: 10.1016/j.ecresq.2008.03.002

Fitriana 2020. Pengaruh Pengguan Gadget Terhadap Perilaku Remaja Dalam Keluarga. Psikoislamedia Jurnal Psikologi Vol, 5 No. 2

Irawan 2013. Pengaruh Kegunaan Gadget terhadap Kemampuan Bersosialisasi pada Remaja. Fakultas Psikologi.Universitas Islam Riau

Gerungan 2005. Dalam Buku Psikologi Sosial Mengatakan Attitude Atau Perilaku. Depdikbud, Kamus Besar Bahasa Indonesia, (Jakarta: Perum Balai Pustaka, 1988), hlm. 671

Laurintia.2019. Hubungan tingkat Kecanduan Gadget dengan. Kualitas Tidur pada Siswa. Jurnal Kedokteran 2019, 8(4): 12-17. ISSN 2301-5977, e-ISSN 2527-7154.

Notoatmodjo, (2010). Ilmu Perilaku Kesehatan. Jakarta : Rineka Cipta

Nikmah, Astin. 2010. Dampak Penggunaan Hand Phone Terhadap Prestasi Siswa. E-Jurnal Dinas Pendidikan Kota Surabaya; Volume 5: ISSN : 2337-3253.

Sujarweni, V. Wiratna 2014. Metode Penelitian: Lengkap, Praktis Dan Mudah Dipahami. Yogyakarta: Pustaka Baru Press

Sugiyono. (2014). Metode Penelitian Pendidikan Pendekatan Kuantitatif,. Kualitatif, dan R&D. Bandung: Alfabeta.
Sofia, A. dan Adiyanti, M.G. 2013. Hubungan Pola Asuh Otoritatif Orang Tua Dan Konformitas Teman Sebaya Terhadap Kecerdasan Moral.

WHO (World Health Organization). Pengertian Remaja. http://digilib.uinsby.ac.id/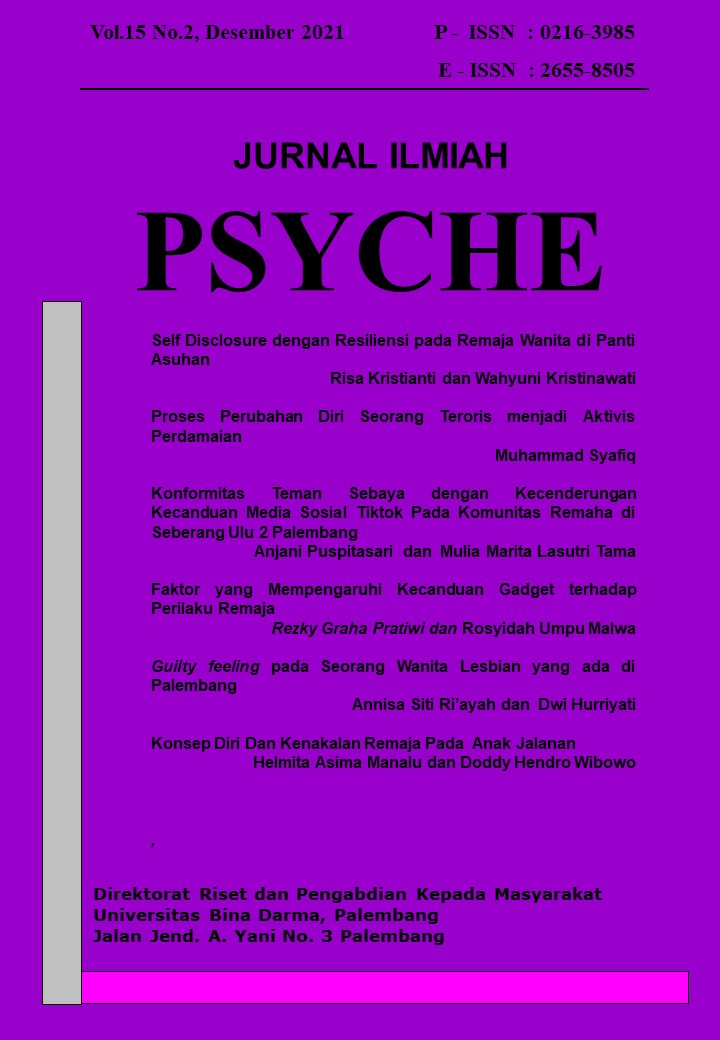 How to Cite
Pratiwi, R., & Malwa, R. (2021). Faktor yang Mempengaruhi Kecanduan Gadget terhadap Perilaku Remaja. Jurnal Ilmiah Psyche, 15(2), 105 - 112. https://doi.org/10.33557/jpsyche.v15i2.1550
Abstract viewed = 102 times
Jurnal Imiah Psyche : 110 times

Jurnal Ilmiah Psyche by http://journal.binadarma.ac.id/index.php/jurnalpsyche is licensed under a Creative Commons Attribution-ShareAlike 4.0 International License.