Hardiness Dan Stres Kerja Karyawan Restoran Kampoeng Kopi Banaran Bawen
Indah Kurniasih Isnaini

Universitas Kristen Satya Wacana

Sutarto Wijono

Universitas Kristen Satya Wacana
Keywords:
hardiness, work stress, restaurant employees
Abstract
This study aims to determine the relationship between hardiness and work stress of Kampoeng Kopi Banaran Bawen restaurant employees. This research uses a quantitative approach. The population in this study were employees of the Kampoeng Kopi Banaran Bawen restaurant, totaling 85 employees and the sample used in this study was 42 employees with the sampling technique used was incidental sampling. The data collection method used the hardiness scale from kobasa (1979), which was previously modified by Jimenez, Munoz, Hernandez, & Blanco (2014) consisting of 15 items and the work stress scale from Parker and Decotiis (1983) consisting of 13 items. The results of this study indicate a correlation, namely r=-0.458; p<0.05. This means that there is a negative and significant relationship between hardiness and work stress on Kampoeng Kopi Banaran Bawen restaurant employees. The higher the employee's hardiness, the lower the work stress that will be experienced by the employees of Kampoeng Kopi Banaran Bawen Restaurant and vice versa, the lower the hardiness, the higher the work stress.
References
Abdusshomad, A. (2021). Gaya hidup nongkrong di kafe dan perilaku gosip sebagai kontrol sosial. Al-Adabiya: Jurnal Kebudayaan Dan Keagamaan, 16(1), 57-68. doi: 10.37680/adabiya.v16i1.593

Asadi, S., S. & Afshar, E.,K. (2021). Relationship of hardiness with self-efficacy and job stress among healthcare network employees. Journal of Health Research in Community, 6(4), 75-85.

Dewi, C. L. (2022). Pengaruh stres kerja terhadap kinerja karyawan beserta sumber dan solusinya.

Fridayanti, Permatasari, A., & Hambali, A. (2021). Peran hardiness sebagai moderator dalam pengaruh job insecurity terhadap job stress. PSYMPATHIC Jurnal Ilmiah Psikologi, 8(1), 101-116. doi: 10.15575/psy.v8i1.12197

Ghofur, A., & Irwanto, J. (2019). Dampak stres kerja, lingkungan kerja terhadap kinerja karyawan perusahaan pada PT. Mustika Buana Sejahtera di Lumajang. Jobman: Journal of Organization and Business Management, 2(2), 89-94.

Harcahyo, R. B., Athanasius, S. S., & Kusdiartini, V. (2021). Pengaruh green product, servicescape dan kualitas layanan terhadap kepuasan konsumen pada resto berbasis alam. Jurnal Ekonomi, Manajemen Akuntansi dan Perpajakan (Jemap), 4(2), 236-254.

HSE. (2021). Work-related stress, anxiety or depression statistics in Great Britain, 2021
Irfad, A., Sanusi, F., & Mukhsin, M. (2021). Manajemen beban kerja, konflik kerja dan stres kerja: pengaruhnya terhadap kinerja karyawan melalui kepuasan kerja sebagai intervening di PT Harapan Teknik Shipyard. Jurnal Riset Bisnis dan Manajemen Tirtayasa (JRBMT), 5(1), 16-32. doi: 10.48181/jrbmt.v5i1.11538

Jimenez, M. B., Munoz, R. A., Hernandez, G. E., & Blanco, L. M. (2014). Development and validation of the occupational hardiness questionnaire. Psicothema. doi: 10.7334/psicothema2013.49

Kobasa, S. C. (1979). Stressful life events. personality, and health: an inquiry into hardiness. Journal of Personality and Social Psychology, 37(1), 1-11. doi: 10.1037/0022-3514.37.1.1

Kobasa, S. C., Maddi, S. R., & Kahn, S. (1982). Hardiness and health: a prospective study. Journal of personality and Social psychology, 42(1), 168-177. doi: 10.1037/0022-3514.42.1.168

Niknam, M. (2021). The effect of psychological capital intervention model on nurses job stress and hardiness. Knowledge & Research in Applied Psychology, 22(3), 107-119. doi: 10.30486/jsrp.2020.1877456.2029

Parker, D. F., & DeCotiis, T. A. (1983). Organizational determinants of job stress. Organizational, Behavior and Human Performance, 32, 160-177. doi: 10.1016/0030-5073(83)80145-9

Rico, Kusmana. (2018). Hubungan antara Hardiness dengan Stres Kerja pada Kolektor di FIFGroup Cabang Bekasi II. Undergraduate thesis, Universitas Bhayangkara Jakarta Raya.
Riyanti, F. E., & Rahmandani, A. (2020). Hubungan antara hardiness dengan stres kerja pada perawat instalasi rawat inap di rumah sakit umum daerah banyumas. Jurnal EMPATI, 8(3), 505-514. doi: 10.14710/empati.2019.26491

Sadeghour, M., Moghadam, M. F., & Namnabati, M. (2023) The impact of kobasa and maddi hardiness model on stress and hardiness of irian pediatric nurses: a clinical trial study. Iranian Journal of Nursing and Midwifery Research, 26(1), 42-46. doi: 10.4103/ijnmr.IJNMR_128_20

Samura, M. D., & Sitompul, F. (2020). Analisis faktor-faktor yang mempengaruhi stres kerja pada karyawan. Jurnal Inovasi Kesehatan Masyarakat, 1(2), 52-59. doi: 10.36656/jikm.v1i2.283.

Saputra, I. M. R. A., & Suarya, L. M. K. S. (2019). Peran stres akademik dan hardiness terhadap kecenderungan gangguan psikofisiologis pada mahasiswa kedokteran tahun pertama. Jurnal Psikologi Udayana, 6(1), 31-43.

Septianingsih, W., & Iqbal, M. (2021). Karakter kepribadian tahan banting (hardiness) sebagai prediktor stres kerja (work stress) pada anggota polri. Psychology Journal of Mental Health, 3(1), 56-69.

Teoh, K. B., Cordova, M., Ng, Y. H., Lee, G. S., Choy, J. F., Kee, D. M. H., ... & Warrier, U. (2021). Factors affecting job stress among employees in bin chen parts private limited company. Asia Pacific Journal of Management and Education (APJME), 4(1), 18-27. doi: 10.32535/apjme.v4i1.1051

Wahdaniyah, N., & Miftahuddin. (2018). Pengaruh hardiness, beban kerja, dan faktor demografi terhadap stres kerja guru. TAZKIYA Journal of Psychology, 6(1), 6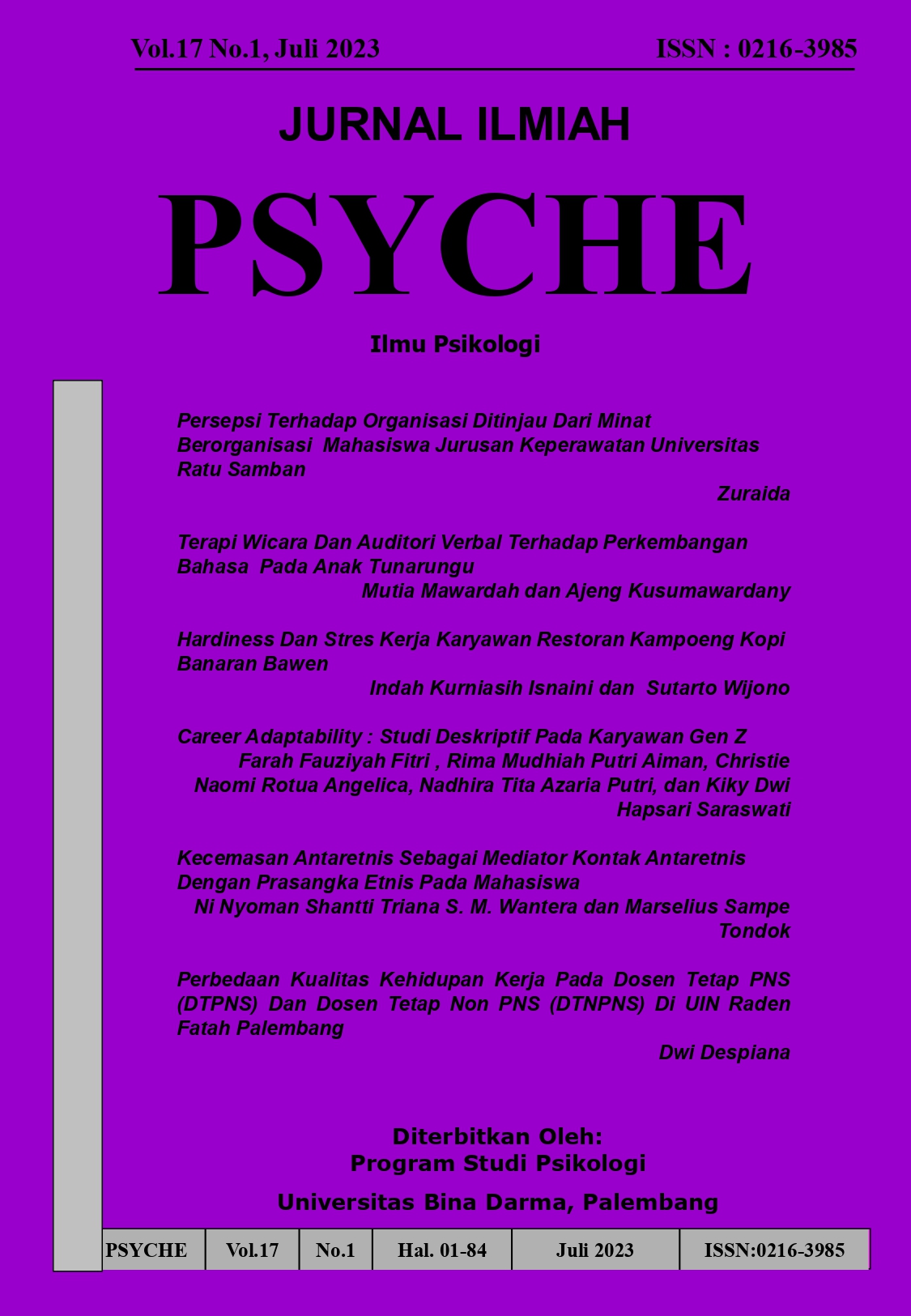 How to Cite
Isnaini, I., & Wijono, S. (2023). Hardiness Dan Stres Kerja Karyawan Restoran Kampoeng Kopi Banaran Bawen. Jurnal Ilmiah Psyche, 17(1), 29–38. https://doi.org/10.33557/jpsyche.v17i1.2509
Abstract viewed = 30 times
Jurnal Ilmiah Psyche : 39 times

Jurnal Ilmiah Psyche by http://journal.binadarma.ac.id/index.php/jurnalpsyche is licensed under a Creative Commons Attribution-ShareAlike 4.0 International License.