Self Regulated Learning dan Konsep Diri sebagai Prediktor Aspirasi Karier pada Remaja
Rezky Graha Pratiwi

Sekolah Tinggi Ilmu Psikologi Abdi Nusa Palembang

Yuliansyah Yuliansyah

Sekolah Tinggi Ilmu Psikologi Abdi Nusa Palembang
Keywords:
career aspiration, self regulated learning, self-concept, adolescent
Abstract
This study aims to examine the effect of self-regulated learning and self-concept on career aspirations in adolescents. This research uses a quantitative approach with ex-post facto design. This research was conducted in Yogyakarta City which consisted of 223 women and 152 men. Data was collected through CAS-R adaptation for career aspiration scale with 33 items from Obrien (1996), MSLQ for self-regulated learning scale with 44 items from Pintrich and Groot (1990) and TSCS for self-concept scale with 100 items from Fitts (1972) . The category of teenagers who have career aspirations is in the high category. The instrument validation technique uses content validity and Alpha Cronbach coefficient reliability. The results showed that there was an effect of self regulated learning and self-concept on career aspirations in adolescents with a significance value of 0.008 (p <0.05). It can be concluded that Self-regulated learning and self-concept can be strong predictors of career aspirations in adolescent
References
____. Badan Pusat Statistik. (2015). Angka Tingkat Pengangguran di Indinesia 2015. Jakarta. Diakses tanggal 1 Juni 2018.
Attachment on the Career Development of Adolescent Women. Journal Of Vocational Behavior 48, 257–274.

Campbell, J. D., Trapnell, P. D., Heine, S. J., Katz, M., Lavallee, L. F., & Lehman, D. R. (1996). Self-Concept Clarity : Measurement , Personality Correlates , and Cultural Boundaries, 70(1), 141–156.

Crain, W. (2014). Teori Perkembangan Konsep dan Aplikasi (3rd ed). Yogyakarta: Pustaka Belajar.

Direito, I., Connolly, J., Simon, S., & Trevethan, J. (n.d.). (2017). Gender Differences In Science Interest, Self-Concept , And Career Aspirations, 13-14.

Dudovitz. R.N, Chung. P.J, Nelson. B.B & Wong. M.D. (2017). What do you want to be when you grow up? Career Aspirations as a Marker for Adolescent Wellbeing. USA.

Elisa, Shinta. A. (2014). Hubungan Antara Pengaturan Diri dengan Aspirasi Karier pada Siswa. Vol(10). 54-67

Fitts, William. (1972). The Self Concept and Self Actualization. California: Western Psychological Service.
Hargett, J. M. (2012). Person-environment congruence and academic achievement of college students: An application of holland's theory (Unpublished doctoral dissertation). Educational Psychology and Research, The University of Memphis.

Hartini. (2017). Perkembangan Fisik dan Body Image Remaja, 1(02). ISSN 2580-3630. E-ISSN 258-03646.

Hirschi, A. (2013). Swiss Adolescents ' Career Aspirations : Influence of Context , Age , and Career Adaptability, 36(3). https://doi.org/10.1177/0894845309345844.Swiss

Holland J L. (1997). Making vocational choices: a theory of careers. Englewood Cliffs, NJ:Prentice-Hall, 1973. 150 p.

Istriyanti, N.L.A & Simarmata, N. (2014). Hubungan Antara Regulasi Diri dan Perencanaan Karir pada Remaja Putri Bali, 1(2), 301–310.

Juwitaningrum, I., & Indonesia, U. P. (2013). Program Bimbingan Karir untuk Meningkatkan Kematangan Karir Siswa SMK Career Counseling Program to Improve Career Maturity Students of SMK, 2(2), 132–147.

Kim, Y. H., Brien, K. M. O., & Kim, H. (2015). Measuring Career Aspirations Across Cultures : Using the Career Aspiration Scale With Young Korean Women. https://doi.org/10.1177/1069072715599538

Lattuca, L. R., Terenzini, P. T., Harper, B. J., & Yin, A. C. (2012). Academic Environments in Detail : Holland ' s Theory 51(1), 21–39. https://doi.org/10.1007/sl

Molenaar, I., Horvers, A., & Baker, R. S. (2019). What can moment-by-moment learning curves tell about students ' self- regulated learning ? Learning and Instruction, https://doi.org/10.1016/j.learninstruc.2019.05.003.

O'brien. K. M. (1996). The Influence of Psychological Separation and Parental

Pintrich, P. R., & Groot, E. V. De. (1990). Motivational and Self-Regulated Learning Components of Classroom Academic Performance, 82(1), 33–40.

S.Octheria.F, Winata, H. (2018). Regulasi diri (pengaturan diri) sebagai determinan hasil belajar siswa sekolah menengah kejuruan, 3(1), 184–191.

Saifuddin, A., Ruhaena, L., & Pratisti, W. D. (2017). Meningkatkan Kematangan Karier Peserta Didik SMA dengan Pelatihan Reach Your Dreams dan Konseling Karier, 44(1957), 39–49. https://doi.org/10.22146/jpsi.17378

Santrock, J, W. (2009). Adolescence Perkembangan Remaja (3rd ed). Jakarta: Salemba Humanika.

Santrock, J. W. (2012) Psikologi Pendidikan Edisi Kedua. Jakarta: Penerbit Erlangga.

Super, D. E. (1996). The Counseling Psychologist. https://doi.org/10.1177/001100006900100101

Wong. B, (2016). Science Education, Career Aspirations and Minority Ethnic Student. Palgrave Macmillan.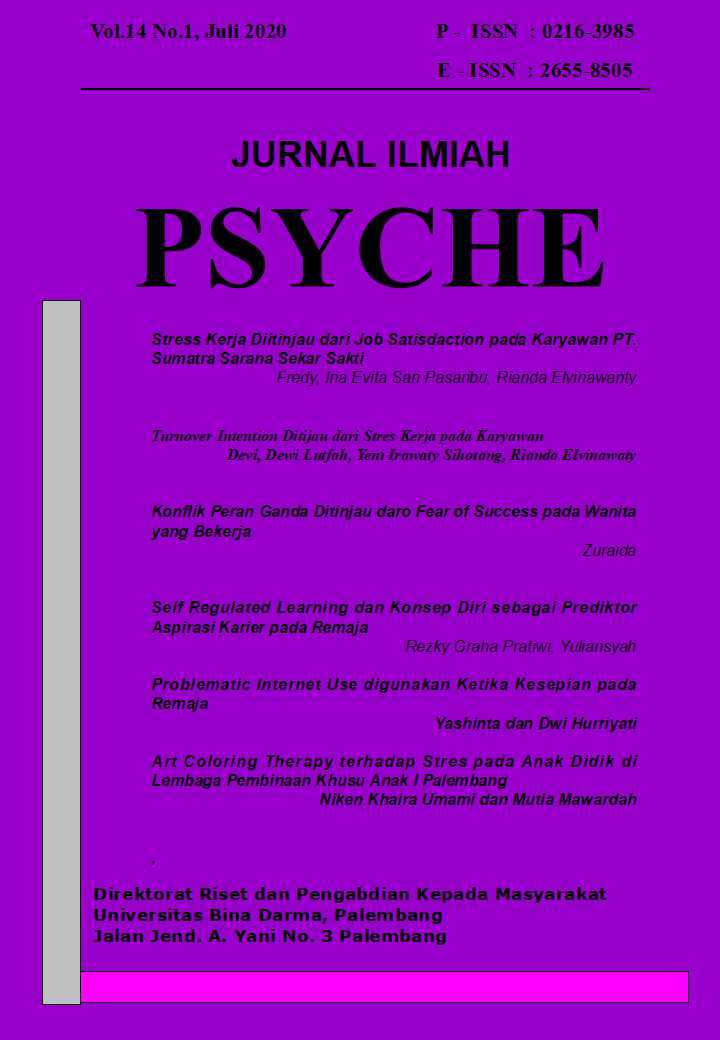 How to Cite
Pratiwi, R., & Yuliansyah, Y. (2020). Self Regulated Learning dan Konsep Diri sebagai Prediktor Aspirasi Karier pada Remaja. Jurnal Ilmiah Psyche, 14(1), 35 - 44. https://doi.org/10.33557/jpsyche.v14i1.982
Abstract viewed = 358 times
Jurnal Ilmiah Psyche : 123 times

Jurnal Ilmiah Psyche by http://journal.binadarma.ac.id/index.php/jurnalpsyche is licensed under a Creative Commons Attribution-ShareAlike 4.0 International License.