Problematic Internet Use digunakan Ketika Kesepian pada Remaja
Yashinta Yashinta

Universitas Bina Darma

Dwi Hurriyati

Universitas Bina Darma
Keywords:
problematic internet use, loneliness, students
Abstract
This study aims to determine the relationship of loneliness with problematic internet use on boarding students on Silaberanti street in Siantan jaya Opposite Ulu 1 Palembang city. Research subjects numbered 220 people using random sampling methods. Data was collected using a 60 item problematic internet use scale and a 60 item loneliness. Realibility is generated on scale of problematic internet use of 0,955 and loneliness of 0,946.Hypothesis testing uses product moment correlation analysis techniques. Hypothesis test results showed a positive relationshif between loneliness with problematic internet use on boarding students on Silaberanti street in Siantan jaya Opposite Ulu 1 Palembang city r= 0,684 with a significance level of 0,000 (p<0,01). Loneliness in this study made an effective contribution of 46,8% to problematic internet use which can be seen from the coefficient of determination (r²) that is equel to 0,468.
References
Akin, I. 2014.Relationship Problemati Internet Use with Alexithymia, Emotion Regulation, and Impulsivity.Istanbul: Bahcesehir University

Annisa Risqi Anggunani, Budi Purwanto,2018.Problematic Internet Use dan Prokrastinasi Akademik pada Mahasiswa. Jurnal GamaJop. Vol 4, No 1

Ansari, C dkk. 2016. Polling indonesia: Infografis penetrasi & perilaku pengguna internet indonesia. Jakarta: Asosiasi Penyelenggara Jasa Internet Indonesia

Asosiasi Penyelenggara Jasa internet. 2016. Penetrasi dan perilaku pengguna internet indonesia. Survey 2016. Di download dari http://www.apjii.or.id/survey2016 pada tanggal 20 april 2019

Azwar,S.(2014). Penyusunan skala psikologi. Yogyakarta: pustaka pelajar

Bashir, S., Mahmood, K., &Shafique, F. 2008. Internet Use Among University Students: A Survey in University of the Punjab, Lahore. Pakistan Journal of Library & Information Science.Vol
8. No 9

Brehm, Miller, Perlman, Campbell. 2002. Intimate Relationship 3rdedition. USA : McGraw-Hill, Co
Bruno, F.J.S. 2000. Conguer Loneliness: Cara Menaklukan Kesepian. (Alih Bahasa: Sitanggang). Jakarta: PT. Gramedia Pustaka Utama

Cao, F., Su, L. 2006. Internet addiction among Chinese adolescents: prevalence and psychological features. Journal compilation Blackwell Publishing Ltd, Child: care, health and development,

Caplan., S.E. 2010. Theory and Measurement
of Generalized Problematic Internet
Use: A Two-step Approach.
Computers in Human Behavior . Vol
17. No 187-195


Cash, H., Rae, C. D., Steel, A. H., & Winkler, A. (2012). Internet addiction: A brief summary of research and practice. Current Psychiatry Reviews, 8(4), 292-298.

De Jong-Gierveld, J., van Tilburg, T. G., & Dykstra, P. A. 2006. Loneliness and Social Isolation. In D. Perlman, & A. Vangelisti (Eds.), The Cambridge Handbook of Personal Relationships (pp. 485-500). Cambridge: Cambridge University Press

Frangos, C. C., &Sotiropoulos, I. 2011. Problematic Internet Use among Greek University Students: An Ordinal Logistic Regression with Risk Factors' Negative Psychological Beliefs, Pornographic Sites and Online Games Cyberpsychology, Behavior and Social Networking.Vol 14. No 51-58

Kim, J., Larose, R., &Peng, W.
2009.Loneliness as the Cause and the Effect of Problematic Internet Use: The Relationship between Internet Use and Psychological Well-Being. Cyberpsychology &Behavior.Vol 12. No 4

Monks, F.J., Knoers, A.M.P., Haditono, S.2014 o, Perkembangan : Pengantar Dalam Berbagai Bagiannya. Yogyakarta: Gadjah Mada University Press


Morahan-Martin, J., & Schumacher, P. 2000. Incidents and correlates of pathological internet use among college students. Computers in Human Behavior, 16, 13–29.

Niemz, K., Griffiths, M., & Banyard, P. (2005). Prevalence of pathological internet use among university students and correlations with self-esteem, the General Health Ques-tionnaire (GHQ), and disinhibition. CyberPsychology & Behavior, 8(6), 562-570.

Odac,H.,& Kalkan, M. 2010.Problematic Interne Use, Loneliness and Datin Anxiety Among Young Adult University Students : Computer & Education.Vol 55. No 1091-1097


Santrock, John W. 2003 Perkembangan : Pengantar Dalam Berbagai Bagiannya. Yogyakarta: Gadjah Mada University Press

Sari, S. V. &Aydin, B. 2014.Problematic Internet Use and Body Mass Index in University Students.Eurasian Journal of Educational Research.Vol 54. No 135-150

Sarwono, S. W. 2002. Psikologi Belajar. Jakarta: Rajawali

Shapira, N, A., dkk. 2003. Problematic Internet Use: Proposed Classification and Diagnostic Criteria. Depression and Anxiety.Vol 17

Skues, J. L., Williams, B., & Wise, L. 2012. The effects of personality traits, self-esteem, loneliness, and narcissism on Facebook use among university students. Computers in Human Behavior, 28,2414-2419

Sri Yola Tiska, Hubungan Antara Kesepian Dan Kebutuhan Afiliasi Pada Remaja Akhir Yang Senang Clubbing, 2016. Skripsi Universitas Gunadarma Jakarta

Sugiyono. 2013. Metode penelitian kuantitatif kualitatif dan R&D. Bandung.Alfabeta.

Young, K.S and Abreu, C.N. 2011. Internet Addiction: A Handbook and Quide to Evaluation and Treatment. Hoboken, NJ: John.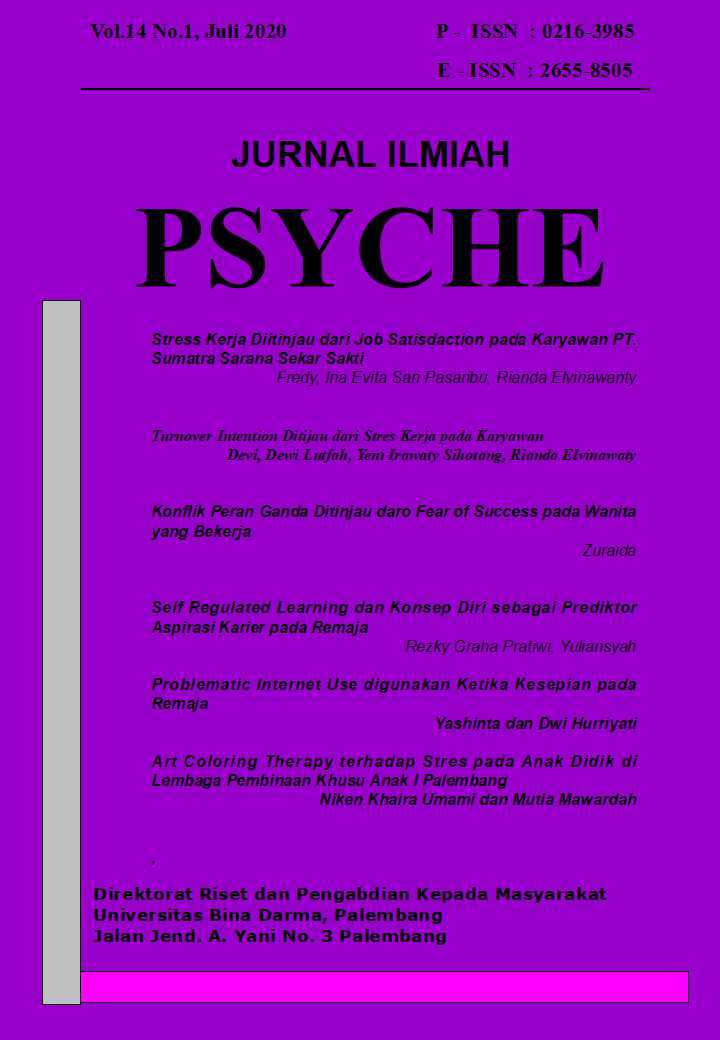 How to Cite
Yashinta, Y., & Hurriyati, D. (2020). Problematic Internet Use digunakan Ketika Kesepian pada Remaja. Jurnal Ilmiah Psyche, 14(1), 45 - 60. https://doi.org/10.33557/jpsyche.v14i1.983
Abstract viewed = 852 times
Jurnal Ilmiah Psyche : 285 times

Jurnal Ilmiah Psyche by http://journal.binadarma.ac.id/index.php/jurnalpsyche is licensed under a Creative Commons Attribution-ShareAlike 4.0 International License.