LIGHTWEIGHT MORTAR GEOPOLIMER BASED ON FLY ASH AND PALM ASH
Edowinsyah Edowinsyah

Universitas Palembang

Firdaus Firdaus
Keywords:
alumunium powder, compressive strength, mortar, geopolymer
Abstract
This research discusses the use of alumunium powder in the manufacture of geopolymer mortar made from fly ash and palm ash, with the aim of knowing the optimal amount of alumunium powder mixture against the compressive strength of geopolymer mortar. The research method used experimental methods in the laboratory, to examine the compressive strength of different geopolymer mortar tests used in the form of cubes measuring 5 x 5 x 5 cm with a mixture composition of NaOH: Na2SiO3 = 1: 2.5, Activator: Precursor = 1: 1, Fine Aggregate: Precursor = 1.5: 1 Concentration of NaOH = 12 M for the ratio of fly ash use: palm ash = 75: 25% using alumunium powder as much as 0, 0.5, 0.75 and 1%. Mortar strength testing was carried out after 3, 7, 14, 21 and 28 days of maintenance
The compressive strength results obtained in each composition of the geopolymer mortar mixture are for geopolymer mortar without a mixture of alumunium powder as large as Mpa, for geopolymer mortar with a mixture of alumunium powder as much as 0.5%, 0.75% and 1% have a compressive strength of 20.9 Mpa, 15.2 Mpa, 12.7 Mpa Dan 9,7 Mpa
References
[1] P. S. D. Geologi, "Badan Geologi Kementerian Energi dan Sumber Daya Mineral (ESDM)," Sumber Daya dan Cadangan Miner. Bukan Logam dan Batuan, 2014.
[2] B. DWIKA A, "PENGARUH PERBANDINGAN WATER SOLID RATIO (W/S) TERHADAP KUAT TEKAN DAN KUAT LEKAT MORTAR GEOPOLYMER BERBAHAN DASAR ABU TERBANG DENGAN NaOH 12 M PADA SUHU RUANGAN," Rekayasa Tek. Sipil, vol. 2, no. 2/REKAT/17, 2017.
[3] B. S. Nasional, "Tentang Tata Cara Pembuatan Rencana Campuran Beton Normal," SNI, vol. 3, p. 2834, 2000.
[4] P. Purwanto and Y. A. Priastiwi, "Pengaruh Kadar Lumpur Pada Agregat Halus Dalam Mutu Beton," Teknik, vol. 33, no. 2, pp. 46–51, 2012.
[5] B. S. Nasional, "SNI 2816: 2014 Metode Uji Bahan Organik dalam Agregat halus untuk beton." Jakarta: Badan Standarisasi Nasional, 2014.
[6] S. N. Indonesia, "Metode pengujian berat jenis dan penyerapan air agregat kasar," SNI-03-1969-1990, 1990.
[7] T. Utomo, "Analisa Kuat Tekan Beton Geopolimer Dengan Bahan Alternatif Abu Sekam Padi Dan Kapur Padam." Teknik Sipil-Fakultas Teknik, 2017.
[8] R. D. Fransiska, "PENGARUH RASIO PREKURSOR: AKTIVATOR TERHADAP KUAT TEKAN MORTAR GEOPOLIMER ABU SEKAM PADI," J. Ilm. BERING'S, vol. 6, no. 01, pp. 32–36, 2019.
[9] D. Hardjito and B. V. Rangan, "Development and properties of low-calcium fly ash-based geopolymer concrete," 2005.
[10] S. Thokchom, P. Ghosh, and S. Ghosh, "Performance of fly ash based geopolymer mortars in sulphate solution," J. Eng. Sci. Technol. Rev., vol. 3, no. 1, pp. 36–40, 2010.
[11] B. S. Nasional, "Metode pengujian kekuatan tekan mortar semen Portland untuk pekerjaan sipil," SNI 03-6825-2002, Indonesia, 2002.
[12] B. S. Nasional, "SNI 03-1968-1990," Metod. Penguji. Anal. Saringan Agreg. Halus dan Kasar, 1990.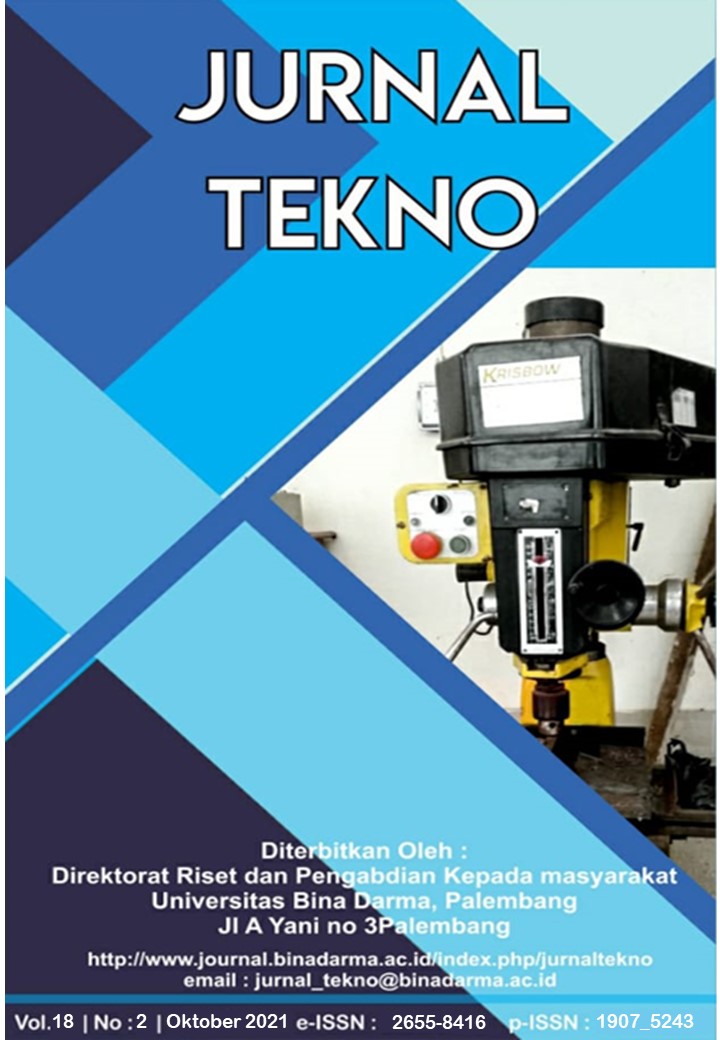 How to Cite
[1]
E. Edowinsyah and F. Firdaus, "LIGHTWEIGHT MORTAR GEOPOLIMER BASED ON FLY ASH AND PALM ASH", jtekno, vol. 18, no. 2, pp. 21 - 29, Nov. 2021.
Abstract viewed = 5 times
pdf : 9 times

Jurnal Tekno by journal.binadarma.ac.id/index.php/jurnaltekno is licensed under a Creative Commons Attribution-ShareAlike 4.0 International License.