PROTOTIPE PEMBANGKIT LISTRIK MEDAN MAGNET ELEKTRIS
Kms Saipudin

Universitas Bina Darma

normaliaty fitri

Universitas Bina Darma
Keywords:
Keyword : Alternative Energy, Vdc Electrical Energy From Magnetic Fields, Arduino
Abstract
One effort to overcome the electricity crisis is to reduce dependence on fossil energy,  sources by utilizing alternative energy sources consisting of various energy that can be used from natural elements, magnetism is one alternative to natural element energy that can be utilized as a solution to reduce the impact of energy crisis, Electric magnetic field power plant is a method for generating electrical energy by providing rotation to the armature or cores that are in the area or path of the magnetic field so that the rotation of the core or armature can produce DC electrical energy according to the type of rotor and stator used, starting with a Dc 1 motor connected to a 12 Vdc battery which is connected in parallel with a Dc 2 motor using gear and bicycle chain then the positive and negative wires of the Dc 2 motor fill the current and super capasitor voltage (2.7 Vdc capacitor 10 Farad parallel 6 pieces) then strengthened by order The Dc amplifier then goes to the stabilizer circuit and charges the 12 Vdc battery so as to create a rotation on the Dc 2 motor shaft, to then be connected in parallel with a core shaft or a wounded armature surrounded by a magnet. So it produces a Dc voltage on the commutator core (positive and negative cables) 6-12 Vdc, depending on the amount of magnet provided around the core or armature and the rotational speed of the core, armature (the more magnets the magnetic field will get bigger and stronger so magnetic and electromagnetic flux can also be generated by a large nominal Dc voltage, while the higher the core or armature beam, the greater the voltage will be).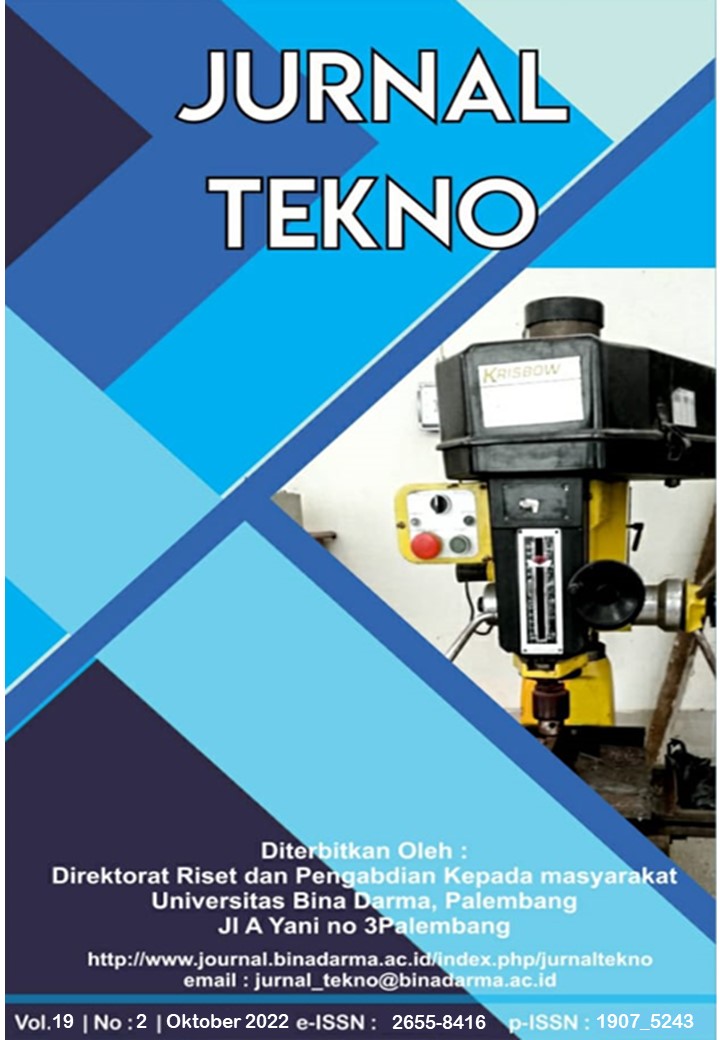 How to Cite
[1]
K. Saipudin and normaliaty fitri, "PROTOTIPE PEMBANGKIT LISTRIK MEDAN MAGNET ELEKTRIS", jtekno, vol. 19, no. 2, pp. 49–58, Dec. 2022.
Abstract viewed = 45 times
pdf : 30 times

Jurnal Tekno by journal.binadarma.ac.id/index.php/jurnaltekno is licensed under a Creative Commons Attribution-ShareAlike 4.0 International License.