Identifikasi Perilaku Berkendara Mahasiswa Kota Bandung Menggunakan Driver Behaviour Questionnaire (DBQ)
Winda Halim

Universitas Kristen Maranatha

Cristy Caroline

Universitas Kristen Maranatha
Keywords:
college student, driver behaviour questionnaire (DBQ), correlation, means
Abstract
According to data from the Central Statistics Agency of West Java Province, the number of accidents in Bandung is quite high. The number of traffic accidents with victims as college students in Bandung is in the 3rd highest rank among other big cities. Of all accidents that occur, the driver's behaviour is the main cause of the accident. Therefore, the purpose of this study is to analyze driving behaviour and the factors of deviant driving behaviour carried out by student drivers in Bandung and analyze the relationship between gender, area of ​​residence, driving experience, and driving frequency on driving behaviour.
This research was conducted by distributing the Driver Behaviour Questionnaire (DBQ) to determine the deviant driving behaviour of the respondents. There are 154 respondent data that will be used in this study. The data that will be collected in this study is the respondent's profile and 59 items of driving behaviour statements. The results of data collection will be processed by testing Bivariate Correlation and comparison of the average value of driving behaviour. There are several driving behaviour variabels related to the independen variabel as well as several preventive and punishment efforts given to overcome the deviant driving behaviour.
References
[1] I. Hardianto and Yassierli, Ergonomi Suatu Pengantar, Bandung: PT. Remaja Rosdakarya, 2014.
[2] D. Wicaksono, R. A. Fathurochman, B. Riyanto and Y. Wicaksono, "Analisis Kecelakaan Lalu Lintas (Studi Kasus-Jalan Raya Ungaran - Bawen)," Jurnal Karya Teknik Sipil, p. 203, 2014.
[3] C. S. Dula and E. S. Geller, "Risky, aggressive, or emotional driving: Addressing the need for consistent communication in research," Journal of Safety Research, vol. 34, no. 5, pp. 559-566, 2003.
[4] F. Suwarto, Hartono and Lukman, "PENGARUH RASA TAKUT TERHADAP PROFIL PERILAKU PENGENDARA USIA REMAJA: STUDI DENGAN DRIVER BEHAVIOUR QUESTIONNAIRE (DBQ)," JURNAL REKAYASA SIPIL (JRS-UNAND), vol. 15, no. 2, pp. 129-139, 2019.
[5] B. A. Aramita, S. Maimunah, E. Purwanto and F. Tohom, "Evaluation of Driver Behavior when Crossing Unsignalized Intersection from Minor Road to Major Road," in RSF Conference Series: Engineering and Technology, 2022.
[6] Y. F. Alyandi and L. S. Putranto, "HUBUNGAN PENDIDIKAN DI DALAM KELUARGA TERHADAP PERILAKU PENGEMUDI KENDARAAN BERMOTOR SAAT BERLALU LINTAS," Jurnal Mitra Teknik Sipil, vol. 1, no. 1, pp. 48-54, 2018.
[7] L. Lady, L. A. Rizqandini and D. L. Trenggonowati, "EFEK USIA, PENGALAMAN BERKENDARA, DAN TINGKAT KECELAKAAN TERHADAP DRIVER BEHAVIOR PENGENDARA SEPEDA MOTOR," Jurnal Teknologi, vol. 12, no. 1, pp. 57-64, 2020.
[8] R. Safitri, M. Fahri and R. Arlianda, "Perilaku Berkendara Dampak Penerapan Electronic Traffic Law Enforcement (ETLE) Pada Simpang Bersinyal di Kota Pangkalpinang," BENTANG : Jurnal Teoritis dan Terapan Bidang Rekayasa Sipil, vol. 11, no. 1, pp. 105-112, 2023.
[9] A. Febrianti, A. Desrianty and Yuniar, "TINGKAT KEWASPADAAN DAN PERILAKU PENGEMUDI ANGKUTAN KOTA BERDASARKAN KARAKTERISTIK JARAK TEMPUH TRAYEK MENGGUNAKAN METODE QUASA DAN DRIVER BEHAVIOUR QUESTIONNAIRE," in Seminar Nasional V Manajemen & Rekayasa Kualitas 2013, Bandung, 2013.
[10] E. Sunarto, H. Prastawa and P. A. Wicaksono, "Analisis Pengaruh Safety Climate Terhadap Safety Related Driving Behaviors Pengemudi BRT Koridor I dan II Semarang," 2018. [Online]. Available: https://ejournal3.undip.ac.id/index.php/ieoj/article/view/20713. [Accessed 6 Maret 2023].
[11] D. Parker, J. T. Reason, A. S. R. Manstead and S. G. Strading, "Driving Error, Driving Violation, and Accident Involvement," Ergonomics, vol. 38, no. 5, pp. 1036-1048, 1995.
[12] J. Reason, A. Manstead, S. Stephen, J. Baxter and K. Campbell, "Errors and violations on the roads: A real distinction?," Ergonomics, vol. 33, no. 10-11, pp. 1315-1332, 1990.
[13] R. Lawton, D. Lawton, S. G. Stradling and A. S. Manstead, "Predicting road traffic accidents: The role of social deviance and violations," British Journal of Psychology, vol. 88, no. 2, pp. 249-262, 1997.
[14] U. Sekaran and R. Bougie, Research Methods for Business 7th Edition, John Wiley & Sons Ltd, 2016.
[15] P. Subagyo and Djarwanto, Statistik Induktif, Yogyakarta: BPFE UGM, 2000.
[16] I. Ghozali, Aplikasi Analisis Multivariate dengan Program SPSS, Badan Penerbit Universitas Diponegoro.
[17] Sunjoyo, R. Setiawan, V. Carolina, N. Magdalena and A. Kurniawan, Aplikasi SPSS Untuk SMART Riset (1st ed.), Penerbit ALFABETA, 2013.
[18] J. Sarwono, Statistik Multivariate Aplikasi untuk Riset Skripsi (Nikodemus WK (ed.)), C.V Andi Offset, 2013.
[19] A. Widarjono, Statistika Terapan Dengan Excel & SPSS (1st ed.), UPP STIM YKPN, 2015.
[20] S. Santoso, Menguasai SPSS Versi 25 (1st ed.), PT Alex Media Komputindo, 2018.
[21] M. Maslać, B. Antić, K. Lipovac, D. Pešić and N. Milutinović, "Behaviours of drivers in Serbia: Non-professional versus professional drivers," Transportation Research Part F: Traffic Psychology and Behaviour, vol. 52, pp. 101-111, 2018.
[22] L. Guého, M. A. Granié and J. C. Abric, "French validation of a new version of the Driver Behavior Questionnaire (DBQ) for drivers of all ages and level of experiences," Accident Analysis and Prevention, vol. 63, pp. 41-48, 2014.
[23] T. Özkan, T. Lajunen and H. Summala, "Driver Behaviour Questionnaire: A follow-up study," Accident Analysis and Prevention, vol. 38, no. 2, pp. 386-395, 2006.
[24] M. Sucha, L. Sramkova and R. Risser, "The Manchester driver behaviour questionnaire: self-reports of aberrant behaviour among Czech drivers," European Transport Research Review, vol. 6, no. 4, pp. 493-502, 2014.
[25] L. Lady and A. Umyati, "Human Error dalam Berkendara Berdasarkan Kebiasaan Pelanggaran oleh Pengemudi Human Error in Driving Based on Driver's Habitual Deviations," Jurnal Transportasi Dan Logistik, vol. 08, no. 01, pp. 21-31, 2021.
[26] U. Enggarsasi and N. K. Sa'diyah, "Kajian Terhadap Faktor-Faktor Penyebab Kecelakaan Lalu Lintas Dalam Upaya Perbaikan Pencegahan Kecelakaan Lalu Lintas," Perspektif, vol. 22, no. 3, p. 228, 2017.
[27] N. Wahyuni, "UJI VALIDITAS DAN RELIABILITAS," Binus University, 2014. [Online].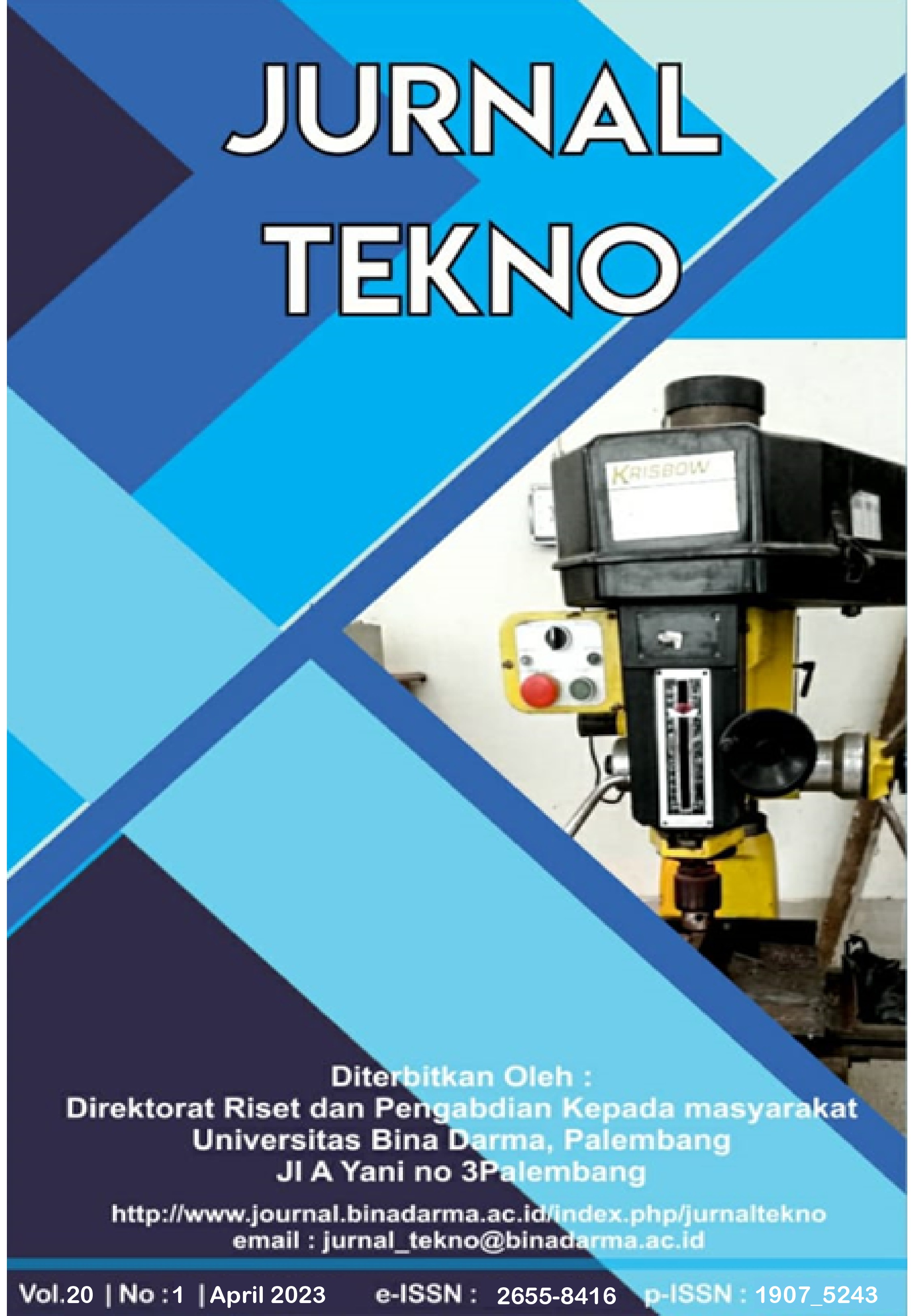 How to Cite
[1]
W. Halim and C. Caroline, "Identifikasi Perilaku Berkendara Mahasiswa Kota Bandung Menggunakan Driver Behaviour Questionnaire (DBQ)", jtekno, vol. 20, no. 1, pp. 76–92, Aug. 2023.
Abstract viewed = 32 times
pdf : 35 times

Jurnal Tekno by journal.binadarma.ac.id/index.php/jurnaltekno is licensed under a Creative Commons Attribution-ShareAlike 4.0 International License.