ANALISIS PERANCANGAN PRODUK ALAT PENCETAK SPASI SEMEN BATU BATA UNTUK MENINGKATKAN PRODUKTIVITAS (Studi Kasus: CV. Mangku Putra)
FRANS JR

Universitas Katolik Musi Charitas
Keywords:
Product Design and Development, Efficiency, Rational Method
Abstract
One way to deal with it is by product development that is to make improvements, improvements or produce new products that are different from existing products. The new Product Development strives to simplify the work in effective and efficient ways. In the process of building a house there is a wall-mounting activity where the bricks are arranged with the help of cement to paste the bricks that are aimed at the brick well-arranged, but in the use of cement often seen the cement used to fall apart to the side of the brick. The process of designing and developing a product is done using a rational method that has several steps. The steps in the rational method are: Clarifying Objectives, Establishing Function, Setting Requirements, Determining Characteristics, Generating Alternatives, Evaluating Altenatives, Improving Details. In this study the authors aim to get the design of bricks spacing tool to improve the performance of artisans and improve the quality of the process that includes the skills of artisans and improve the efficiency of raw materials by testing product design and product development made by the author by comparing the data processing time before and after implementation using the help software SPSS 16.00. Result of t test by using software SPSS 16.00 got result that using tool better design in time and productivity of use of raw materials using tool design increase. Result from before using tool got productivity 40,677 after menggguakan tool got produktiviyas 42,105
References
Zahroh, Fatimatuz (2016) Analisis Pengembangan Produk Dalam Meningkatkan Produktivitas Pembuatan Sepatu Kulit Di Industri Sepatu Kulit Finaldo Suwaduk Wedarijaksa Pati. Skripsi Thesis, Stain Kudus.

Safarudin Ramdhani (2014)Perancangan Alat Pengupas Kulit Lunak Melinjo Yangergonomis Dengan Pendekatan Metode Rasional Untukmeningkatkan Produktivitas Produksi Program Studi Teknik Industri - S1, Fakultas Teknik,Universitas Dian Nuswantoro Semarang

Pulat, Babur Mustafa and Alexander, David C. editor. 1992, Industrial Ergonomics Case Studies. New York: Mc Graw-Hill,Inc.

Sinungan, Muchtar. 2003. Produktivitas: Apa dan Bagaimana. Jakarta: Bumi Aksara

Cross, N, 1994, Engineering Design Methods Strategies for Product Design, Edisi 2, John Wiley and Sons LTD, United Kingdom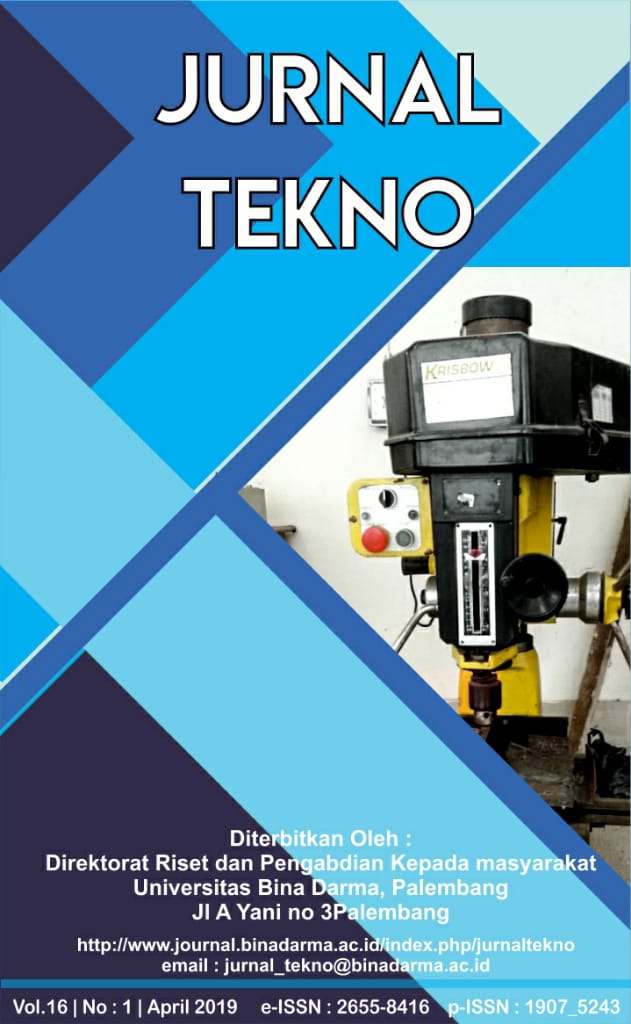 How to Cite
[1]
F. JR, "ANALISIS PERANCANGAN PRODUK ALAT PENCETAK SPASI SEMEN BATU BATA UNTUK MENINGKATKAN PRODUKTIVITAS (Studi Kasus: CV. Mangku Putra)", jtekno, vol. 16, no. 1, pp. 58–68, Apr. 2019.
Abstract viewed = 327 times
Download PDF : 3065 times

Jurnal Tekno by journal.binadarma.ac.id/index.php/jurnaltekno is licensed under a Creative Commons Attribution-ShareAlike 4.0 International License.