ANALYSIS OF LANGUAGE STYLE IN POETRY "CINTA DALAM KEFANAAN" RUMI (A SEMIOTICS APPROACH)
Fitriyah Fitriyah

Universitas Bina Sarana Informatika
Keywords:
Poetry, Language style, Rumi
Abstract
The aim of this research is to analyze one of Rumi's poetries entitled "Cinta dalam Kefanaan" which was translated by Abdul Hadi. Poetry will be analyzed based on a semiotic approach, which is to determine the style of language used in Rumi's poetry, especially the language that shows symbols of love. The poetry "Cinta dalam Kefanaan" is one of Rumi's poetry filled with the language of love. Rumi was completely immersed in his newfound love. The result shows that Rumi used a symbolic and romantic image of the search for a lost beloved. Love is made aware of the presence of the Master. Rumi's life story shows us that the longing and emptiness we feel because of losing love is a reflection of a longing for God, who is ultimately a manifestation of compassion found in his own soul.
References
Guntur Tarigan, H. (1986). Menulis Sebagai Suatu Keterampilan Berbahasa. Angkasa Bandung.
Hadi WM, A. (1985). Rumi: Sufi dan Penyair. Bandung: Penerbit Pustaka.
Nicholson, R. A. (2008). Jalaludin Rumi: Ajaran dan Pengalaman Sufi. Jakarta: Pustaka Firdaus.
Perrine, L. (1982). Sound and Sense: An Introduction to Poetry. Toronto: Harcourt Brace Javanovich.
Pradopo, R. D. (2003). Prinsip-prinsip kritik sastra: teori dan penerapannya. Gadjah Mada University Press.
Prijanto, S. (2011). Nilai-nilai kearifan Lokal dalam Tiga Novel Indonesia Modern: Upaya Pendidikan Karakter Bangsa Melalui Karya Sastra.
Rumi, J. (2002). Fihi Ma Fihi. Surabaya: Risalah Gusti.
Star, J. (2000). Jalaluddin Rumi dalam Jalan Menuju Cinta. Penerbit Terompah.
Sufi, P. K., & Amri, M. (2013). Perspektif Kaum Sufi Muhammad Amri, XIV, 146–159.
Sukada, M. (2013). Pembinaan Kritik Sastra Indonesia, Masalah Sistematika, Analisis Struktur Fiksi. Angkasa Bandung.
Waluyo, H. (2002). Apresiasi Puisi: Panduan untuk Pelajar dan Mahasiswa. Gramedia Pustaka Utama.
Zaini, A. (2017). Pemikiran Tasawuf Imam Al-Ghazali. Esoterik, 2(1), 146–159. https://doi.org/10.21043/esoterik.v2i1.1902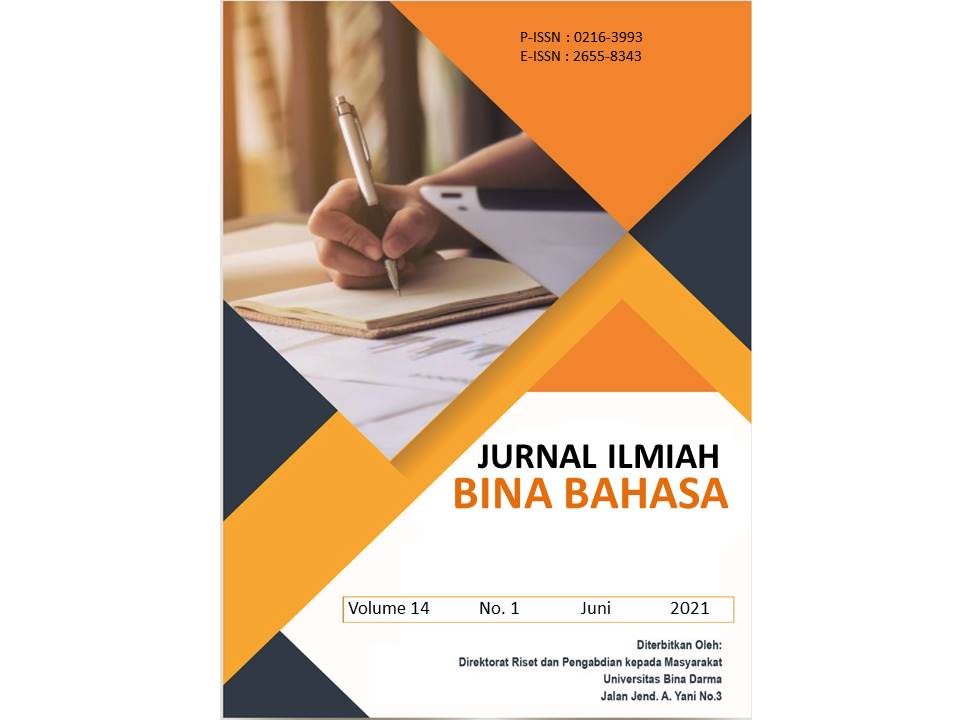 How to Cite
Fitriyah, F. (2021). ANALYSIS OF LANGUAGE STYLE IN POETRY "CINTA DALAM KEFANAAN" RUMI (A SEMIOTICS APPROACH). Jurnal Ilmiah Bina Bahasa, 14(01), 34-43. https://doi.org/10.33557/binabahasa.v14i01.1325
Abstract viewed = 31 times
PDF : 18 times

Jurnal Ilmiah Bina Bahasa by http://journal.binadarma.ac.id/index.php/binabahasa is licensed under a Creative Commons Attribution-ShareAlike 4.0 International License.