SPEAKING OBSTACLES ON ENGLISH FOR MEDICAL PURPOSE CLASS AT AN INDONESIAN COLLEGE OF HEALTH SCIENCES
Noprival Noprival

Sekolah Tinggi Ilmu Kesehatan Harapan Ibu Jambi
Keywords:
English, Indonesian students, Pharmacy, Speaking problems
Abstract
While a growing body of previous studies have addressed speaking a foreign language, very little research actually explores the speaking problems faced by medical students that speak English in Indonesian classrooms. To address this empirical gap, this research used a qualitative case study method to investigate the Indonesian pharmacy students' problems in speaking English during their English for medical purpose class. I conducted in-depth interviews to gather information from participants. An analysis of the interview data revealed that five major themes were related to students' speaking problems, including pronunciation challenge, anxiety, low self-esteem, poor grammar, and lack of vocabulary. The findings revealed that the sources of speaking problems reported by the interviewees were not only about language matters (i.e. vocabulary) but also the psychological ones (see anxiety). In addition, The results from this current research contribute to our understanding of the problems of speaking English in higher educational contexts that can be practically used as English class evaluation.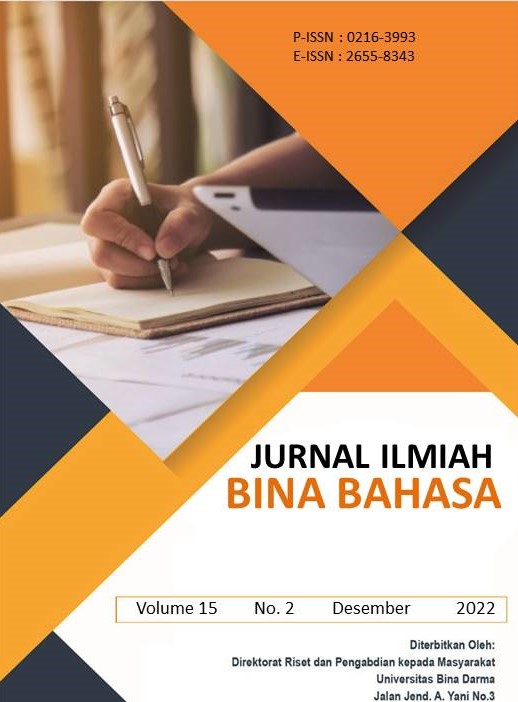 How to Cite
Noprival, N. (2022). SPEAKING OBSTACLES ON ENGLISH FOR MEDICAL PURPOSE CLASS AT AN INDONESIAN COLLEGE OF HEALTH SCIENCES. Jurnal Ilmiah Bina Bahasa, 15(2), 97–106. https://doi.org/10.33557/binabahasa.v15i2.1960
Abstract viewed = 25 times
PDF : 4 times

Jurnal Ilmiah Bina Bahasa by http://journal.binadarma.ac.id/index.php/binabahasa is licensed under a Creative Commons Attribution-ShareAlike 4.0 International License.