WOMEN OPPRESSION AND STRUGGLE IN THE NOVEL MOXIE BY JENNIFER MATHIEU
Cita Hikmah Yanti

universitas bina darma

Dini Anggraini

Universitas Bina Darma
Keywords:
Feminism, Novel Moxie, Oppression and Struggle
Abstract
This study aims to analyze women oppression and struggle in the novel Moxie, this novel tells East Rockport Highschool because sexism and the patriarchy system act as triggers for sexual violence and sexism in schools. The purpose of this study was to determine the typesof oppressions that occur in novel Moxie and to determine women's struggle to the oppression. Using Marion Young's iris theory to find out various kinds of oppressions that occur in novel Moxie and women's resistance using 2 theories of feminism, namely radical feminism by Alison M. Jaggar is used to analyze how the patriarchy system triggers sexual coercion and multicultural feminism. This theory is used to analyze the patriarchy system that triggers sexual coercion that happens because of race and black skin. The research methodology in this research is qualitative descriptive, where relevant data is collected from the text or words found in the novel Moxie. This research resulted in womens oppression such as sexualharrassment, intimidation, and rape as a form of sexual coercion contained in novel moxie. This research also shows how women struggle against oppression that occurs becauseof the patriarchy system and sexism in schools.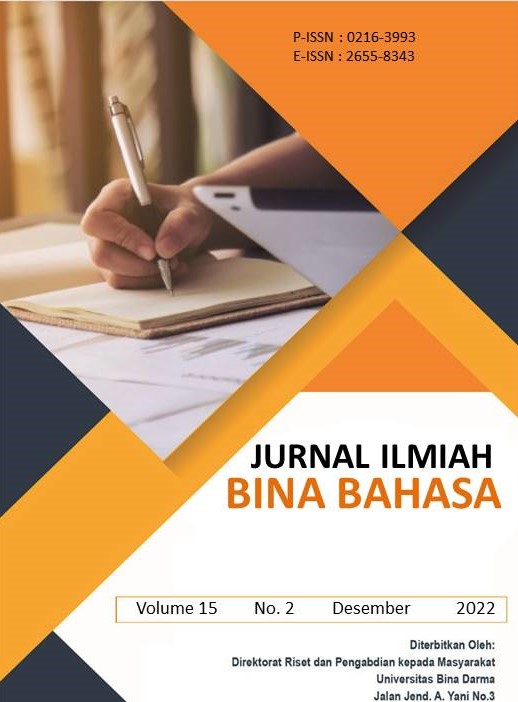 How to Cite
Yanti, C., & Anggraini, D. (2022). WOMEN OPPRESSION AND STRUGGLE IN THE NOVEL MOXIE BY JENNIFER MATHIEU. Jurnal Ilmiah Bina Bahasa, 15(2), 167–178. https://doi.org/10.33557/binabahasa.v15i2.1984
Abstract viewed = 26 times
PDF : 29 times

Jurnal Ilmiah Bina Bahasa by http://journal.binadarma.ac.id/index.php/binabahasa is licensed under a Creative Commons Attribution-ShareAlike 4.0 International License.